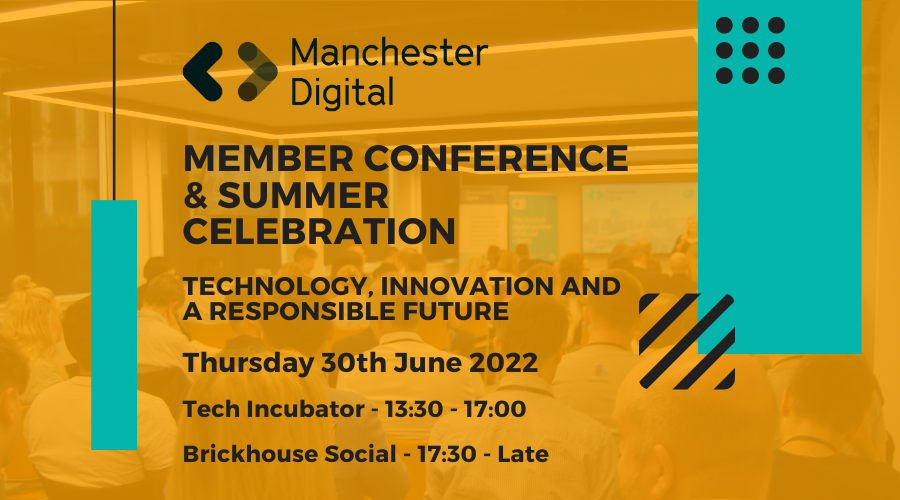 The Manchester Digital Member Conference and Summer Celebration will return on Thursday 30th June 2022, with member presentations in the afternoon at the Tech Incubator followed by our summer party at Brickhouse Social from early evening until late.
The Manchester Digital Conference is a chance for members to connect, share knowledge and hear from their peers on a wide range of digital and tech topics.
Taking place on the afternoon of Thursday 30th June the conference is a great way to pick up some new ideas and inspiration to take back into your business whilst finding out what is happening in the region's tech scene.
This year's conference will be focused around the theme: Technology, innovation and a responsible future.
The content is created and presented by our members, and we are looking for people to submit ideas for short presentations of no longer than 20 minutes that align with the following themes:
Future technologies - AI, web3.0, crypto, cyber, 5G etc.
What are you tinkering with or developing inside your business? Which new technologies are having the biggest impact on the way we live, work and play?
Sustainability
How does tech support not destroy the planet and what are you doing about it?
Diversity
How are you championing diversity in your organisation and what challenges are you having?
Wildcard talks
Got a great idea for a talk that doesn't align with one of these themes? We'd still like to hear it.
We are looking for talks that are entertaining and perhaps offer an alternative point of view to the norm on a topic and will give people pause for thought. This is not the place for corporate talks or pitches. The more interactive your talk the better!
The Conference is strictly members only and will be followed by our summer party at Brickhouse Social.
Please submit your ideas for a presentation at the Member Conference via the link below. Our team will shortlist the best ideas and come back to you by 20th May 2022.
Tickets for the member conference (free to members) and Summer Celebration (£20 including a choice of food and drink) are available to book via the links below.
Book Member Conference tickets
Book Summer Celebration tickets
We look forward to seeing you there.