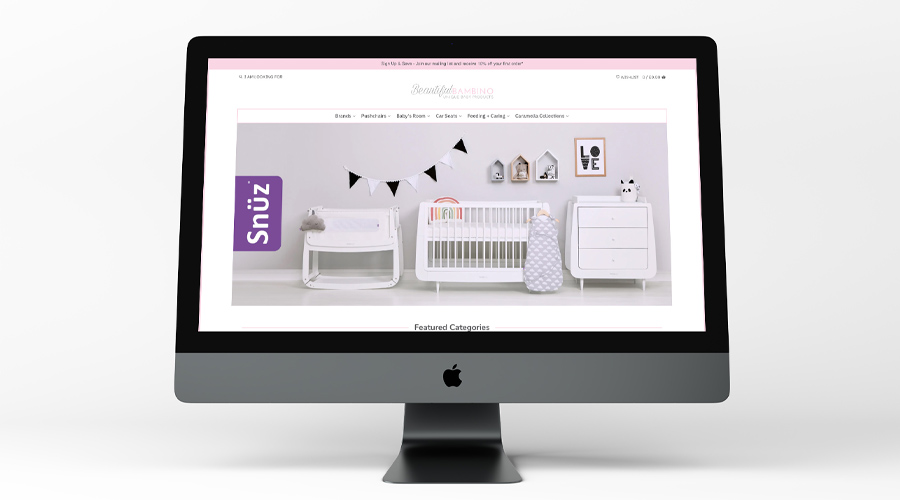 Digital specialists Mechanised recently launched a fully upgraded eCommerce website for online baby shop Beautiful Bambino setting this growing retail powerhouse up for even greater success.
Mechanised directors Martin Smith and Oliver Bannister have worked with the Beautiful Bambino brand from the very beginning when MD Joe Broadbent launched the company from his kitchen table in 2016.
The Mechanised team were brought in to develop their online operations and digital marketing strategies that included a state of the art web shop and cutting-edge SEO promotional techniques.
Their most recent work is the strategic migration of the Beautiful Bambino e-commerce platform from Woocommerce to the much more scalable Shopify product set.
With the help of Mechanised, Beautiful Bambino has seen UK-wide revenues and sales increase by over 400%, creating a business with an annual turnover of 7 figures.
Mechanised Director Oliver Bannister commented:
"It's great to be part of the Beautiful Bambino brand story. We've been with them from day one and seen them grow into a big player in the online baby retail sector.
"Their move to a brand new Shopify e-commerce platform will help them to go onto even greater successes. We're chuffed to have contributed to their stellar growth. Congratulations to Jim and his dedicated team."
Beautiful Bambino MD Joe Broadbent added:
"It's fair to say that Mechanised has made a significant contribution to our success.
"They have been with us every step of the way through all the challenges of being a small start-up to becoming a challenger brand in the baby retail industry.
"They built all the platforms for our online business, and the latest Shopify version of our site will make us a business to reckon with in our sector.
"I'd like to thank Oliver and Martin for all their hard work and dedication to my business."