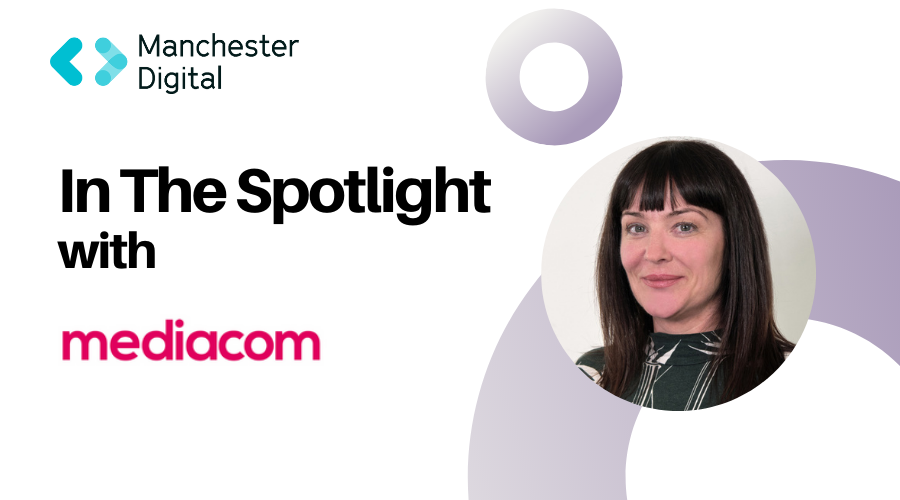 At Manchester Digital we like to interview our members to find out a bit more about what they do and their work in the Greater Manchester digital and technology sphere. This week we're speaking with Nicola Marsh, Managing Director of MediaCom North Group & Google Practice UK.
What does your organisation do?
While our reputation has been built on being a cornerstone of the largest media agency group outside of London, MediaCom Manchester is today a multi-faceted digital first organisation working with some of the biggest dot com and D2C businesses in the UK to drive efficient growth.
We work holistically, helping our clients to understand where best to place spend across the entire customer journey, offering a fully connected understanding of the whole landscape across paid, owned and earned channels.
Our Creative Systems division brings together media with data and tech-enabled creativity to drive brand relevance and accelerate growth for clients; while the Systems Intelligence division houses all of the group's data, effectiveness, insight and technology specialists.
Working closely with our fellow MediaCom offices in Leeds and Birmingham, as well as MediaCom UK, our collaborative relationship with Code Computerlove and Cheetham Bell also gives us a full service offering to clients of all sizes who want to combine creativity and platform effectiveness with acquisition and organisational change.
In recent years our coaching and consultancy services have also become a significant part of our services.
What do you think is currently the biggest issue facing the tech industry?
Third party cookie depreciation is already having, and will continue to have, a big impact on businesses across the board. It's forcing organisations to be more customer centric, more focused on first party data and to revaluate measurement.
This change will impact the technology organisations use, in particular relating to the gathering and usage of data, as well as the relationship brands have with their agency and tech partners. We're all pulling together to navigate a cookie-less world, and our ability through our current teams and the Google Practice is putting us in a strong position to lead on this.
So whilst this is perhaps 'an issue' for any businesses with a digital presence to adapt to, it's also a massive opportunity for brands to reconsider their relationship with audiences and how they can better build a value exchange in order to gather first party data and create a data systems framework in which to make this shift truly beneficial.
What is your organisation's biggest achievement?
Thinking about what we've achieved in the past couple of years, launching the UK's first-of-its-kind Google Practice at our Manchester HQ on Hardman Street, led by them team here in Manchester, is certainly an achievement we're proud of, along with recording our biggest revenue year in our history in 2021.
The Google Practice gives us a unique relationship with Google and brings together a team of experts delivering the very best services, solutions and consultancy. Through it we're already maximising clients' use of first-data and impacting the whole customer journey to deliver growth revenue for clients. And word is spreading – fast – of the benefits of optimising the Google ecosystem in such a way to drive better business outcomes.
What would you consider to be your organisation's biggest challenge?
We anticipate that this challenge is by no means something unique to us, but recruiting digital specialists fast enough continues to affect the pace at which we can grow.
We're in a fortunate position that our longstanding clients are continuing to invest more with us and, through continued innovation of our services, we've also won a large amount of new business. But there is an industry-wide shortage of digital talent. We have had to prioritise how we not only ensure that we have processes in place to 'grow our own' through robust training and personal development programmes but make sure our culture, career opportunities and benefits package helps to set us apart.
Attracting and retaining talent is of vital importance, and we've made positive steps to ensure employees value the benefits of our people first, better results principles. As an agency backed by WPP, we are able to understand what's needed to create a diverse and inclusive workplace and to put this front and centre of how we operate.
What do you think the future looks like for Manchester's tech sector?
We see 'increased fame' in the Manchester tech sector's future! There have been numerous articles citing Manchester as' the tech capital of the UK', on the back of success stories from the abundance of innovative tech start-ups as well as the established dot coms putting the North West firmly on the map as an epicentre for tech and talent. We ourselves will be bolstering this when we open the new WPP campus later in 2022 – which again will be home some of the best tech and media expertise in the UK and adding to fame that comes with large-scale businesses investing in the City.
Fame and recognition for Manchester's tech scene will only grow in the future and this will be self-perpetuating, attracting more investment in the region. We have a lot to shout about here in Manchester and we hope that our region gets the fame it deserves.
Tell us something that we might not know about your company?
We're actually the biggest digital agency outside of London!
Thank you Nicola!
To find out more about MediaCom Manchester, click here.
Want to raise your business's profile? If you're a member, contact thom@manchesterdigital.com to discuss featuring your content on our site, social media or newsletter. If you're not a member, get in touch today to discuss the benefits of membership.