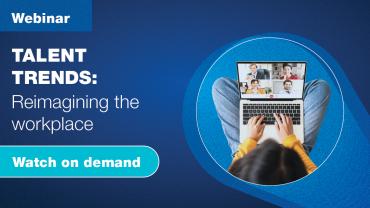 Talent trends: Reimagining the workplace
It is clear that our ways of working have been changed forever: hybrid models are clear here to stay, and businesses need to know what candidates are expecting from workplaces in a post-lockdown world. To learn more, PageGroup conducted research with over 3,000 UK job applicants in March and April of 2021. In this webinar, we will present our findings and reveal the range of attitudes among candidates toward the new workplace.
Led by our expert speakers, the webinar will answer key questions, including:
What should the new workplace look like and what are employee expectations across sectors and regions?
How can organisations manage new and emerging concepts of the workplace to attract and retain top talent?
Is now the time for companies to reset their recruitment planning?