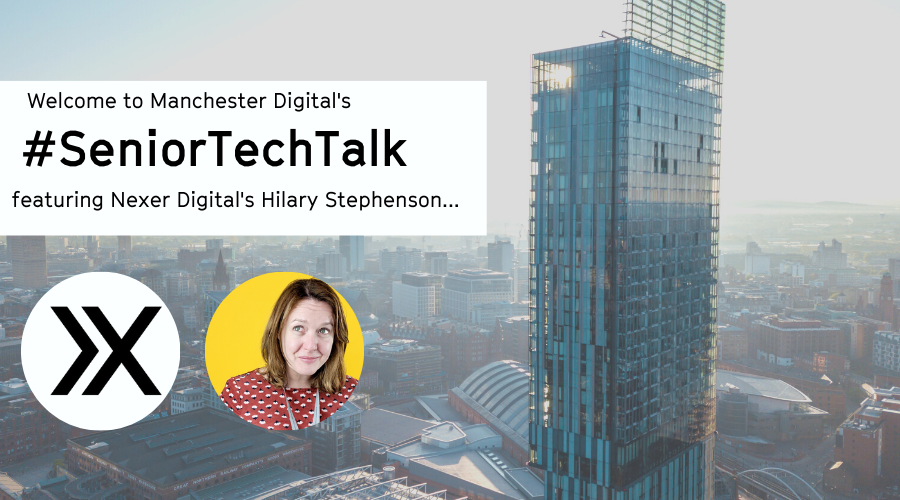 Nexer Digital (previously Sigma) are a user experience design and development agency with a focus on digital inclusion and social impact. They design digital services and products that aim to make people's lives and work better, as well as offering maintenance services, offering usability and accessibility testing and running the annual Camp Digital events.
We caught up with Hilary Stephenson (Managing Director at Nexer) to find out more about the work they do, the reason behind the recent rebrand and how they are helping to make online services more accessible and inclusive.
You recently went through a re-brand, can you tell us a little more about that?
Yes, we became Nexer Digital last week. It's largely because of our growth in the UK. We are owned by the Nexer Group and there are now three divisions operating in the UK. We chose to go with a name that represented what we do, from digital inclusion to digital transformation. It's quite exciting but also a lot of work, to ensure people know where to find us at our new home.
Could you please tell us a little bit more about Nexer as an organisation and your goals as a business?
Nexer is a digital agency. We focus very much on digital inclusion and try to work with clients where we can have some kind of social impact. We are a team of user researchers, designers, content specialists, and developers. We have full web development capability, as well as UX. We work in sectors where we can have some kind of meaningful impact so health, education, housing and government.
And could you explain your role within the organisation?
Yeah, I'm the managing director of Nexer's UK Digital business. We are part of a wider Swedish-owned company but I started the UK part of Nexer nearly fourteen years ago in 2007 as the founder and still the MD, so I've been here a while.
Nexer is renowned for helping clients to improve the user experience their customers or service users receive. Could you talk us through some of the agency's methods?
We've been around UX for a long time, probably before the term was widely used. Then it became very much the preferred term and the market became quite swamped, but for us, we've got quite deep expertise in user research, product and service design.
We do a lot of work with our customers' intended audience. We bring people into the process, we co-design, we do usability testing, we do rapid prototyping with people.
Rather than leave it to the end to just show clients a thing you've built, we like to get them involved along the way and design with, rather than for people..
As part of that, we're also quite focused on accessibility. People that get involved in the design of our customers' products have ranging abilities. They might have specific technology access needs, or they might have a specific device set-up or rely on assistive technologies. More broadly, they might have been digitally excluded, through choice, education, affordability, confidence or just their work history. So we're very inclusive in our methods. We try and make sure that the right people with the right kind of experience get involved in the design stuff.
Great. With large sections of society seemingly left behind by the digital revolution. Could you give any examples of how Nexer has helped clients to make their online services more accessible and inclusive?
We do a lot of research and testing with people. So, as I say, we'll bring people into the process right from early-stage concept design. We'll involve them in workshops, so rather than just showing people things and testing them, we'll really try and collaborate creatively on stuff together. And we're quite used to understanding people's use of technology, whether they're a screen reader user, whether they rely on mobile pinch-and-zoom, whether they can't use a keyboard or a mouse. We try to set up workshops so that they can take part in those things. I think for end clients, we've done everything from auditing their existing products, but also helping them build new things with people; so websites, portals, custom software, mobile apps as well, all involving people in the research and design process.
I think one of the most recent things we've probably become known for is maybe training and awareness around accessibility. Before lock-down we were doing a big piece of work with NHS Digital over in Leeds to help set up their accessibility lab. Helping them really set up laptops and devices and assistive technology so that their teams could truly understand how to design and build and test for accessibility. And a lot of that is imparting knowledge; training teams and raising awareness of accessibility.
Quite a lot of developers entering the market haven't got a clue about accessibility. That's something that we're trying to help with. I think our work in this field is just as important as the skills sharing. A lot of people just don't understand how they're excluding people, even at the simplest level. One in five in the UK aren't digitally included. They might not have the confidence or they simply can't work with digital products and online services because they're badly designed.
For them, it's a mix of terrifying and aggravating to be in that situation where everything's going online at such a rapid pace during the pandemic
In the current climate, if you think about what we've just gone through, we've been trying to put out useful guidance on sharing information in an inclusive way. Some things we see that aren't accessible include people sharing videos of talking heads without using captions. Or people putting social media infographic posts out and there's no alternative way of people consuming that information. Even the government's press briefings, initially, didn't have a sign language interpreter.
All of those things are examples of people just being left out. And in this time of rapid information sharing, what must that feel like to just not be able to keep up? Boris Johnson's graphs that he was showing on a Sunday night, many people can't even interact with that kind of stuff. So yeah, it's a shame.
You've been doing service design and user research for a while now. Has there been much innovation in the space recently or something on the horizon that you can see coming?
I think we're a lot sharper with methods and the measurement of outcomes than probably we were before. So I think there were a lot of people talking about UX and service design, but nobody really understood what it meant or it meant different things to different people.
As the market's become more mature, people understand the tools and techniques and the objectives of good service design, whereas before it was a cool title to have. UX can still be seen as very much a kind of commerce, a transactional thing. But it isn't, it's much broader. It's helping the experience of as many users as we can serve. But for some people, it still means shopping carts and nudging people to do a certain thing. I think overall though it's matured and it's now better understood what it was.
What impact has COVID had on the business?
In our business, we went into lockdown very quickly, as soon as we could see what was happening, we were able to send everybody home. We were very fortunate. The whole team, out of both of our offices, has been home since about the second week of March 2020 and are largely still working from home. Because we do a lot of workshop-driven stuff, a lot of co-production work, we're quite used to using online tools and collaboration methods. I think we're in a better position than others. It meant our work could continue. We can do prototyping and usability testing remotely and bring people into that without us having to be in the same physical space, which is great, as user research could have taken a hit in recent times. We also focus strategically on sectors involved ins service delivery or citizen engagement, so some of our clients like AstraZeneca, the DfE, NIHR and UK Biobank have been at the heart of the COVID response.
I think the impact has been not seeing each other. We were largely office-based before, mainly all together in the office and I think we all kind of miss that. But we've done quite well. I think that the biggest issue has been keeping an eye on people who've got family responsibilities. Those who are shielding. Those who are trying to homeschool, like me. I think you can't do a day of work in the way that you could before. It's not quite the same.
If a client wants to take on Nexer as a partner, what kind of service can they expect?
We're very friendly. We're very open and collaborative to deal with. We want to involve people in our methods and our processes. We're not the kind of organisation that will just take a problem, go away and fix it, and then do a big bang "ta-da" this is it. People know what they're getting from us at every step. We try to involve them, whether that's working in an agile way or whether it's prototyping early. I think people can expect to roll up their sleeves and get involved in the process. And that's maybe not for everybody, but I think for our clients, it works quite well because we've built the thing together.
As you will know, there's a huge digital skill shortage. In terms of talent attraction, why do you think people want to work for Nexer and can you describe the culture?
Yeah, I think we have a good reputation for being nice people to work with. Some of the personalities in our team are quite well known in the sector. We're very open and love sharing our work, that's why we run Camp Digital. We showcase what we do and the work of our clients. We shine a light on good accessibility work and show people who are doing good things. I think that gives us a bit of reputational value.
The culture is as it always was. It's just like a big bunch of mates trying to do good stuff together and that might make us a bit wooly around the edges sometimes. We're not always hugely slick as an organisation. We're not that kind of consulting firm; we're approachable. But yeah, it's a good bunch of people and hopefully, our clients would say that we're good to work with.
And in terms of training, do you offer much that way for staff?
We're increasingly using things like apprenticeships and degree apprenticeships and bringing people in through a sort of partial work, partial education mode. Certainly, with younger talent, we were giving people the opportunity to learn on the job and feel like they're part of the projects and services, as well. Training still tends to be a little bit more on the technical side. When you have to build a thing, you have to look skilled in those technologies so they tend to get a little bit favouritism, I would say. But we're looking at things like leadership training. Just trying to tighten up in those areas because we're getting a bit bigger, the team's growing so we need to make sure we've got good coaching and leadership structures in place. That's probably the next place where we'll train people.
Finally, is it important for Nexer to be a part of Manchester's tech and digital community? And if so, why?
It is because we want to have an impact. We're very keen to share some of the important work were doing, to share that knowledge. If that can spread, if we can show people what good looks like in terms of accessibility, or we can showcase the work that we've done for our clients and others can learn from that. Working in the open is a good thing and I think Manchester's community, in general, is more collaborative than competitive. I think it works quite nicely. So yeah, we're on the edges of Manchester kind of looking in. We're not in central Manchester. So for us, it's very good to see what's coming out of the Northwest digital community. So that's why we're part of Manchester Digital, really.
Thank you Hilary!
To find out more about Nexer Digital click here.
Want to raise your company's profile? If your company would like to feature on our website, across our social media and in our newsletter, contact thom@manchesterdigital.com for more information.