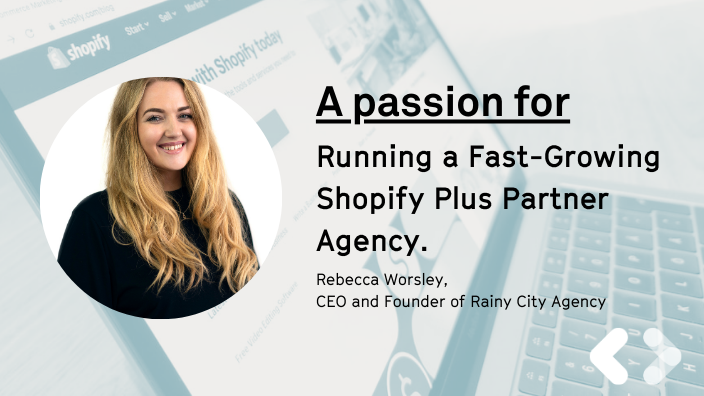 At Manchester Digital, we like to interview members to find out a bit more about their passions to help you get to know them.

This week we spoke to Rebecca Worsley, CEO and Founder of Rainy City Agency who runs Shopify partner agency. The company was founded in 2017 and now employs 22 people, with clients around the world.

1) Let's start from the beginning. What got you into running an agency?
My eCommerce journey initially began as a merchant, and I quickly discovered the common pain points of working with often difficult agency partners. I had a vision of creating an agency that created high-quality work, communicated effectively with its clients and people and that was driven by a team of passionate, creative individuals.
We've just recently turned 5 in November, and we've evolved way beyond our initial hopes through expanding the team, our client base and going from strength to strength. We're currently a team of 22 young professionals working with an international client base from the USA, Middle East and Australia to name a few.
Since then we've achieved the status of Shopify Plus Partners, are now amongst the UK's top 20 Plus Partners, and I stand as the only woman in both the UK and Europe to have grown a Shopify agency to this size.
Despite our growth and development, we've always remained true to the three foundational pillars of our business - Communication, Trust and Reliability - and they continue to support and inform the growth and decision-making of the agency.
2) How different was running an agency back then from how it is now?
The agency has undergone a significant transformation since its set up in 2017 as a lifestyle brand, when I enjoyed good financial success, flexibility in my work schedule, and the opportunity to travel frequently.
The agency was then built on pillars that would sustain and support its rapid growth, and we've expanded well beyond our imagination. We're now on track to turnover our first £1M, and our client base in the U.S. continues to expand.
Since I've worked with so many companies over the years, I've experienced really strong and not-so great leadership so I've made it a personal mission of mine to not replicate the bad practices I've seen in the past.
We have a laid-back atmosphere where our staff have the autonomy to be creative and to follow their intuition. We aren't at all corporate, and I'd like to maintain this. We attempt to provide as many benefits and perks as possible, and make coming to work a pleasant experience for all members of our team.
I really believe that successfully fostering a culture like ours is testament to the work we do for our client base. I feel like they can sense the enthusiasm and energy in the work we do for them. I'm very interested to see where the next five years will take the agency and how far we can scale ourselves, whilst maintaining our company culture and values.
We're going from strength to strength and we've had the amazing opportunity of working with some incredible household names.


3) What excites you the most about your work?
Witnessing the agency's expansion is very motivational for me, and watching its client base become bigger and developing Rainy City to become the go-to for brands looking for ecommerce solutions. We're always on the lookout for more brands to collaborate with, to provide bespoke ecommerce solutions for, from sole traders to multinational companies, and one of the most exciting parts about our work is meeting new and upcoming brands.
Supporting our clients throughout the ecommerce journey is a top priority at Rainy City, and seeing our work help our clients grow is always amazing.
Another exciting element of being an agency owner is seeing the team and their skills develop as they become further integrated into the agency. We're dedicated to thoroughly supporting our team through a range of perks and benefits, but professional development and growth is also vital.
With our unusually low staff turnover rate, I find it really exciting as an agency owner to see people join Rainy City in Junior/Mid - level positions, stay with us, develop, and climb their way up to more of a leadership or management role.
We've also recently hosted Manchester's first ever Shopify-related event in October. The event was a great success, and undoubtedly inspired us to hold more in the future. We've got an ambitious calendar for 2023 and I really enjoy bringing the Shopify community together and sharing our knowledge and experiences.


4) What technologies can we look forward to in your profession?
The team at Rainy City Agency are currently developing our very own, bespoke Shopify Theme which will soon be available for merchants to purchase and develop on the Shopify Theme Store.
This gives the team a chance to truly explore their talents and skills, to learn something new, and to put our stamp on the Shopify Theme market. Although the concept is still in an early stage, we anticipate that it will be available to purchase by mid-2023.
Shopify Themes are used on a daily basis, and as a merchant myself a number of years ago, I remember the challenges that come with using them. It makes perfect sense for us to expand into this and we're hoping that this will be a fantastic addition to what we already do.
5) Who are your industry heroes? (Or if there are no heroes, who can you recommend others to follow)
I enjoy watching other agencies thrive and personally admire those agencies who have been on a similar journey to us. Starting out within a fairly crowded market can be tough, especially within the current wider economic situation.
I'd particularly like to give a shoutout to:

● Nathan from Quickfire Digital
● Adam and Peter from Blend Commerce

Also, not to forget Rachel Jacobs who helped us to align our thinking, develop our strategic direction and to run the agency as effectively as possible!