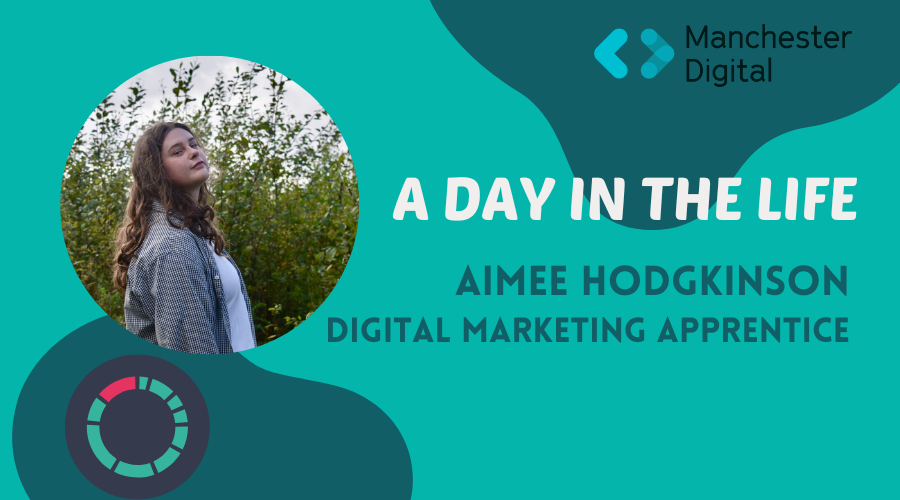 A Day In The Life with Aimee Hodgkinson
Ever wondered what it's like to work at one of Greater Manchester's leading tech employers or what specific job roles get up to each day?
Aimee Hodgkinson is a Digital Marketing Apprentice at Ten Space.
We spoke to herto find out more about this role, her experience at Ten Space and what an average day looks like.
Name: Aimee Hodgkinson
Company: Ten Space
Job Title: Digital Marketing Apprentice
Time in role: 12 months
How did you get into your current role?
I originally planned on going to University to study TV & Film Production, but after a lot of thought, I realised Uni wasn't for me. When I heard I could put both my love for learning and my interest in marketing together in an apprenticeship, I applied to The Juice Academy where I got a role at Ten Space.
What do you enjoy most about working at Ten Space?
I love being able to put ideas into action. The team at Ten Space have a "put your dreams into action" mindset and it's inspiring to be around these people everyday. More specifically, I enjoy graphic design (although I'm still learning) and editing videos.
What does a typical day look like for you?
My days differ a lot, which works best for me. I like being able to access different parts of my brain everyday. At the moment I'm collaborating with the team in Zoom meetings almost every day. I'm creating social posts, drafting newsletters, writing new blog posts and keeping up on trends (luckily that's not too difficult as a Gen Z-er).
What is it like starting a new job post-pandemic?
I've found it refreshing. The people around me tend to have a "fresh start" outlook which has helped to keep me motivated. Although there is a sense of 'weariness', as we're only just out of the pandemic.
What excites you the most about the work?
I love being able to collaborate. Whether that's in-office or over Zoom, I'm always ready to brainstorm and create. I look forward to that every day.
Have you learned anything new since you started?
I've learnt a lot of things. But something I have learnt that I would never be able to learn anywhere else is how to navigate the working world. The only other job I've had was in the food industry where all the staff were in college or university. It's a completely different atmosphere in an office, working with a team on projects and growing a business. I feel lucky that I've been able to navigate this change in such a supportive environment.
To find out more about Ten Space, click here.
If you're a Manchester Digital member and would like somebody at your company to be featured in our A Day In The Life series, contact ami@manchesterdigital.com.