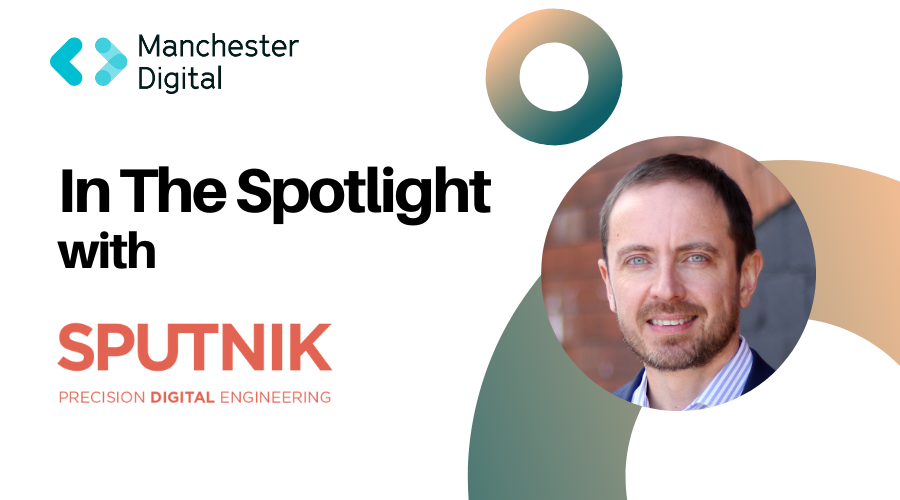 At Manchester Digital we like to interview our members to find out a bit more about what they do and their work in the Greater Manchester digital and technology sphere. This week we're speaking with Andy Nicol, Head of Digital Strategy & Managing Director at digital agency Sputnik Digital.
What does your organisation do?
Sputnik is a digital transformation agency.
We design and build innovative websites, digital products and applications for enterprise clients.
At the foundation of every project we deliver are a delightful and intuitive user experience, combined with secure, scalable and optimised engineering.
Our projects range from the development of best-in-class websites, to the development of bespoke inventory management systems and customer portals.
What do you think is currently the biggest issue facing the digital and tech industry?
The decade long talent shortage continues to be the biggest challenge for both agencies and clients.
This magnifies unpredictability in terms of project costs, delivery timescales and above all, the risk of increased technical debt.
We have evolved our proposition to provide flexible ways to support our clients, whether that's providing fixed cost project delivery, unlocking business paralysis with consultancy in areas of specific subject matter expertise, or providing an augmented squad to accelerate internal project delivery.
What is your organisation's biggest achievement?
Without doubt it's winning the right to work with the clients we do.
In our area, agency partners aren't just picked from a beauty parade.
We need to prove our capabilities throughout a client organisation, impressing leaders across the technical, marketing, UI and operations teams.
We typically only deliver a few (albeit high profile) projects a year, and we're only as good as our last job.
There is an ever present reminder that we need to maintain the highest of standards, which also makes us an exceptionally rewarding place to work.
In a virtuous circle, the work we do is what attracts ever-curious subject matter experts to join the team, without whom we could never achieve the things we do.
What would you consider to be your organisation's biggest challenge?
Our biggest challenge is keeping abreast of an ever changing digital landscape so that our proposition is always relevant. We need to be prepared for whatever our clients ask of us.
If we ever lose the drive and curiosity to stay ahead of the curve, we'll know it's time to pack it in.
It's not always easy, but it's interesting and rewarding in equal measure.
What do you think the future looks like for Manchester's digital and tech sector?
Takeaways, bars, supermarkets, direct to consumer razor blades, car sales, legal documents, and mobile banking - every business is now a tech business, and needs to adapt or become extinct.
Demand for business critical digital and tech services is at an all time high, and will continue to grow for decades to come.
Manchester's ecosystem of expertise, funders and entrepreneurs will give rise to hundreds more disruptive companies, many destined for great things, and a great opportunity for the digital and tech system to support them on their journey.
Tell us something we might not know about your company?
Our projects almost always get a significant CRO and SEO boost baked in for no extra cost, and we have case studies to prove it.
For 21 years we've been committed to adhering to best practice, and it's a decision that's paid dividends for our clients ever since.
Thank you Andy!
To find out more about Sputnik Digital, click here.
Want to raise your business's profile? If you're a member, contact thom@manchesterdigital.com to discuss featuring your content on our site, social media or newsletter. If you're not a member, get in touch today to discuss the benefits of membership.