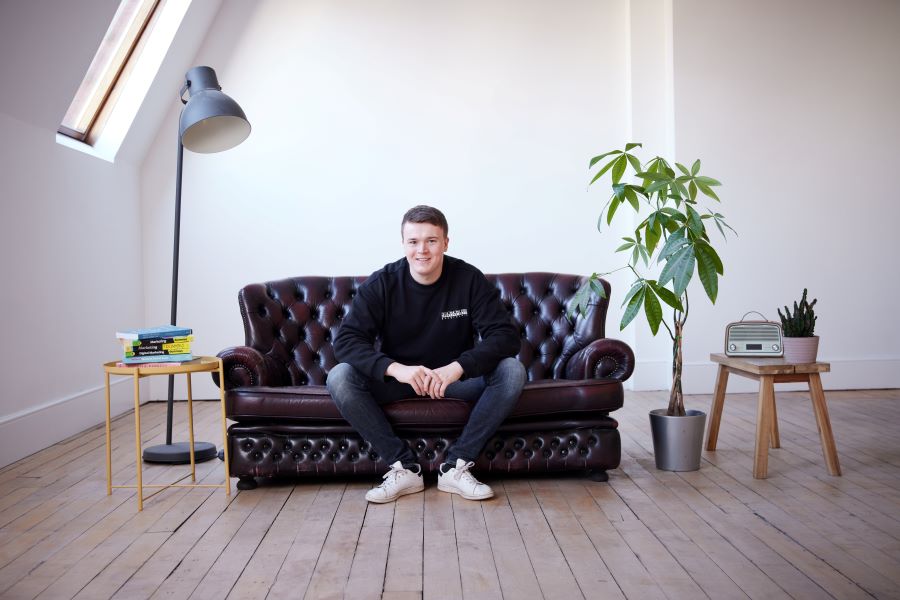 Lovely to have you onboard Phil! First of all tell us, what is your background and experience?
I left University last year in the height of the pandemic and had no idea what I wanted to do. Due to the pandemic there wasn't many jobs around so I took the first role that I saw at a government contractor in a role where I could see some progression opportunities. On my first day at the job I was given a laptop and told to work from home for the best part of 6 months – this was difficult as at the time I was living in a flat and the country was in lockdown! It became apparent to me after around 6 months that this career path wasn't for me, however I had exposure to working in an agile environment and project/product management. I've always been money motivated in most things I do, and one of my friends worked in recruitment where he had told me about the great working culture and perks of the job so I thought why not explore opportunities and now here I am at The Candidate!
What attracted you to The Candidate before you started?
I'd heard of The Candidate whilst I was at Uni however I have to be honest, I didn't even know what a recruitment agency was back then! I knew The Candidate had a good brand, however wasn't sure what you did! When the world of recruitment was revealed to me I did a bit of research and saw that The Candidate was a leading recruitment firm and seemed to have a really good organisational structure behind it.
What was the recruitment process like?
The recruitment process was really easy – I didn't even apply! I contacted Emma on LinkedIn as I heard they were recruiting and within 30 minutes I was on a call with Elliot (or ET as we call him) discussing the role and what I've been looking for. I really liked the personable approach of jumping on a Zoom to really dig into things to make sure The Candidate was right for me and that I was right for them! I'd had other calls with other agencies however they didn't feel the same and this is when I knew The Candidate was the place I wanted to work.
What is your role at The Candidate and what will you be working on?
My current role at The Candidate is Technology Recruitment Consultant. I recruit right across the software development lifecycle however my bias is towards Front-End Development roles as this is what I feel most comfortable talking to clients and candidates about.
What is the culture like?
The culture is amazing. On my first day my manager Jack took me out for a burger and pint which I was amazed by because in my last place I would've probably been sacked for this haha! We've got a really good balance between office and home working and you know on the days you're in the office you'll be going somewhere with the team at dinner time and having a few games of pool (I'm the best in the office).
What is the best thing about working at The Candidate?
For me personally it's the flexibility. I've got a toddler now and as most are aware they're pretty demanding. From the first time I met Brian he assured me if the little one is ever unwell or needs picking up from nursery it's completely fine to just drop everything and see to him. My old job was really bad for this to be honest, so its very refreshing to work for someone who completely understands my situation. In turn for this, I actually think I work a lot harder as I want to succeed and repay the kindness that has been showed to me.
Who should speak to you?
Anyone and everyone to do with tech! I'll be recruiting right across the software development life cycle so any clients looking to hire into their tech team or even if they just want advice and the same goes for candidates that are either looking for roles or want advice on their search.
Interested in a job in Tech? Ready to level up your career? Get in touch with Phil today on 0161 833 1044 or info@thecandidate.co.uk.
Or if you think you'd be a great fit here at The Candidate, check out our current vacancies here and #WorkWithUs!
Read our latest news here.
Check out all our job opportunities in Technology here!
Fancy a new analytics challenge? Click here!
Learn more about our marketing roles here.
Check out our digital jobs here.
If it's creative roles that you are after, click here.

Progress your career with a brand new Contract role? Click here!
If you're looking for a new role, get in touch with us today!
If you would like to feature on our blog, get in touch!
To get the very latest jobs, news and blogs follow The Candidate on Linkedin here!