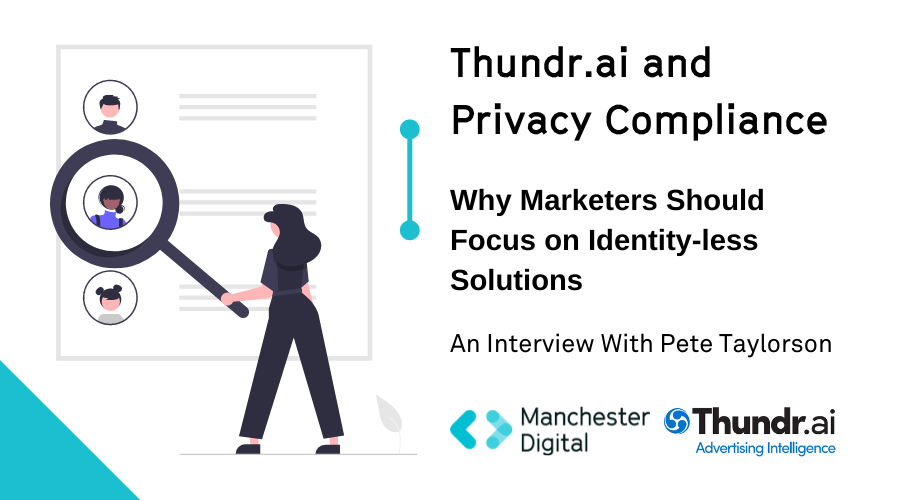 An Interview by Manchester Digital.

We live in a world where marketers have an abundance of information at their disposal to target potential customers.
Our data is not in our hands and largely sits on computers run by world leaders such as Google, Facebook and Apple. However Pressure is mounting.
How our data is handled is under increased scrutiny with a general feeling that behavioural targeting can be seen as being manipulative and many want to see a change.
Step in Thundr.ai

"With greater demand for consumer privacy at the heart of ever changing internet regulation, we use power of artificial intelligence and machine learning to boost digital ad campaign performance using identity-less solutions focused on aggregated 1st party data"
Thundr.ai website

We spoke to Pete Taylorson from Thundr.ai about his journey into the world of data privacy and what lies in store when it comes to privacy.
Introduction & questions by Myles Hamilton, Membership Executive.
---
Can you tell us a bit about your company and your role at the company?
My name is Pete Taylorson and I am the co-founder and director of Thundr.ai, which is an Advertising Intelligence company. Our software suite provides automation, optimisation and traffic intelligence for paid online advertising campaigns. Our core industries include Travel, Consumer Finance, Legal, Claims Management and Healthcare.
We've got a particular focus on working with our clients to provide services that will be privacy compliant in the long term. Our fundamental principle revolves around a core belief that you don't need to know everything about an individual's browsing history to market effectively to them.
Right now there's a lot of big changes coming to the online advertising industry and the issue of what is and what isn't going to be in line with consumer expectation is a very important topic for businesses to consider; as is the regulatory framework that is also coming in. So we sit in that space, and that's where we can offer value to clients.


What is it about the advertising industry that you want to change and why?
In a nutshell, genuine privacy…..to ensure people's privacy.
Anyone who's seen documentaries like 'the Social Dilemma' on Netflix, or has read about Surveillance Capitalism will understand that the possible pitfalls of ignoring these privacy issues could be quite drastic.
Our mission is to show marketers that they don't need to rely on intrusive third party tracking solutions to market effectively and to provide a viable alternative which works.
Now's the time to do that, because of the changes that are coming in. These changes have either happened or they are proposed to happen in the next year or so and they are fundamentally going to change the way that marketing works.
Beyond that, there's a significant lack of clarity on what that world will look like for everyone. Just as an example, one of the major changes is Google's decision to block third party cookies from Chrome which is part of what they call the privacy sandbox.
This is something that they say is designed to increase consumer privacy. However, many facets of it, for example, one called FloC, have been widely condemned as not necessarily that privacy focused or not that great for privacy, as well as being quite monopolistic.
FloC, which is a new way of targeting, was actually pulled just two weeks before its launch in Europe. It's still going ahead in the USA, but its launch in Europe was pulled, allegedly on the basis of being against GDPR.
So to many people it appears that a supposedly privacy-compliant solution, designed to protect consumer privacy issues, might actually go against European privacy law. It just shows that there's a major lack of clarity with what's going to happen. We hope the market moves in line with consumer expectations.
In recent years, many privacy-focused solutions like DuckDuckGo, Brave and OneTrust have proven that they can drive major growth and shareholder value at the same time as safeguarding internet privacy. We hope that this trend continues and we can be a part of that!


So what have you been working on to change the way marketers advertise to people?
We have a fundamental belief that ads don't need to be personalised at the individual level to be effective. Of course, addressable advertising works but in many ways it's really just a means to ensure that the ad is served to a consumer with high purchase intent for that product. However, purchase intent as a metric can be identified through a combination of aggregated first party data signals and machine learning.
We actually arrived at this position from our previous company called Optimum ROI, which was a PPC solution focused on the travel industry. Attributing revenue to a given click is a major issue for the travel industry owing to factors like long buy cycles, cleared cookies and group bookings. Without accurate individual level tracking data, we realised we could plug the gaps in performance optimisation by understanding our clients' own site engagement data.
Fast forward to the present and most of these problems faced by travel companies are the same as what will be faced by all online businesses.
IOS 14.5 is here and only 4% of consumers have allowed tracking
; Third-party cookies and many other third-party identifiers will be blocked from most browsers and websites on the internet in Q1 2022.

Building on our success in Travel, we combined our specific methodology with modern advances in data science to create Thundr.ai. The result is that we can help our clients understand much more about the traffic coming from their channels, with the software suite automating and optimising based on those insights. What this means is they can build a high converting pipeline without the need for the intrusive kind of behavioural tracking.
What are the key challenges in the industry that you may have to overcome and what choices are you calling others to make?
It's a really good question. There's so many changes that are coming through, and there's not a lot of clarity in what's going to happen. Obviously the first concern of businesses and marketers is to ensure their companies remain profitable and they drive the best performance but I hope that many will see (certainly from a pipeline perspective) that this can still be achieved without reliance on intrusive data profiles. Now, that's not to say that the sales process can't be personalised to those consented, first party contacts once they're in the funnel. However, I hope more and more marketers see that relying on 'creepy' profiling based on third party information is not the best long term solution.
Secondly, I'd encourage companies to start thinking of the issue from a compliance standpoint rather than a merely ethical one. When online identifiers are gone, companies will need to be very careful with how their privacy policies are affected to ensure they remain compliant with GDPR. Beyond existing laws, the consumer appetite for greater regulation is undeniable and in both the USA and Europe there are already new regulations coming in. As GDPR has shown,
the fines for breaches can be severe.
The revenue growth of start-ups like OneTrust, who have seen their valuation rocket to
$5bn
in only a few years, shows how seriously multinationals are taking this issue – it's our job to help smaller companies navigate it too.
---
If you'd like to be featured on Manchester Digital then please get in touch with myles.hamilton@manchesterdigital.com