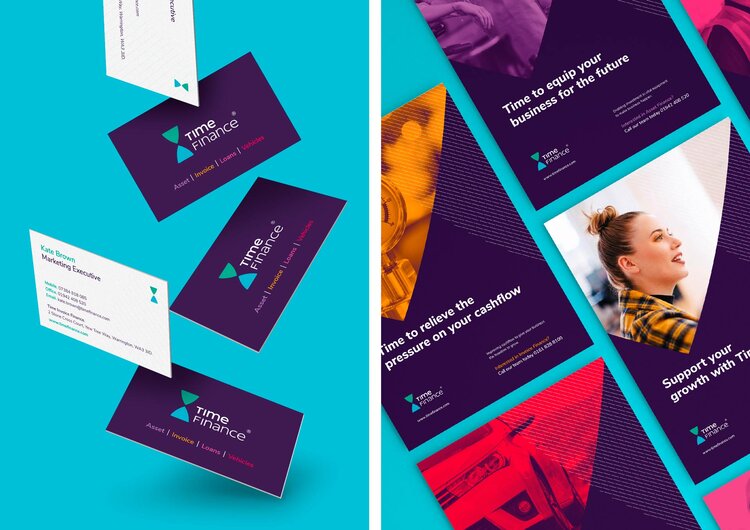 Truth Creative has delivered a dynamic new brand identity and strategy for AIM-listed alternative finance provider Time Finance.
Formerly known as the 1pm plc Group of Companies, the Time Finance portfolio of financial solutions businesses are now clearly identifiable within a unified brand framework, supporting the group in building on its reputation as a recognised force in the alternative finance market serving UK SMEs.
Truth worked with the Time Finance team to develop and execute a rebranding strategy based on initial internal research.
Truth's work for Time Finance includes brand strategy and guidelines, including developing a new look and feel for product and corporate adverts, exhibition banners, posters, website, and branded items, and managing internal communications relating to the rebrand launch.
Truth designed a new custom-drawn logo inspired by imagery suggesting the delivery of financial solutions in a way which is time-sensitive and trustworthy while supporting positive growth. The type used on the logo is bespoke. The agency continues to work with Time Finance to deliver work including digital outreach, SEO and PR.
The individual businesses within Time Finance have adopted the look and feel of the core brand and unify under one consistent identity.
Developing and launching a new brand identity and strategy for Time Finance has been a long journey and it's fantastic to now be able to live and breathe the results of our work with Truth Creative.
The stakeholder feedback we have received has been incredibly positive and we now look forward to continued growth as a recognisable force in the alternative finance market serving UK SMEs. I'd like to thank the team at Truth Creative for their hard work and support.
Diane Blinkhorn – Interim head of marketing at Time Finance.
One of Truth's great strengths is working with businesses to deliver brand strategies that support their growth ambitions. Our work for Time Finance is a great example of that.
The group's individual businesses already had a great reputation within the alternative finance market serving UK SMEs and they can now collectively share their combined success and vision. We are excited about building on our work to date for Time Finance with support across digital outreach, SEO and PR.
Jo Scott – Co-founder and Managing Partner of Truth Creative.