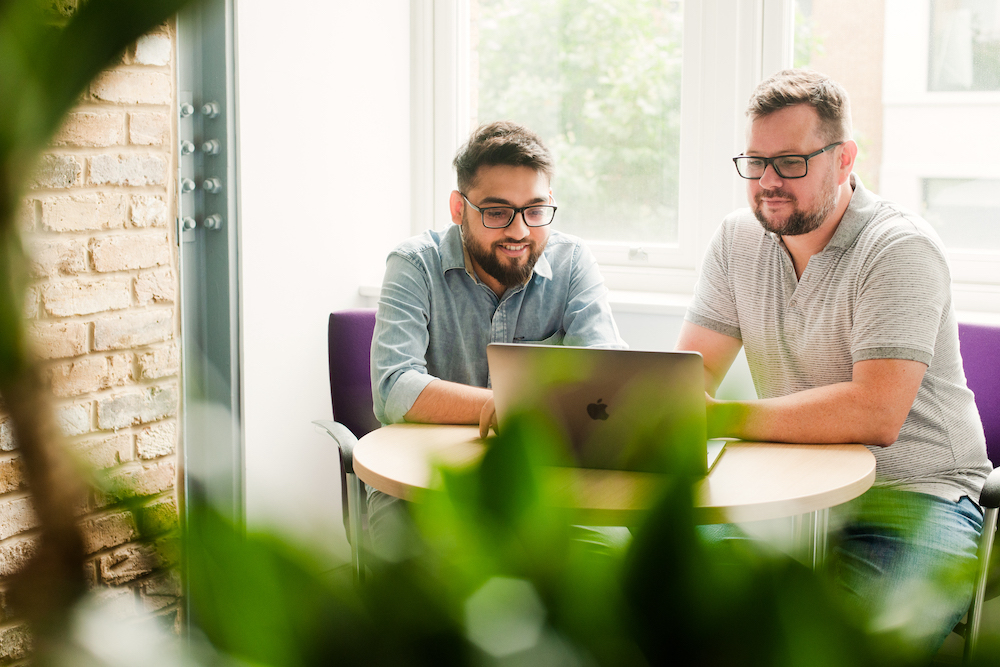 As two foundational members of our UK hub's Quality Assurance (QA) team, Harsh and Paul are helping to optimise and professionalise our services by introducing a holistic testing mindset to our teams and our clients.
Paul Carey Harsh Gaudana
Lead QA Consultant QA Engineer


How did you come to join the Zühlke UK team?
Harsh: I graduated in 2016, and had a few different roles with other companies when I started my career. At one of these companies, I worked alongside the Zühlke team who were brought in as an innovation service provider for the project I worked on. I was really impressed with not only the quality of the work that they did, but also with the company's priorisation of individual needs and careers. I knew Zühlke as an engineering company, however I saw them expanding and adding new capabilities over the last year and when I found out that a new QA capability was being formed, I saw a great opportunity to become a part of a new team and input my ideas. I was the first QA professional that was hired into Zühlke UK. Since joining, it has been an amazing experience so far and hopefully more to come!
Paul: I joined in February 2021 year to grow the QA community. Particularly with more of a focus on exploratory testing. As the QA Capability Owner, I'm bringing my experience to the team, and what we want to achieve at Zühlke – sharing the whole team approach to testing so we can go on the journey together.
What has the journey been like so far?
Paul: We're definitely still at the outset and are building a common mantra for QAs. Then we can start to branch out so we can spread the message.
Harsh: One thing I have noticed is that even though it's in its early stages, people here are open to the change we bring as we set up the new QA capability. Everyone's committed to great quality solutions and they share the same ideology. We've been able to implement the changes already with our clients too – I am putting my thinking out there and based on the feedback, I can iterate through trial and error. It's been a challenge, but a welcome one, and we're up for it.
What is that common mantra?
Paul: That's part of the discovery process we're on right now. So far we've been redefining the Quality Assurance role so it doesn't just equal Tester. Now we're refining our testing and QA approach so that it can become synonymous with Zühlke QAs. We're at the outset. And it's not just about my opinion or Harsh's opinion, it's about everyone – and it's now a full QA team of eight people and counting.
What does your vision for a QA team look like?
Paul: QAs often get pigeonholed as testers, and if the development team is unclear on what needs to be done they'll just throw it over the fence to us. That means there's often assumptions made, and gaps in what's produced and mistakes can happen. The difference we're trying to bring is to say that although yes, we do test, we also firmly believe that everybody tests on the team. It's a skill set everyone can utilise. We're also trying to make the QA role more of an Analyst one, someone who's there to advise and sow the seeds of quality within a team. We focus on exploratory testing too. Making sure we can find bugs where people don't even expect to find them. It's linked to the idea of "shifting left" – it's less costly to find bugs early on.
Harsh: I'd also add that instead of being seen as just a Tester, what I'm trying to bring is also coaching. Helping the whole team own the quality, not just me. And helping Developers to think outside the box. So instead of being a bottleneck, siloed off, working in our dark corner, we pair with Developers and Designers to identify gaps early. That means the Developers have an easier life because these bugs don't end up in the system in the first place. Along with that I'm also trying to bring an awareness of accessibility testing – making sure a product is accessible to as many people as possible. People often aren't familiar or comfortable with this, so I can bring this experience to the team so everyone can take it on board.
Paul: I think Harsh's comment about accessibility testing raises an important point. There are many different facets of testing. So it's quite difficult, if not impossible, for one person to be an expert on all of them. And it may not be the QA that has the best skill set for the testing that's needed. But they can still contribute and ask the questions that help us go on the journey and learn together.
What has the reception to this evolved Quality Assurance approach been like?
Harsh: Internally it's been received exceptionally well. The Developers love what we are trying to do. Because at the end of the day, no-one wants to do a bad job. We're on the same page and have the same view. And if we don't agree with someone, we ask why and get their point of view, and once we have that discussion going we can learn from each other.
Paul: It can be challenging sometimes because our role is to come in and ask questions. But the vast majority of the conversations are good. People want to embrace it. They want to learn more about these ways of working.
Harsh: And people don't mind us asking questions. Which is good, because I ask a lot of them.
What have you learned on the journey?
Paul: Well for a start, it's constant. There will never be an ideal goal we'll achieve. And it's not just a QA-led thing. One of the good things about Zühlke is the culture here. People from different roles reach out to offer and seek help. There's a drive everyone has to better themselves as a professional. People aren't resistant to change.
Harsh: I've learned so much from getting exposed to people with different experience across different industries. Everyone can bring an idea to the table and it's embraced. I've grown so much through this – personally and in my working life – and it's been amazing.
Inspired to join the team? Explore career opportunities at Zühlke.