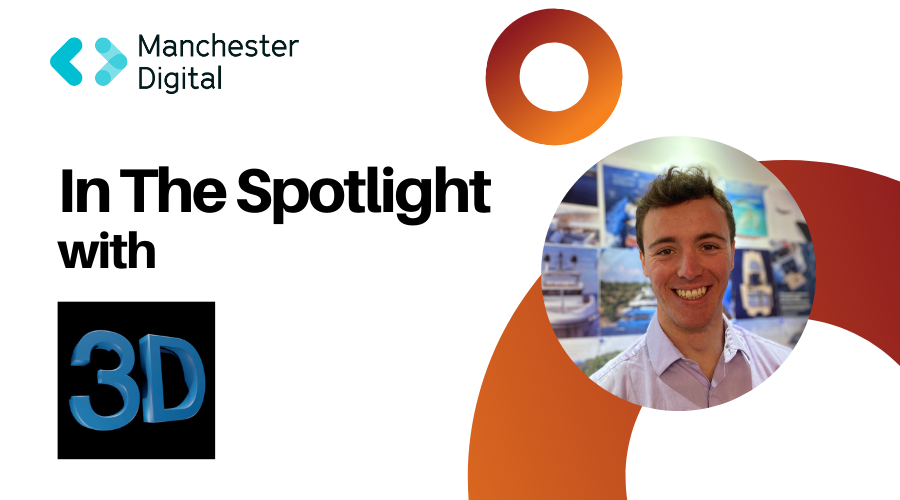 At Manchester Digital we like to interview our members to find out a bit more about what they do and their work in the Greater Manchester digital and technology sphere. This week we're speaking with Ben Taylor of 3D Online.
What does your organisation do?
We're a metaverse design company. We create spaces for brands to tell their story in an engaging 3D online environment that's accessible to everyone.
What do you think is currently the biggest issue facing the digital and tech industry?
Cooperation. Whilst there's an abundance of cooperation across the sectors further cooperation only leads to more thriving businesses. The restrictions over the last few years have limited the opportunity to network and create those coincidental meetings that lead to collaborations. We need more events, more talking, more sharing, these benefit all parties involved.
What is your organisation's biggest achievement?
We helped an SME pitch clients and investors throughout the toughest restrictions we've seen over the past 2 years. Not only did we create a tool for them to do this, they successfully secured investment with a £1 million valuable plus they pitched large corporations in one of our spaces. To see this technology and our spaces provide this opportunity gives us a massive sense of purpose and achievement.
What would you consider to be your organisation's biggest challenge?
People. High quality people and talent is always at the core of an organisation, we're no exception. We're currently developing a partnership program to incorporate agency relationships into our growth strategy, therefore leaning on the resources of agencies and forming mutually beneficial relationships where each organisation can stick to their specialities.
What do you think the future looks like for Manchester's digital and tech sector?
I wholly believe there's massive growth in the future of Manchester's digital and tech sectors. As Manchester continues to thrive as an internationally competitive hub for technologies and digital services we unlock further growth potential.
Tell us something we might not know about your company?
Our company was born out of frustration. The term 'virtual' has been degraded into anything online as opposed to a simulation of the world around us. Our founder, Ben Taylor was repeated frustrated with virtual events taking place that promised to be engaging, social and 3D only to be presented with another webinar with a chat function. This made Ben want to exceed the expectations people have for online engagements. The result… 3D Online.
Thank you Ben!
To find out more about 3D Online, click here.
Want to raise your business's profile? If you're a member, contact thom@manchesterdigital.com to discuss featuring your content on our site, social media or newsletter. If you're not a member, get in touch today to discuss the benefits of membership.