This article was originally published on 3 February 2023.
You can read the original article on the 6point6 website here.
---
Digitising services, systems and processes can be a powerful force in reducing carbon emissions – just look at how virtual meetings have cut the need for business travel in recent years. But as digital infrastructure increases, so can the energy required to power it.
Ian Mitchell, 6point6's Director of Architecture and Green Team Lead, considers the opportunities available to organisations from embracing digital solutions and processes that are more efficient and energy-saving by design.
Adopting green IT solutions
Digital transformation is helping many organisations to reduce their carbon footprint. By migrating computing from legacy systems and physical servers to more efficient cloud-based systems, there is an opportunity to achieve immediate reductions in the amount of energy used by IT.
Over the last few years, we have helped a growing number of clients adopt these technologies, advising and guiding them on how best to optimise the environmental benefits from transformation projects. For example, we helped a UK government department reduce a complex application process to a cloud-based app. All of the identity checks and process stages run remotely on the app, saving on energy use, travel to offices and paper.
This type of scenario almost always brings additional benefits, with more efficient systems going hand in hand with savings in administration time and cost, and a better user experience for customers. In short, a real win-win for the environment, customer service and the bottom line.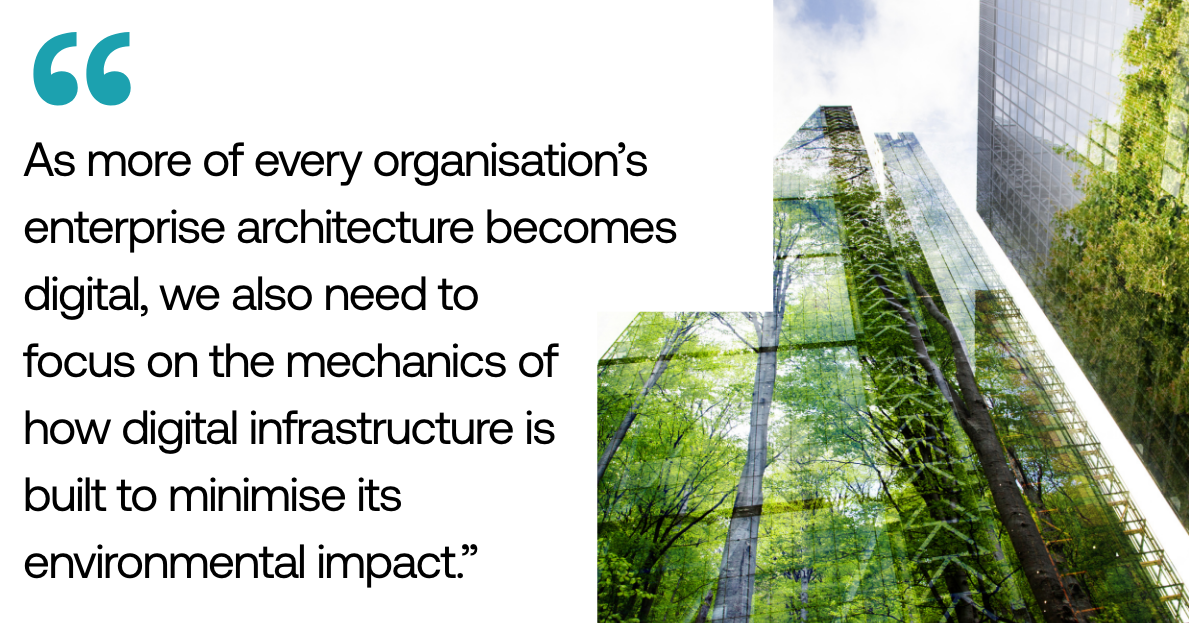 But designing out energy waste wherever possible means rethinking system architecture. It requires finding ways to remove layers of complexity and redundancy, making systems more efficient to run every day, dynamically scaling to demand.
One example of how we do this is using an event-based architecture that breaks transactions down into a series of micro-processes. Each of these 'events' queues in the system rather than calling in all at once. This helps to spread the data processing load more evenly, which avoids spikes in demand and eliminates the need for extra computing power to meet those spikes, driving down energy consumption.
By breaking down transactions into mini-processes and looking for commonalities between them, we can also strip out layers of code, delivering further efficiencies and reductions in energy use.
Our architects can present organisations with architecture options scored for their environmental impact as part of a digital transformation project. We can provide a detailed cost-environment-benefit analysis of each option to support better decision making.
Monitoring the impact of cloud landscapes
While most organisations have been migrating their computing to the cloud, few are considering the environmental impact of doing so. By analysing cloud environments to assess their environmental impact we help organisations optimise energy use and cost. For example, we can identify if there is excess computing capacity or multiple systems duplicating the same functionality.
As a result of this analysis, we can also help organisations to certify the energy efficiency of their IT systems, helping them achieve and demonstrate compliance with their carbon and climate commitments.
Doing digital transformation sustainably
Our teams are always looking for smarter ways to do IT development, to reduce energy consumption and emissions during digital transformation projects.
For example, we can isolate development, pre-production and testing environments so they don't have to be always on. This means we can take them down overnight and at weekends, reinstigating them when we restart work.
We can also deliver projects faster because the event based architecture approach means we don't have to do everything in sequence. This makes the whole program shorter, so the cost of development is less.
Accelerating the savings from digital transformation
The emission savings from technology can only accelerate in the longer term. Transformative technologies, such as 5G, artificial intelligence and the internet of things (IoT) have the potential to decarbonise everything from transportation to building systems, if solutions are designed right.
6point6 is ready to help you make the most of existing and emerging tech. Talk to us about how we can help you create more efficient, sustainable IT and realise your environmental goals.

---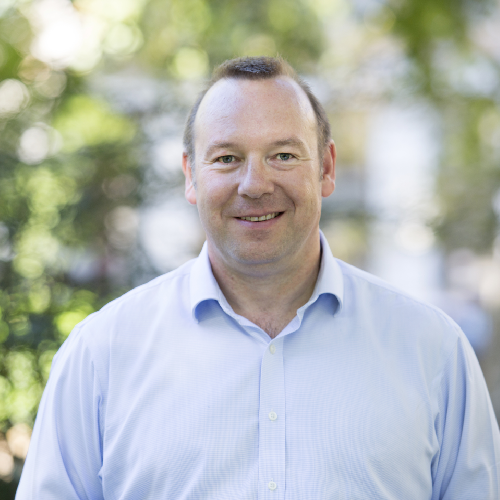 Ian Mitchell, Director of Architecture
Ian leads 6point6's architecture practice and technical offerings. With over 30 years' experience in the IT Industry, Ian specialises in driving the development of large scale enterprise architectures, IT strategies, transformation roadmaps and running Technical Design Authorities. Ian is also the 6point6 Green Team Lead, where he helps drive initiatives to ensure 6point6 minimises its environmental impact and delivers more sustainable solutions and services for clients.