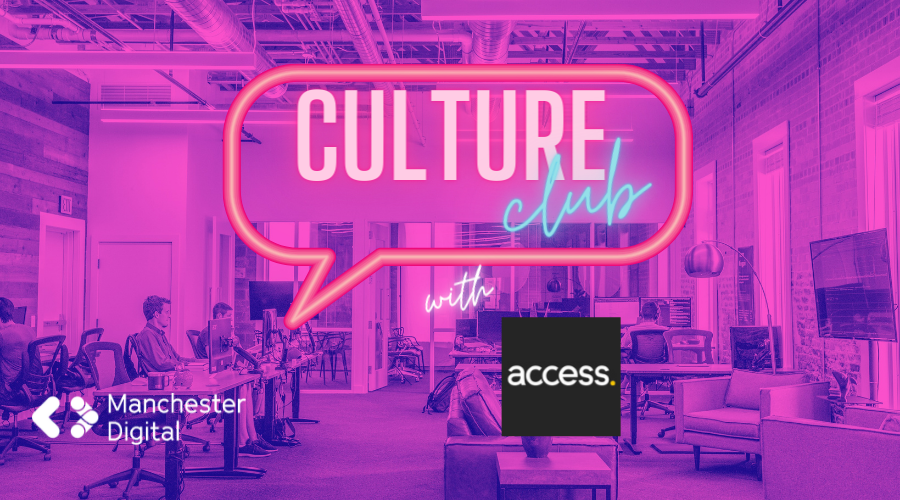 Joining us for the latest edition of MD Culture Club is digital agency Access. To find out more about their company culture and what it's like to work at Access, we caught up with three members of the team.
The talent lead ...
Patrick Hamilton, Operations Director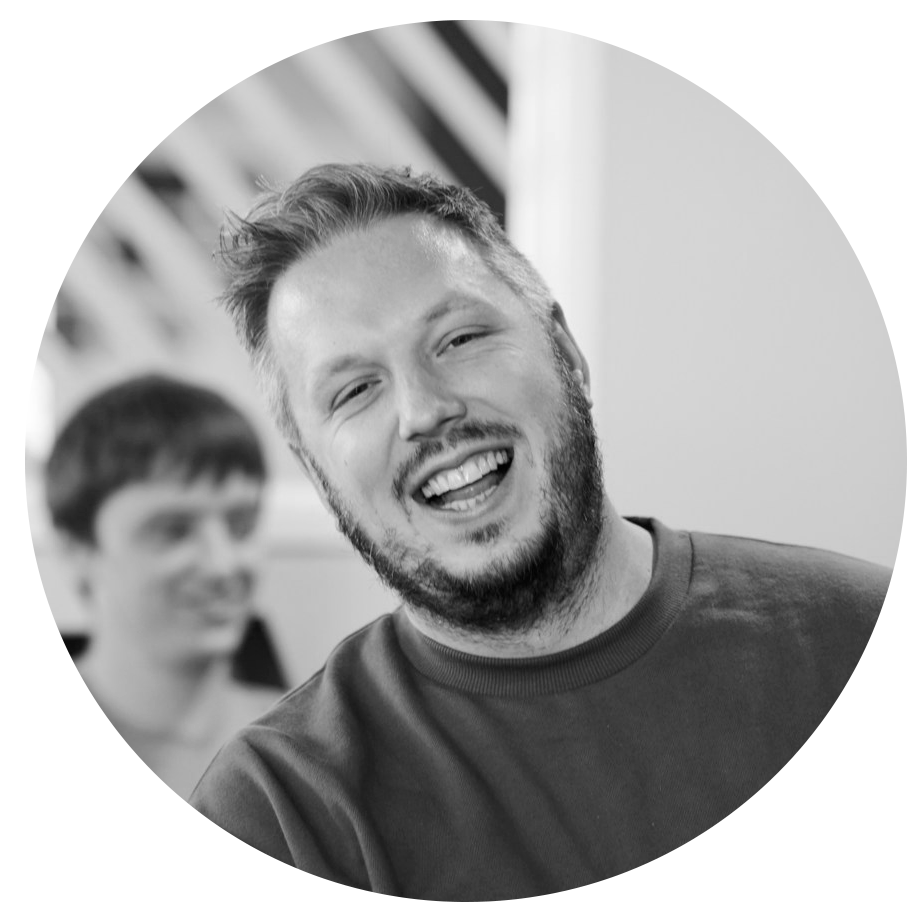 Can you tell us a little bit about the company, before describing the culture at the organisation?
Access is a digital agency based in Old Trafford, Manchester with staff located all over the UK.
We started as a brand and design agency in 1999, and one of our first major client projects was developing the branding for the 2002 Manchester Commonwealth Games. Now, as our agency services have evolved over the years, we're a full-service digital agency managing global platform builds and delivering digital-first creative services for clients including WaterAid, Edrington, SC Johnson Professional and National Grid.
Our focus is on 'the digital customer experience' and making digital happen, and we've structured our services around where we can add most value to our clients in achieving this; strategy and performance; experience and engagement; technology and support.
We are independently owned and operated, so we are agile enough to evolve with clients' ever changing needs but we are also big enough to deliver work for big enterprise sized clients.
It's our independence that also helps us to create a fantastic company culture focused around 'supporting individuals'. This support manifests itself in everything – from employee wellbeing and inclusion to career development.
How does the company go above and beyond to attract and retain tech talent?
With COVID and IR35 we've found the talent pool a little more unpredictable than before. COVID has certainly made people more reluctant to move, perhaps opting for the security of their existing job rather than taking a chance on a new role. But this isn't holding us back, despite having a large number of new roles to fill (currently 10!), as our agency offer is particularly strong so we're attracting some fantastic people into the business.
We were moving towards being a remote-first organisation long before COVID, so the pandemic has just accelerated our shift to operate in a hybrid way where everyone gets the option of remote and office-based working. We've managed to set up robust ways of working in teams while working remotely and maintained a strong culture with lots of activities designed to ensure our teams are getting to know each other 'out of work' as well as while working together.
Our big competitive advantage is our people-first culture. Happy people produce great work. In my experience, happy employees are those that are given opportunities, either to progress their careers or to develop their skills and experiences … or both. The proof is in our management team. 80% of our team have been at the company for over five years and many started in junior/mid level positions. We were given opportunities to learn new skills and that has led to progression into more senior roles within the agency.
To new recruits we appreciate 'opportunities for progression' are words you'll hear from companies at most interviews, they are very easy to promise but harder to deliver. Which is why we were delighted to announce we've recently become IPA CPD Gold accredited. This means that we've been able to clearly demonstrate to an industry governing body that continuous professional development is very much a part of the Access culture.
We also ensure everyone gets off to a great start. All new recruits go through a week-long onboarding and induction process. Everyone gets a personalised welcome pack and during the induction programme they meet everyone in the agency, get set up on systems and tools and are allocated an induction week 'buddy' to help them settle into agency life. New starters aren't just thrown onto projects and left to it! Employees are also given specific probation objectives so it's very clear what is expected of you during your first three months. Our recently appointed Head of Development, Mark West, also told us that Access' induction process was the best he's experienced!
What does the future look like for the company and its employees?
We are certainly growing – and fast! We've won some brilliant new work in recent months and continue to enjoy long standing relationships with our clients. We currently have a staff team of 45 with plans to increase numbers to 55 by the end of the year. The majority of this growth is within the development team, and we are recruiting for a number of developers at all levels and experience. Excitingly, we are also expanding our services in our performance and strategy team. We've recently recruited a data analyst and have plans to bring in CRO, UX and CX experts to strengthen our offer to our clients. And with the growth of the team happening at pace, we're evolving quickly in this area of the business and will be bringing in our very own in-house Talent Acquisition & Development Lead very soon (rather than departmental recruitment) to support our recruitment process, onboarding team members and providing even better career progression plans for all.
But it's not all just about supporting those joining Access, COVID hasn't taken our eye off ensuring we have a happy, healthy and ambitious team who we look after everyday – adapting to everyone's feedback to what they need and how we can continue to make Access a great place to work. The internal development of the team is pivotal to our success, so our new in-house role will also be responsible for our company-wide training and development programme for colleagues at all levels - helping to make sure everyone is being catered for with their professional development and goals.
The new starter...
Meg Rocky, Data Analyst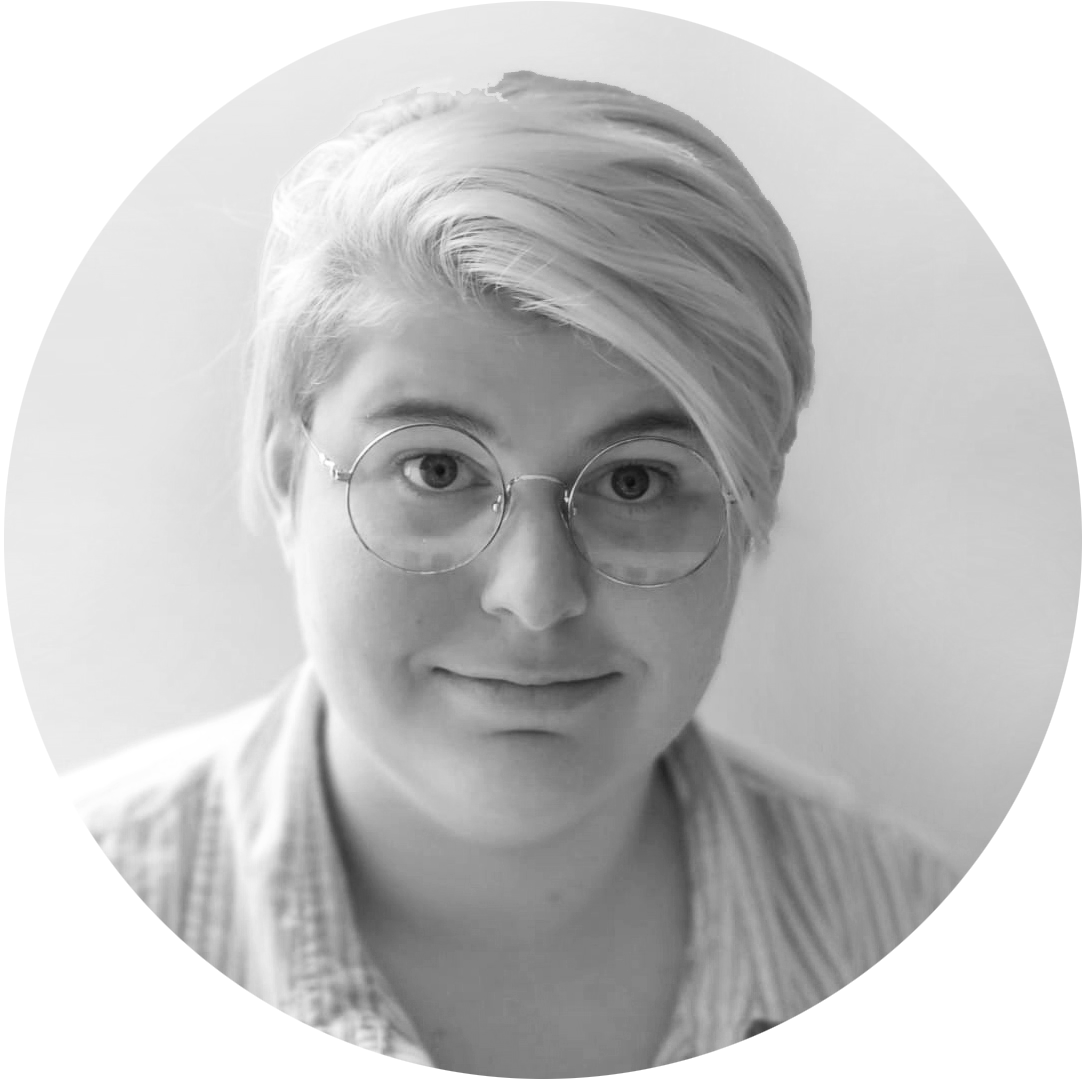 Can you describe your role at the company?
I've recently joined Access as a Data Analyst. I am the first person in this role so I have an exciting opportunity to shape the role and I enjoy a variety of responsibilities across the scope of data analysis: producing reports and recommendations from analysing client data (using Google Analytics, HotJar etc), auditing tag manager set ups and assisting pitch and discovery processes with data insights.
My manager is Lauren, Access' Research & Insights Lead who has been with the agency for a long time and who has heaps of experience so I am supported really well. We both work across the business, on new and existing clients, so I get to work on a variety of accounts with a great mix of teams including client services, UX designers, project management and Dev teams. And with both Simon and Mark, the owners, being hands on across project work it's been really great to be able to tap into their insight, expertise and advice.
What was it about the organisation that attracted you to the role?
During the application process I was really impressed by Access' work with charity and public sector clients as working on projects that align with my values is really important to me.
In addition, as I was job hunting in the current climate, I prioritised finding a workplace that had managed to retain a positive culture through the move to remote working during lockdowns. Access answered my questions about this process with ease as they were already operating a remote workforce model and had managed the change well, retaining its existing positive culture.
Even after a couple of months here I am still impressed at how good the turn out is at the weekly Zoom quiz! It's a great way to get to know the whole team better.
Can you describe the onboarding process you've experienced?
There is a bit of a story around my welcome box that I think really exemplifies Access' culture. On my first day, we had sorted my laptop and screens etc., but I hadn't received my welcome pack. When I had my first meeting with my manager Lauren she was horrified as she thought it was in the post, but we were able to carry on anyway as she sent me a PDF of my welcome pack that we were able to work through and I met my lovely induction buddy.
Then half way through the day, I got a knock on the door of my house, and there stood Simon, Access' MD, who was hand delivering my welcome box! I was already on the phone to Lauren at that point so I got to unbox it on the call with her. Along with the classic branded notebook, water-bottle and printed induction pack, there was a book about happy workplaces, and a bottle of Access branded gin - a great pack to receive in person on my first day.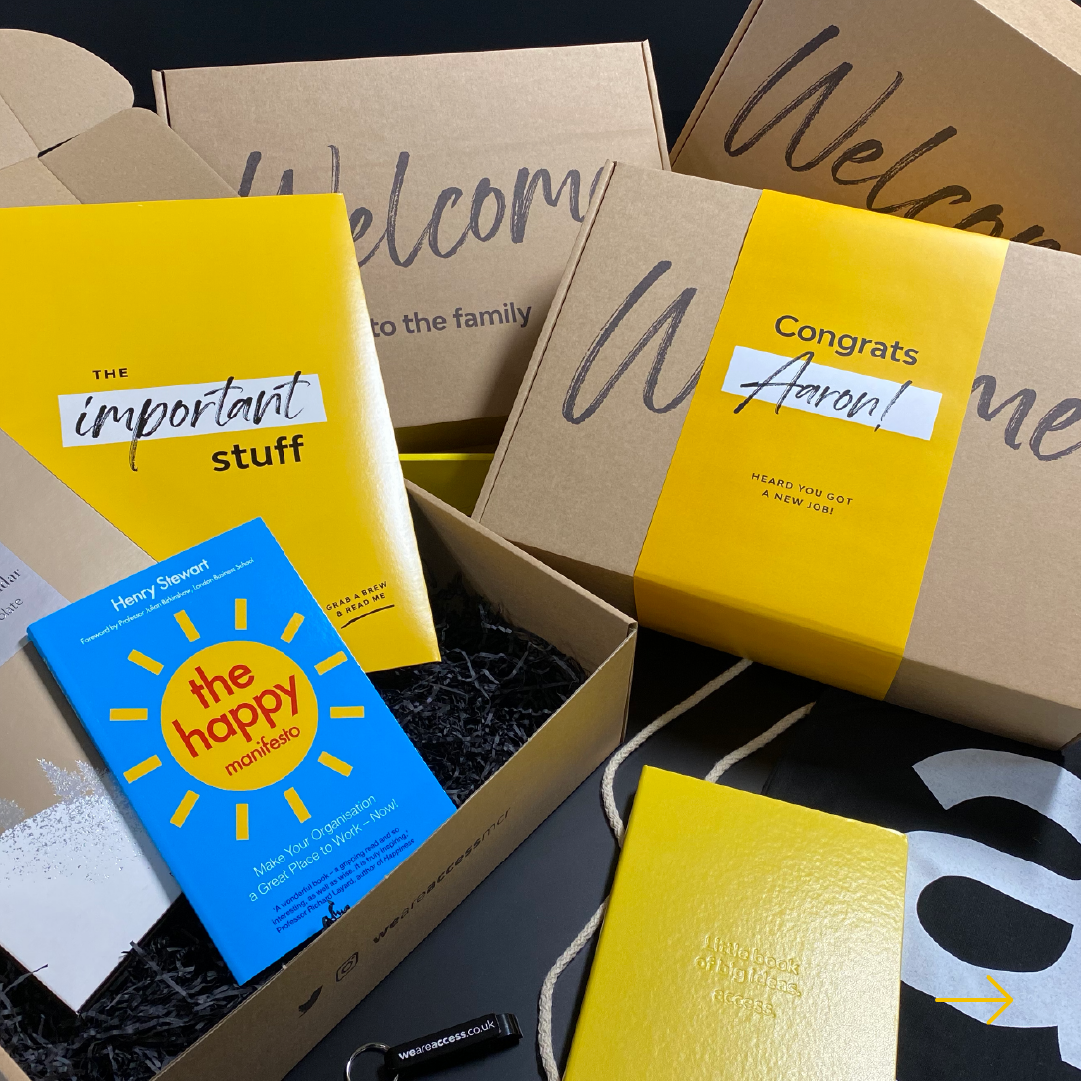 The long term employee...
Adam Smith, Head of Creative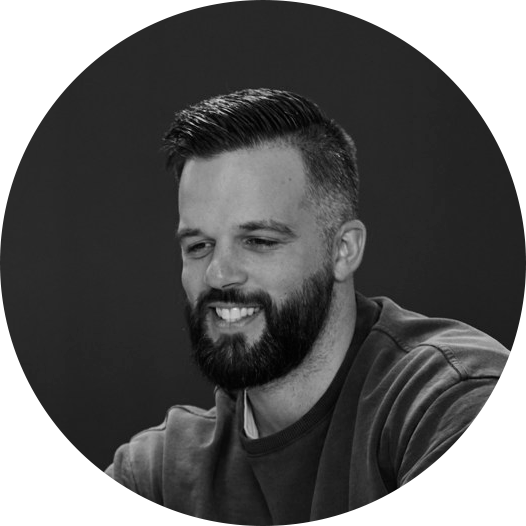 Can you describe your role at the company?
As Head of Creative I get involved in a wide range of projects spanning UX, UI design, motion graphics, video production and more traditional campaign creative. My background has mainly been in graphic design but this role sees me broadening my skills.
I provide direction, support and guidance to the creative team to ensure we're delivering work to the highest standard. But I also keep myself extra busy with various projects and new business opportunities.
As a team we have a daily stand-up where we all chat about what we were doing the day before and what we'll be doing today - a handy 15 minutes that keeps us up-to-speed with everyone's progress and focuses the mind ahead of a busy day.
My immediate team has a vast skill set, most with a graphic design background like myself, with specialisms in UX design, UI design motion graphics, video editing, artwork etc. But day to day the team will work alongside Lead Developers, Front End Developers, Account Managers, Project Managers, Planners and Performance Analysts to deliver the right solution for our clients.
You've been at the company for a number of years, can you tell me what has kept you at the company for so long?
Opportunity.
I joined Access seven years ago as a middleweight Graphic Designer and from day one I was given the chance to work on a wide variety of different client projects, which I loved. The work was fast paced and varied from one day to the next. I was asked to Art Direct a video and photoshoot, which I had never done before, but really enjoyed the whole process from the infancy of an idea through to completion. This ultimately led me on to more of an Art Director role. Since then there has been a lot of change at Access with more of a digital focus and an opportunity to lead the team opened up in front of me. It's been awesome to see the team grow and expand their skill sets, and I look forward to growing it further with the introduction of a dedicated UX/UI resource in the near future.
What would you say to a person considering joining the company?
No day is ever the same. From the moment you turn your computer on in the morning it's go go go. But that's what I love about it, the variety and the pace. I think as creatives we do our best work when under pressure and the ever-changing challenge is what keeps it interesting.
Access had embraced remote working and flexible hours pre-COVID which meant that we were already geared up for the switch when it happened. Remote-first working has given us the ability to look beyond the local area in the hunt for great talent. The agency also constantly listens to what everyone needs, adapting how we're working and this is something that's really valued within our teams.
There's a great attitude towards work and play across the agency. From the top down the agency is very genuine and transparent with employees. Everyone puts in a shift when it's needed and aren't afraid to speak their mind when challenging creative work, which I think is really important.
We've also taken huge strides in the last couple of years to improve our onboarding process, especially as we're working remotely. We have 'meet the team' sessions as well as a great little pack of goodies that gets posted to our new starters with a really nice booklet that sets the tone of who we are and what we're all about. Ultimately we want people to feel like they are part of the team from the get go. I think we do this really well and is one of the reasons we keep people in the agency.
To find out more about Access and the work they do, click here.
If you're a member and would like to take part in a future edition of our Culture Club series, please contact thom@manchesterdigital.com.