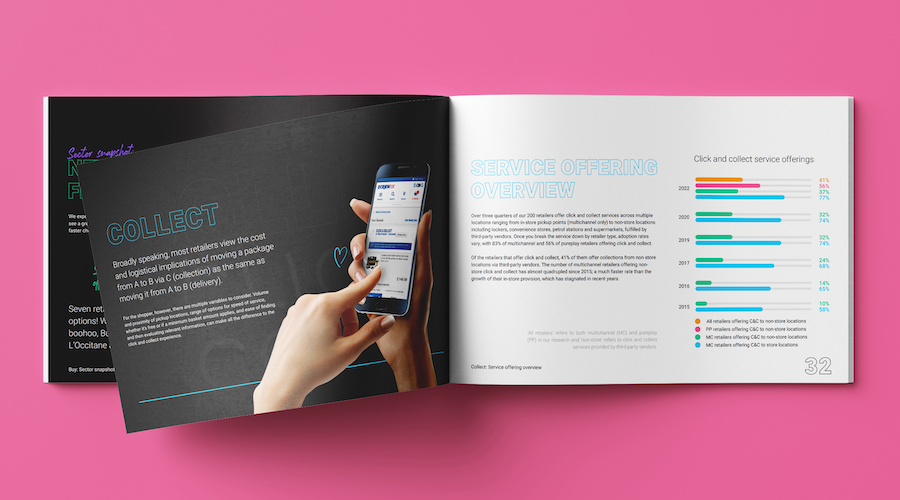 An analysis of 200 UK retailers has identified Argos, Schuh and Holland & Barrett as leaders of online retail in Ampersand's 2022 Online Retail Report.
Specialist ecommerce transformation agency, Ampersand, who recently joined the IDHL Group, has released findings from its 2022 Online Retail Report, a leading multi-sector whitepaper report researching the latest trends and insights in ecommerce retail and identifying the top and bottom-ranking online retailers in the UK.
Historically the report has evaluated solely multichannel retailers, but this year Ampersand has opened up the playing field to pureplay retailers. With an updated retailer list, the addition of 20 benchmarking criteria and a new scoring system called AMP Score, the report promises in depth insight across nine retail sectors; Fashion, Home & Furniture, Sports & Outdoors, Health & Beauty, Department, Electrical & DIY, Children & Toys, Food & Drink, Arts, Crafts & Books.
This year's report from Ampersand is structured in a way that takes the reader through the whole shopper journey labelling each stage through the eyes of the shopper, starting with Browse stage before taking you through Consideration, Buy, Deliver/Collect and Return. There are key findings and sector-snapshots throughout each section of the report.
The unique Amp score for each retailer is taken from a comprehensive scoring algorithm, based on the core tenets of online retailing. The scoring system takes into account mobile performance, positive UX, multichannel technologies, click and collect, delivery, returns and payment. The final retailer list comprises 200 retailers: 161 multichannel retailers and 39 pureplay retailers. Retailers were assessed and given points against 50 criteria across the shopper journey. The algorithm then calculated the AMP Score for each retailer. As some criteria are only applicable to multichannel retailers, the formula was weighted to accommodate this fairly. The final AMP Score was calculated out of 100 and the retailers were then ranked within one decimal place.
Darryl Adie, CEO of Ampersand, comments:
"As digital adoption has accelerated, ecommerce has had to adapt at pace. Digital Consumers new and old will not suffer poor digital shopping experiences. With this in mind, we decided it was time to update our annual report. This year we have overhauled our research model and updated the criteria that we believe most retailers should be striving for."
The agency's 2022 Online Retail Report is out now, including detailed AMP Score methodology and the full ranking of the 200 retailers. See where your ecommerce brand has ranked and follow the agency on LinkedIn for further insights and updates.