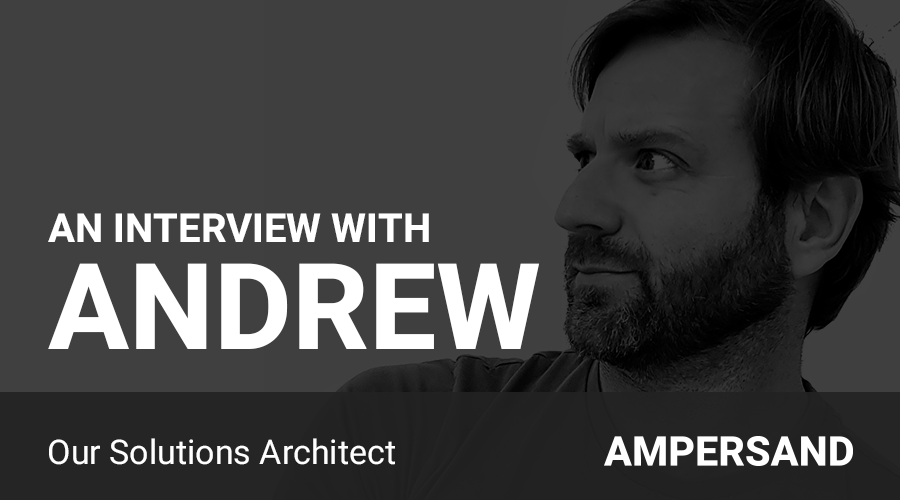 We thought we'd take five and have a chat with Andrew Hill, our Solution Architect, to find out a little bit more about what he does here at Ampersand and to get his perspective on the world of ecommerce in the new normal.
Hi Andrew, so tell us a little bit about the work you do at Ampersand
I help our clients to get the best "bang for their buck" by defining solutions that are effective and help drive value from their investment. I have a varied workload, which involves getting me in front of clients early on in projects to help define scope, phases and budgets.
Once solutions are defined I help the delivery and development teams to understand them and ensure that we deliver what we've promised. I work with the QA team to help define the detailed acceptance criteria for a solution so that clients can sign-off on the solutions we have defined. Most days I spend working with both technical and non-technical teams, helping to bridge the gap between them.
What was your path to Ampersand?
I started my career with an engineering degree, which led me into some technical disciplines but I actually migrated into a more functional role as a business analyst at Centrica (British Gas). That role became increasingly technical over time and so I refocused my attention specifically on programming and web development. I left Centrica to set up my own web development company with two friends; this actually coincided with me emigrating to Cyprus! After seven years I returned to the U.K and took a role as a development manager at a CRM company where I managed a team of developers for four years, building bespoke web apps and mobile apps. I then joined Ampersand in 2015 as a lead developer, moving into the solution architect role in 2018.
What's kept you here for five years?
Over the last five years, we've purposefully changed how we deliver transformation projects, and the challenges inherent with that, along with the varied client work, are of real value to me.
While Ampersand is client-focussed, we also have a very strong technical pillar, which obviously informs our reputation as an agency. Coming from a technical background, it's great to work in an environment where we give the right weight to strong, resilient and effective technical solutions. We don't cut corners.
The teams I work with (that's our clients' teams and our internal team) are really fantastic so very often it doesn't feel like work. Working with clients to help them realise their goals is what I enjoy the most.
Can you share some exciting projects that are happening at Ampersand at the moment?
We continue to engage with some really exciting brands and retailers who have a wide range of problems to solve. One of our clients is in the process of transforming their stores nationwide; meanwhile they've engaged Ampersand to realise their ambition of trading online. These opportunities are ideal in many ways for Ampersand to take on, with our strong technical offering, ten years' retail experience and our unique Accelerator approach (which you'll hear more about in the coming months).
What do you think the impacts of COVID will be on the ecommerce industry?
I think a lot of people are thinking online first when they shop now and realising that there's a huge amount of products and services that can be delivered right to their doorstep. And so we're seeing an increase in retailers investing in their ecommerce strategy and coming up with innovative ways of presenting and marketing their products and services.
What do you think the next few years will have in store for retailers? (no pun intended)
I believe that many retailers are realising that they can be much more effective with improved search and merchandising tools. These tools help customers to find what they want quickly and improve conversion but they also push high value and popular products under the consumer's nose. The rise of machine learning and artificial intelligence in these sectors will also allow more personalised shopping experiences, with richer, more relevant journeys presented to shoppers on every visit. We work closely with various search, merchandising and personalisation providers to help get retailers to market quickly to leverage this technology.
Much has been said about the rise of augmented reality in ecommerce over recent years but we've never seen real evidence of retailers and brands really exploring this space. I think that the lack of clear direction in the underlying technology means that this is unlikely to change any time soon. Of course the effects of the pandemic might accelerate developments in this field.
Thinking about Ampersand's New Normal, what do you think your hybrid working model will look like?
The way the whole team has transitioned to a remote-first workplace, picking up new techniques and tools to achieve this, has been fantastic. In the new normal I see myself visiting client sites again and working from our Manchester office to keep up with the team and have some of that non-work related chat and banter, which is something that I've missed working remotely.
Having said that, working at home for the last five months has had its benefits: the commute to my office is always smooth and I get to hang out with Poppy too (see below)!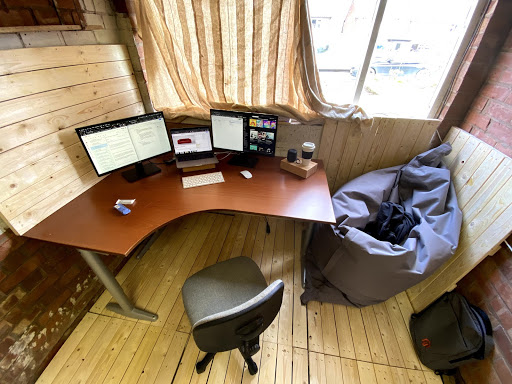 Andrew's home office set up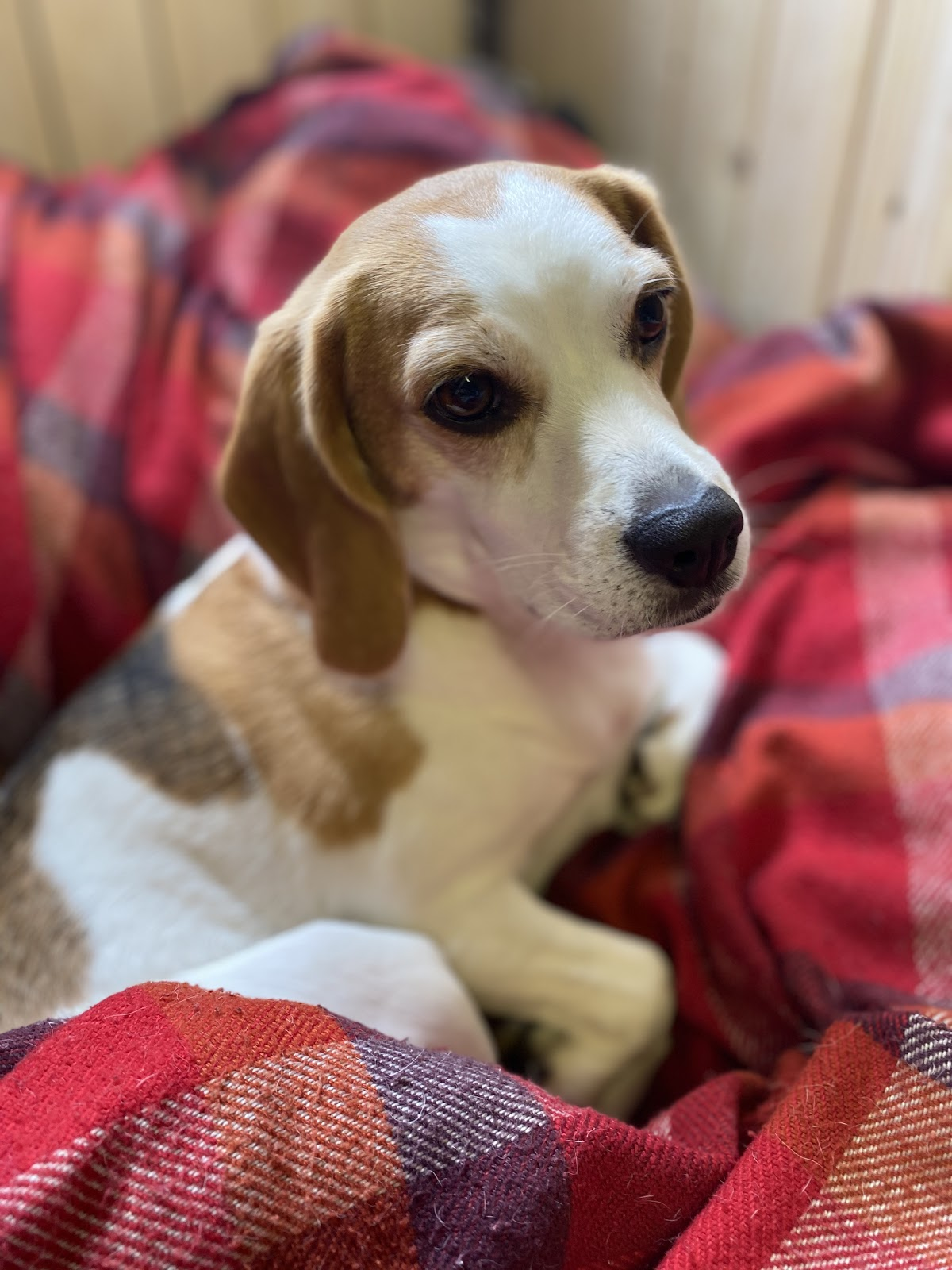 Poppy hanging out under the desk!