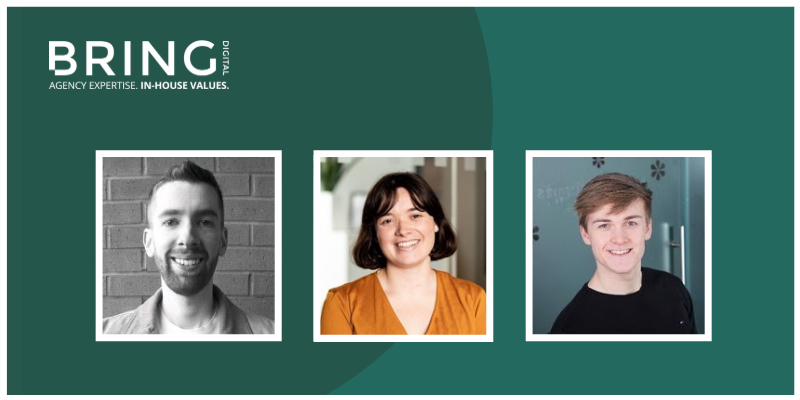 Multi-award-winning eCommerce agency Bring Digital has hired three new digital specialists to join its team following another consecutive year of record growth.
The news sees the Manchester-based agency expanding the teams in both its SEO and its Paid Search departments.
It's the direct result of a year which saw Bring Digital surpass £3 million in revenue and achieve the title of 'UK eCommerce Agency of the Year'. The agency also welcomed several new client brands including Boohoo, Swinton Insurance and Slater Menswear.
Joining the SEO department are Grace Edwards and Ben Magnall. Grace joins the Content team from Manchester-based digital marketing Custard, and Ben joins the Technical SEO team following a stint at app development agency Indiespring.
Aidan O'Sullivan begins his tenure in Bring Digital's Paid Media team. He joins from Manchester eCommerce agency PushON, where he developed key paid marketing channels for his clients.
"Being able to welcome new faces is one of the most rewarding parts of the record-breaking year we've had," says Justin Young, Managing Director at Bring Digital. "We're a people-first business, so reinvesting into our teams is at the heart of our ethos. It's the reason we've been able to grow even in such a challenging season.
"We can't wait to see what Grace, Ben and Aidan will bring for our clients."