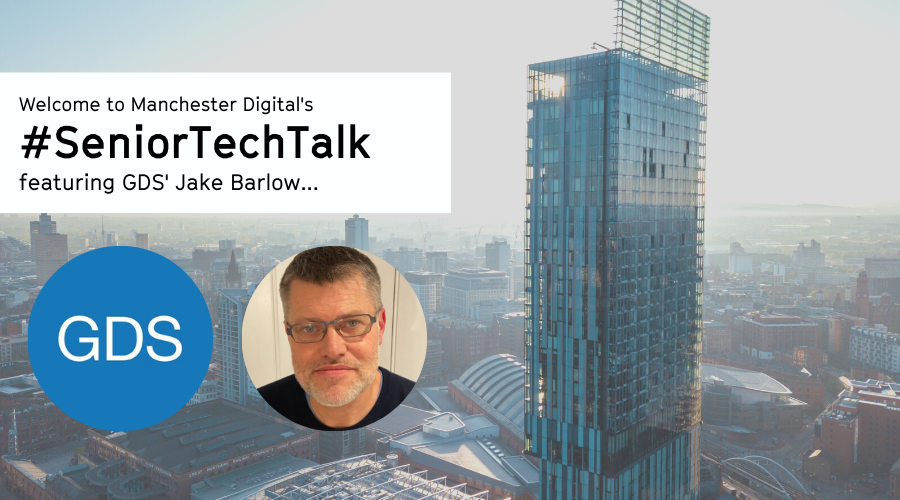 Government Digital Service (GDS) play a vital role at the heart of government. Part of the Cabinet Office, GDS build the platforms, products and services that ensure everybody in the UK is able to access a simple, joined-up and personalised experience of government.
To tell us more about the work GDS do, we're joined for the latest #SeniorTechTalk by Jake Barlow, Director of GOV.UK.
Please could you tell us about GDS and your goals as an organisation?
Yes, of course. So the Government Digital Service (GDS) sits at the heart of government, within the Cabinet Office. We have got an office in Manchester and also in Bristol and London.
Our overall goal, our mission in life, is to make sure that we build a simple, joined up and personalised experience for anybody who interacts with government. We do that through a number of different ways, such as common tools, products, services and GOV.UK.
Our focus at the moment, and part of the reason that we launched a new strategy, is that at the moment there's about 300 services on GOV.UK. There are almost 200 different ways that you can log in and there's about half a million pages. So whilst there's some brilliant government services out there, it can be difficult for people to interact with government sometimes.
So part of the mission is to work collectively with departments across government, just to really try and simplify that and join it up. And again, if people want to, give them the option of having a more personalised experience of government.
Can you explain your role within the organisation?
I'm Director of GOV.UK, which as I'm sure you'll know is the digital home for UK Government.
And it plays a really important role, particularly at the moment, in making sure that citizens can access really critical information and services.
So a really important part of my job is to make sure that it's [GOV.UK] always available, that it's accessible and that it's up to date, so people can always get on and use those services.
There's about 17 million people each week that go on to GOV.UK. Some will just be for relatively straightforward things, and some people might not go on very often. It could be around an event in somebody's life when they suddenly need to interact with government over an intense period. Some people need to use our services multiple times a week too.
So lots of varying but really important needs.
How does technology underpin the important work that you do at the Cabinet Office?
So as you can probably guess, it's pretty key. Digital and technology plays a role in pretty much everything we do.
Thinking specifically about GOV.UK, again making sure that it's always available and that it's resilient. The technology that GOV.UK sits on is really key. We've got around 50 technologists, technical architects and resilience engineers, who are all focused on and making sure that that happens.
The approach we take is to make sure that we have those teams really, really focused on making sure that GOV.UK is up to date and accurate at all times so those teams are constantly understanding what people need and iterating our underlying technology and what we do.
As you probably expect, we use continuous integration so that we can very quickly change and deploy new content and code to GOV.UK.
We work out in the open so all of our code is on GitHub, for example. This is just another way of working in the open and just making sure that what we're doing and the code that GOV.UK is running on is really good quality and up to date. Ultimately, that really helps us make sure that we're resilient.
Are there any recent projects that you are particularly proud of that you could share with us?
Definitely. More recently, and it's very visible at the moment, is the work that the teams have been doing to make sure people can get up to date information and guidance on GOV.UK to help and support during the pandemic.
And that's been happening since the very start. Since March 2020 1 billion people have visited COVID content. I'm very proud of the work that the teams have done to make sure that all of that very rapidly changing content is always up to date.
There is a big focus at the moment, and it's at a relatively early stage, around what I mentioned before in terms of our mission to make sure things are simple, joined up, and more personalised.
There's a lot of work going on around something that we're calling whole user journeys, which is a piece of work we're doing really closely with departments, which recognises that we've got some great services out there but they're often built around a little bit too much around government's internal structures. So what we're trying to do is to work with departments and think much more about people's life events, the problems that people are trying to solve, and thinking about how we can simplify and join up our services to better reflect that.
That's in its relatively early stages, but again I'm very proud of the progress that we're making around that.
All of these things are linked, and we're also doing a lot of work on something called the GOV.UK Account. As I said earlier on, there's hundreds of different ways that you can log in to government services at the moment, so the vision for a GOV.UK Account is that there's one single place that people can log in. If they want to provide us with some very basic information, it'll mean when they log back in again they don't have to duplicate information as they log into different services across government. We trailed that last year on our Brexit Checker. We have around 65,000 subscribers at the moment. Again, it's relatively early days for that but I'm really proud of how it's going so far.
We're also doing a lot of work on making sure that people can sign in [to GOV.UK]. So basic authentication, username, password. There's lots of different ways that we ask people to do that across government at the moment, so we want to make sure that there's one ubiquitous place that people can do that.
Tied in with that also, we're looking at digital identity again, providing a simple and easy way for people to prove who they say they are in services that need that extra extra level of assurance.
We often talk about how difficult it is to recruit for digital and tech roles. What are some of the steps you've taken at GDS to attract and retain top tech talent?
We care a lot and invest a lot of time in making sure that we've got the right culture and environment in the organisation. It's hopefully coming across that we care a lot about meeting user needs. So we do invest a lot of time in making sure that we've got that culture right and really empowering and supporting our teams to enable them when they're building digital services, or using digital technology, to do that.
That, combined with the fact that GDS also has a really important mission, to enable citizens and businesses to access critical services. This is a really important and critical mission, so we've got a really strong purpose. Those two things combined, I think, is definitely one of the main reasons people want to come and work for GDS, but also when they do come and work here they want to stay.
We do have something called the Digital, Data and Technology (DDaT) Framework, which is basically a pay framework for DDaT professionals, that helps us to compete more broadly.
In a similar way, we've put a lot of focus on putting a framework in place that enables us to help and support people to develop their DDaT skills. So again, to provide that career progression to help people progress once they've joined the organisation on to the next level.
As you probably expect, we've got a lot of very flexible working arrangements, as most people have. We've been working as a virtual organisation for a long while now, and clearly that's something that's very important.
And people are really at the heart of what we do, so more broadly, we invest a lot of time in our people. And I think, hopefully, that once people have joined, that's another reason that they really want to stay.
How important is it for GDS to be a part of Manchester's digital community and are there any ways that you contribute to the ecosystem?
It's really important to us. The mission I was talking about earlier, it's big and ambitious and we need really good people to enable us to do it so we are investing a lot in Manchester. We see it as a really vibrant and growing digital and technology community, so absolutely, Manchester is important to that.
We are looking to join and improve and help grow and take part in a lot of the communities and networks that I know are in Manchester already. As I've said, if you work for GDS we do invest a lot in helping to build and grow and support people, so hopefully we can give that back to our teams who work in Manchester.
And, as an organisation it's really good to have a different breadth and diverse range of people joining the organisation which Manchester can provide.
I know that we're also participating in your Digital Skills Festival in February, and that's something that we're really excited about, as it'll give us the chance to meet a wide variety of young people who are considering their future careers.
Finally, can you tell us about some of the opportunities that are currently available for people to work at GDS?
Because of the size of our mission, we will be recruiting for lots and lots of different digital and technology professionals in the future to help us and contribute towards delivery of the mission.
But at the moment we have the following opportunities that will be closing on 16 and 23 January: developers, senior data scientists and a head of product for digital identity. So if people do want to know more about the roles we are recruiting for there's lots of information about GDS on our blog and all of our roles are on the GDS career site.
Thank you Jake!