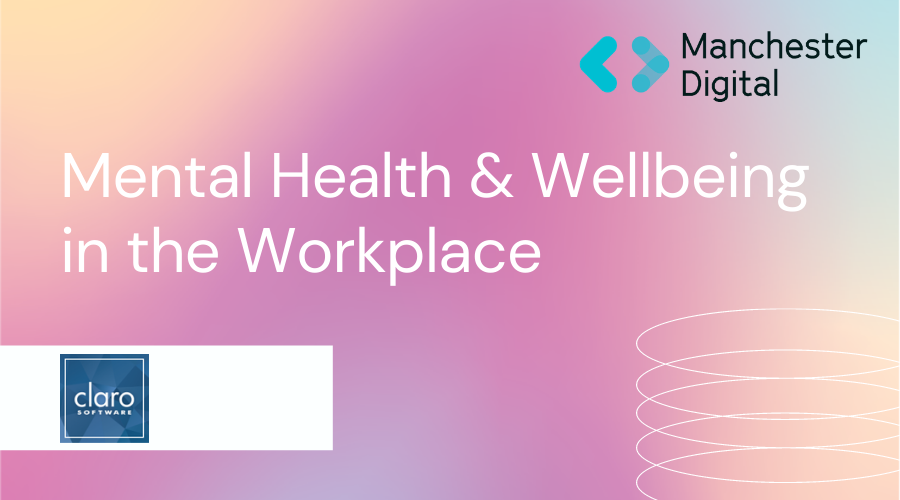 All throughout Mental Health Awareness Week 2021, Manchester Digital are sharing the ways in which some of our members support their employees and promote good mental health and wellbeing practices.
Next up, we spoke to assistive technology developers Claro Software.
How does your business go about supporting your employee's mental health and promoting wellbeing?
We have regular weekly meetings where we can discuss any issues or problems we may be experiencing. We also recently signed up to be a Disability confident employer scheme in order to provide as much support as possible to our current employees.
Are there any measures that you have put in place over the past year in order to protect and support your employee's mental health following the move to remote working?
Our CEO regularly offers support through one to one meetings and has asked to be contacted if we are struggling with remote working. We also have weekly informal meetings with colleagues to discuss any problems we may have with remote working.
Do you use any specific tools, platforms or software in order to support and promote mental health and wellbeing, and how successful have you found them?
We receive daily reminders via email to remind us to take breaks, otherwise we rely on contact from colleagues.
What support is available to your employees who may be struggling?
Informal support from colleagues and our CEO has offered flexible working hours if we need that or to take holidays if needed.
Are there any ways that your company culture encourages healthy habits amongst your workforce?
We have attended different team building events in the past including health activities and trips abroad to our partner organisation in Norway.
What initiatives or perks are available to your employees, and how important do you think these are in the promotion of mental wellbeing?
We can order our own ergonomic furniture for our remote working and are to be offered free gym membership shortly. It is vitally important that we all have support structures in place to be able to work remotely and stay positive and healthy.
How do you ensure your employees achieve a healthy work/life balance?
We do this by offering flexible working patterns and also by having regular weekly informal meetings if needed with colleagues and/or the CEO who is keen to ensure that we are all keeping well.
How do you measure the success of mental health or wellbeing programmes?
We ask for regular feedback from colleagues, we can do this on a face to face personal level or during our weekly team meetings. If things need changing then we can do that as we are only a small team.
What differences have you seen since implementing workplace wellbeing initiatives?
We don't measure performance but have a more informal approach to staff wellbeing and listen and support colleagues when needed. Our business has not been overly affected by the pandemic and our sales have increased this year. We are fortunate that our software is still in demand so we are keeping busy and have managed to ensure that our colleagues are supported when needed.
What advice would you have for startups or small businesses who may not have any mechanisms in place currently to support their employees?
Offer regular informal meetings/chats with colleagues, make sure all staff are aware of the support in place and encourage discussion so as not to leave anyone feeling isolated. Have staff quizzes or other fun activities, encourage inclusion.
To find out more about Claro Software, click here.
If you're a Manchester Digital member and would like to share your organisation's approach to mental health & wellbeing, or would like to take part in future features, please email thom@manchesterdigital.com.