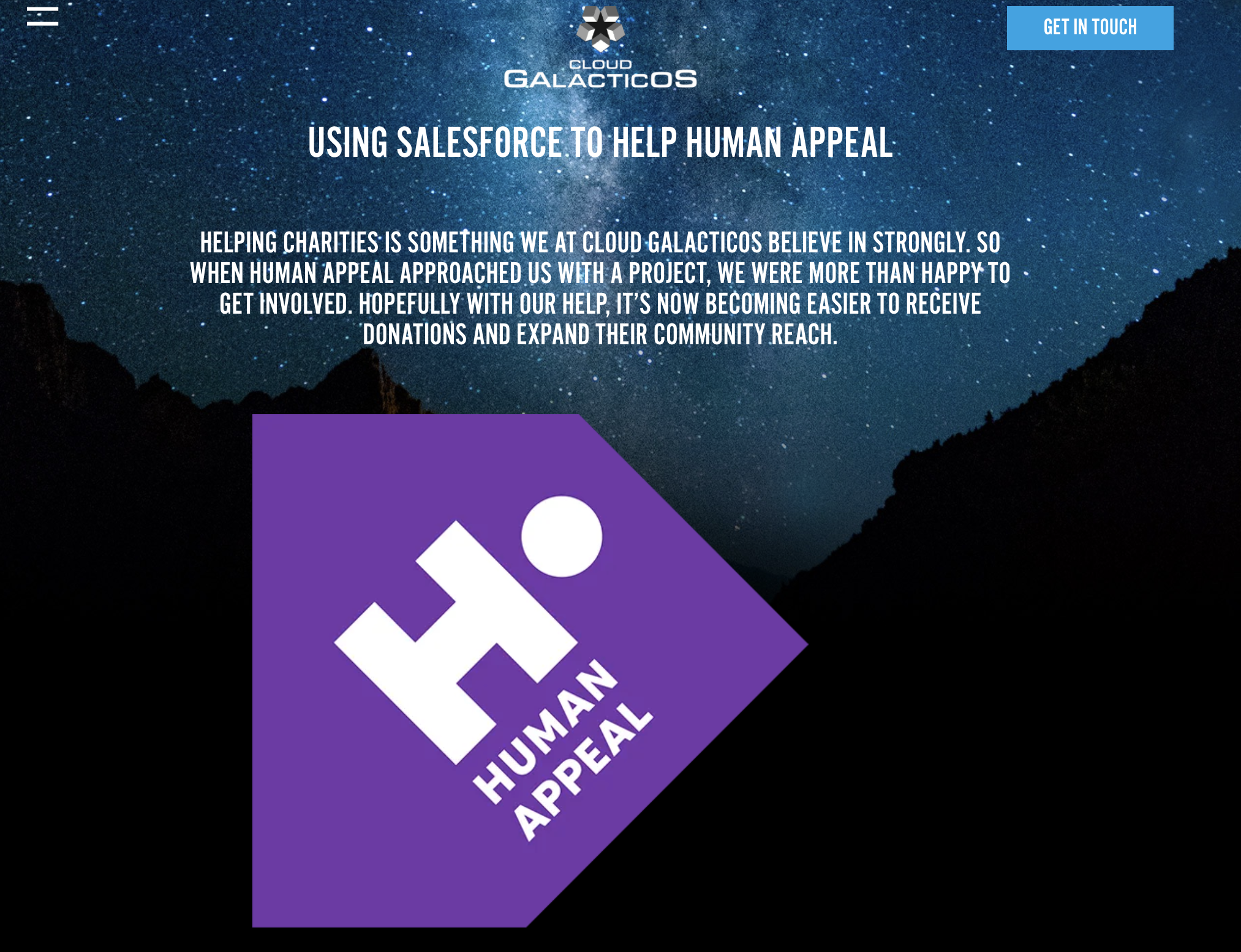 Helping charities is something we at Cloud Galacticos believe in strongly. So when Human Appeal approached us with a project, we were more than happy to get involved. Hopefully with our help, it's now becoming easier to receive donations and expand their community reach.
Overview:
Human Appeal is an international development and relief charity. It was launched in 1991 and based in Greater Manchester. With the help of generous donors, supporters, and partners, the charity works tirelessly to alleviate suffering, offer relief, and break the cycle of poverty.
Human Appeal is an organisation inspired by Islamic values, but working on behalf of all humanity. Through the help of Saleforce.org – the charity arm of Salesforce, Human Appeal received 10 free licences.
Outcome:
"Throughout the project, the team at Cloud Galacticos were very engaging and committed – going way beyond expectations to meet our unique and challenging requirements. They have been very professional and technically proficient, yet a pleasant team to work with." Ihsan Aljafri, Head of Systems and Development, Human Appeal
Human Appeal has gone live with their first Salesforce implementation. This first phase has enabled their staff to accept recurring donations from the general public to take place over the Ramadan period. This was a 6-month implementation project led by Cloud Galacticos, and the first of several phases. The next steps will include Orphan Sponsorship capabilities, and migrating from their previous CRM.
Cloud Galacticos have delivered a payment architecture that will allow Human Appeal to expand their donation products and projects with the standard NPSP architecture. Donations can now be tracked, allocated and moved between funds, which is something the charity have not had the ability to do previously.
If you would like to find out how Cloud Galacticos can help you achieve the same success in Salesforce, contact us today. https://www.cloudgalacticos.co.uk/contact/