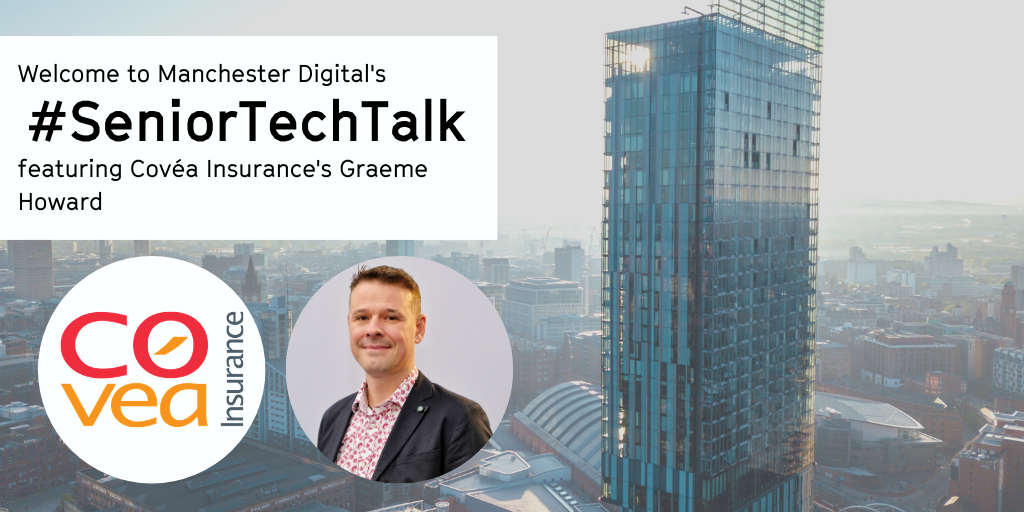 Covéa Insurance are a general insurance company with various offices across the UK, offering commercial, motor, high net worth, property and protection insurance. They believe that their heritage allows them to make a real impact, and this is certainly the case for their digital strategy.
We caught up with Graeme Howard, Chief Technology and Information Officer, to find out more about Covéa, the Insurance industry and the role of technology within it for the latest edition of #MDSeniorTechTalk.
Could you please tell us a little bit more about Covéa Insurance as an organisation and your goals as a business?
Covéa is a midsize general insurance company in the UK offering a range of products from motor and home to pet and protection insurance. We're on an exciting digital transformation with the aim of disrupting the industry and reimagining insurance as we all know it. We might not be as big as some of our very large rivals, but this means we're in a position to be more nimble and speedy with every move forward. We want to make insurance a valuable tool so we're putting customers at the centre of everything that we're doing and taking them on a digital journey
Our work on digital platforms and digital engagement is all centred around customer experience and really delivering something different. Customer satisfaction, especially in the traditional insurance market, is something that's not always felt, so we're trying to change that as we grow our business across the different product lines.
And could you explain your role within the business?
I'm Chief Technology and Information Officer, which means I'm responsible for all of our digital platforms, the digital function, technology transformation and embedding agile ways of working and operations across, not only the digital part, but the whole of the company. As well as transforming our products, we're transforming our business to be much more agile and to be able to respond to things in a different way, delivering those products and services to the rest of the company.
How would you say the use of technology is transforming the insurance industry? And what kind of role do you think Covéa would have to play in that?
I think, as with most other traditional industries, technology has a huge role to play in the transformation of insurance. You can see in many other different industries, such as banking, where new technology has shown that there's new, different ways of doing things that maybe you couldn't do 10, 20 years ago. I think insurance is absolutely ripe for that.
Technology really needs to be the way insurance is modified to meet the modern requirements of customers. We're trying to position ourselves to be able to partner with other organisations who can add value to the customer experience. I truly believe that smart sharing of information is the biggest opportunity technology can bring. It will enable us to share that information in a secure and useful way with InsureTechs, and use applications to empower customers to do things quicker, limiting the number of interactions, so that we can offer that speed and personalisation of service customers of today and tomorrow expect.
Giving customers that ability and empowerment is a big piece, whether it's settling a claim without ever talking to anybody because you're a busy person and want to get on with your life, or if it's purchasing a product and then changing all your details as you move house, or changing the car you insure with the minimum of fuss. We want to be able to share that information across multiple policies to make insurance easier and provide a much better experience for the customer. That's the part we're really trying to play, to be that enabler from a smaller player to a big player to help people get the best sort of service that's possible.
Why do you think the insurance industry is so ripe for innovation and disruption, as we've seen over the past few years?
I think it's really due to the fact that we are, quite rightly, highly regulated, but the model is the same one that's been running for over 100 years and hasn't really changed. The reason for that is, I think, because regulation has made it difficult to securely move forward. But we now have the ability through digital innovation, complex data modelling and information sharing to be able to help people progress and reimagine insurance as a service.
There are great examples of Insurtechs and startups that really changed the business model and they've proved that the business model can be changed. So, for example thinking about how currently you can get car insurance that is usage based, if you need to buy it for 10 minutes to drive your friend's car, that was unheard of five years ago, Now there's definitely a big swell towards insuring things for when you need them, not just on a 12 month policy because 'that's how it's always been'. There's a definite increase of that and we need to make sure we keep up with that.
And is it a case of the startups and the new kids on the block doing the innovation, whilst the larger insurance companies that have been around for years play catch up with them? And if that is the case, where do Covéa sit on that scale?
I see us as sitting in the middle of that scale. There are elements, I think, where we're behaving more like a startup, but with our own backing and our own capital which is obviously hugely important for an insurance company. We can be more nimble and make changes that some of the much larger organisations might struggle with as they're bound by so much more legacy on systems and processes .
A lot of the startups struggle with some of the regulatory and compliance pieces that you just have to do for insurance, along with material outsourcing and the like, which can be very difficult to do as a small company.
We're trying to offer the ability for InsureTech startups to work with us so that we can take some of the burden of regulatory compliance, data hosting or capital out of the way, so we get a sort of union together. That's the position we're in; equally happy to host an ecosystem or be part of an ecosystem. We're not set on just one particular way of operating and I think that's the flexibility we need.
I imagine that a lot of the traditional insurance companies are based in the City of London. Is that a challenge for Covéa being up North or does that present an opportunity?
I think it presents a lot of opportunities. This is my first job in insurance, and technology plays such a big part in insurance now and with the model changing you no longer need everybody to have lots of insurance knowledge to make a difference.
As insurance becomes more interesting to people and they recognise that technology and ways of working are massively changing and it's not how it used to be, being a big insurance company with an office up North creates a big opportunity to attract people.
We're doing a lot of in-house development rather than offshoring, which is different to a lot of other companies. This enables us to get that muscle memory of doing it ourselves, which I think is very good. And we're definitely finding lots and lots of talent in and around the North of the country. There's some great people up here, great networks that we're plugged into and I think that it's just growing day by day.
Tech recruitment is notoriously difficult. What steps does Covéa take to attract and retain talent? And could you describe the culture?
Since I've joined we've really looked at how we are operating and how we're showcasing what we're doing. We have some very interesting activities and we've got an amazing opportunity to disrupt insurance. We're not using bleeding edge technology, but we are using some of the latest and greatest technologies, and we offer the ability for people to be much more autonomous about what they're doing, making decisions and feeling that they can own their journey. That to me is hugely important.
For people, there's the ability to put your name in stars, to be able to demonstrate your skill set and I'm very keen that we give people the opportunity to talk about what they've done. It's not secret what we're doing and I think we need to be quite open about the journey we're on and the work that we're doing. I want people to talk about what they're doing with data or how they've set up machine learning models or created some great data streams, or whatever it may be.
That to me is probably the biggest piece, that cultural piece where you know you're more than just an individual, but you still are an individual and you can shine as that individual whilst also being part of a team. I want people to thrive in their roles and I want them to move jobs within our team, as everything we do is a team activity and there's definitely the opportunity to switch roles as you move through your career.
Is being a part of Manchester's digital community important to Covéa. And if so, in what ways does the organisation contribute to the local ecosystem?
I think it's hugely important for us. I mean, being active and giving people the platform to talk about what they're doing is a massive part of their jobs. We have some smaller regional offices but our digital teams are based in three main locations - Halifax, London and Reading, so we have some spread, but our main hub is here in Halifax located between two great tech communities (Leeds and Manchester). Being in neither one sort of gives us an advantage as we're accessible to and from both.
We're definitely trying to get our message out. There's a huge community of very clever and talented individuals up here, so being part of that is very important to us. We're in Northcoders, doing some work around that and bringing people into the industry. We've got some very active members in our teams who are not just attending but hosting and creating events themselves. And now that events are fully virtual it's helping to increase our expansion. I'm always encouraging people to talk about what they've done, and in doing so that enhances the community and makes it stronger.
Finally, what are your hopes for 2021 as a business and for the wider tech community?
We've done a huge amount this year, and I'm absolutely amazed by what we achieved in 2020 despite everything else happening. Even though we went through a huge number of transitions, we've kept and delivered our roadmap, plus some additional pieces as well.
As we look further into 2021 it's really the first year where we've been able to pre-plan our product roadmap and have a more defined view. We inherited some projects that we had in play before, but this is the first time that all the processes we've put into place for mapping out 2021 have come to fruition. I'm so excited for this year because we have such crystal clear focus on what we're going to deliver, fully aligned with the rest of the business.
We're delivering on our policy admin platform and our first one goes live in Q1, a new claims management platform will go live this year as well, plus we're doing a whole real time pricing analytics piece which will be launched in 2021 as well. So three massive pieces for us, which will come out throughout the year.
Our focus will also be on delivering some big affinity partners that we've gained and automating a lot of back end processes too, trying to enhance things for our internal customers, our business users and getting them operating in a better way as well so they can concentrate on core tasks.
On a personal note, it's really hard as a leader to do everything over a laptop. Part of my job is to spend a lot of time with people, and it's hard to get enough of that. I'm really looking forward to more collaborative stuff, getting back on the whiteboard or just having a cup of tea. I really miss the normal conversations and also the good stuff that comes out of popping out for a coffee or jumping on the Xbox. I'm looking forward to having that interaction back this year. That's my big hope.
Thank you Graeme!
Want to raise your company's profile? If your company would like to feature on our website, across our social media and in our newsletter, contact thom@manchesterdigital.com for more information.