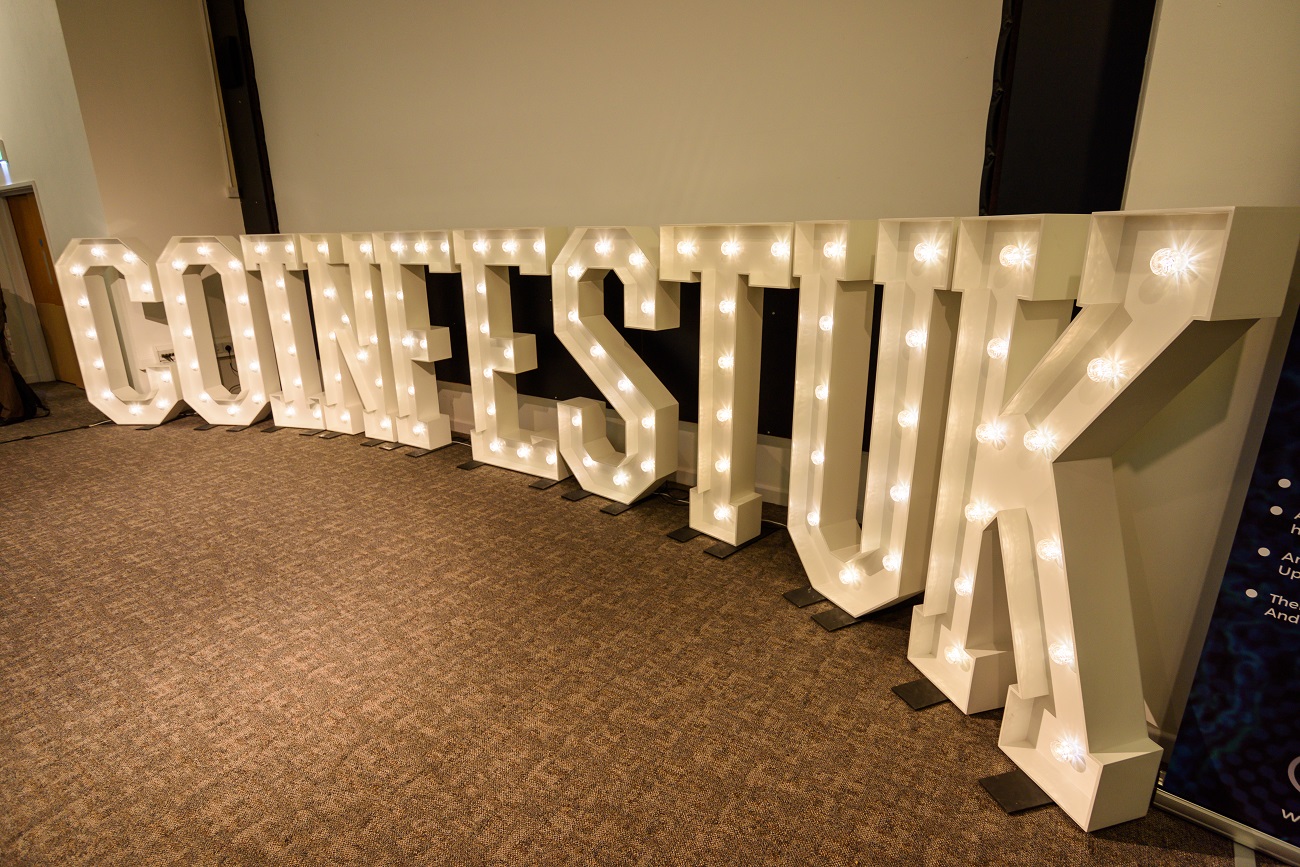 What does the crypto community look like in 2019? With over 2000 digital currencies on the market to pick from – and even Facebook's Mark Zuckerberg weighing in – the crypto world is bursting at the seams with creation, innovation, discussion and debate. No more so than at CoinFestUK 2019, a free three-day event organised by Manchester-based CryptoBatesGroup.
Aimed at crypto-enthusiasts and newbies alike, CoinFest is part of a global network of events whose main goal is to demystify cryptocurrency alongside educating the public about Bitcoin and its uses. Founded back in 2013 by Bitcoin advocate Andrew Wagner, CoinFest has since grown from a small gathering of 100 enthusiasts to a global event with international recognition.
Now in its fourth year, CoinFestUK brings together art, music, tech, talks and workshops from the best of the British crypto community. The event joined other international gatherings in Vancouver, the Netherlands, Ghana, Sierra Leone, Nigeria and Botswana in celebrating the global influence of cryptocurrencies throughout the first week of April.
Armed with a killer schedule, CoinFest UK took over the Manchester Conference Centre from the 4th-6th April to host more than 300 attendees and over 40 speakers, as well as a raft of workshops, exhibitions, activities and entertainment. Free to attend and open to all ages and all levels of experience, the event offered a welcoming and relaxed atmosphere for professionals, startups, academics, amateurs and newcomers to catch up, chat and engage with like-minded peers.
CoinFest UK is funded by donations and sponsors, all of whom travelled up and down the country and from around the world to support and exhibit at the event. 2019's headline sponsors included MonetaryUnit, the team behind digital currency MUE and crypto-accepting marketplace Flubit.com, as well as EthBits, a crypto platform and trading exchange. Other sponsors included BittyBot, CommerceBlock, Hoard.Exchange, Trippki, Hodlr.Rocks, Kryptoez, Cryptoversity, Crown and Lightning Collect, bringing together all areas of the crypto community, from price comparison websites and online learning to art and apparel. Sponsors were also joined by a huge range of exhibitors from all areas of the community, giving attendees valuable opportunity to network, share ideas, explore and engage with new technologies and products.
Meanwhile, attendees enjoyed a packed schedule of talks, workshops and casual discussion. Hosted by Chris Coney, speakers included Colin McCrae, CEO and co-founder of Edge Fund, a decentralised platform for fixed odds games; Gavin Brown, a senior lecturer at Manchester Metropolitan University; Bertie Stephens, CEO of Flubit; William Hern and Matthew Rodbourne, co-founder of EthBits. The guests were also joined by a mystery speaker, whose identity was revealed as popular Canadian Bitcoin commentator and altcoin miner, notsofast, making his first ever public appearance.
Talks covered a diverse range of topics relating not only to the crypto space and its growing place in everyday life, but also on the future of work, how foodbanks are leveraging cryptocurrency as a new revenue stream, the mysteries of Bitcoin founder Satoshi Nakamoto and Blockchain art. Talks were followed by a highly attended discussion panel, where topics discussed covered inclusion, business development and investments. This provided another valuable opportunity for professionals and enthusiasts from across the globe to come together and share ideas in a casual atmosphere.
While the talks provided time for reflection, there were plenty of opportunities for fun and games throughout the three-day event. A series of intimate interactive workshops appealed to curious attendees of all ages and were one of the most popular activities. Workshops included mining and transaction workshops hosted by Greg Walker, owner of the LearnMeABitcoin.com website, who explained the process of how cryptocurrencies are 'created'. Attendees were also able to use a Bitcoin ATM and take a look at the inner workings of a GPU mining operation as part of a live demonstration.
More opportunities to relax and have fun came in the form of crypto-themed giveaways, evening entertainment and raffles. Among refurbished arcade claw machines, Crystal Dome-style wind cylinders and a crypto treasure hunts, the event closed each evening with live broadcasts from Madbitcoins and live rap from CryptoRaptor, followed by a much-deserved free bar for sponsors and VIPs.
What can't be underestimated is the networking opportunities CoinFestUK presents for business and the community. 2019's event produced an exclusive deal between an affluent lifestyle magazine and Trevor Jones to produce AR content for their publication. From new business partnerships to strangers discovering they are in fact neighbours back home, CoinFestUK has turned into an event of national – and international – influence.
CoinFestUK returns for its fifth year in 2020, so make sure to join us for three days of talks, workshops, networking and cryptocurrency celebration from November 13th– `15th in Manchester. Get all the latest updates by subscribing to the newsletter at coinfestuk.org and be sure to follow @CoinFestUK on Twitter for more announcements.