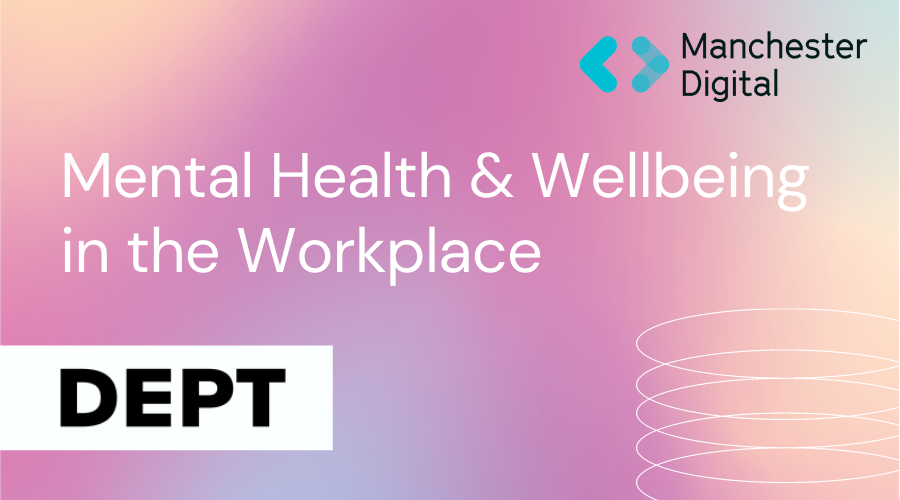 Good mental health and wellbeing practices are an increasingly important focus for employers and appear high on the list of things that employees look for from an organisation, never more so than in the past year as companies adopted working from home policies in response to the COVID-19 pandemic.
To coincide with Mental Health Awareness Week (10th May - 16th May 2021), Manchester Digital are shining a light on some of the excellent work being done by the region's digital and tech businesses to support their employees as we interview a selection of our members on their practices, policies and tips for other businesses.
Kicking the week off for us are digital agency DEPT®.
How does your business go about supporting your employee's mental health and promoting wellbeing?
DEPT® prioritises our team's mental health and wellbeing through a number of initiatives, which include our 'work from anywhere' policy with flexible working hours, aiming to support a healthy balance between our personal and professional lives. Dept has an Employee Assistance Programme with CBT therapy and 24/7 over the phone support. Wellbeing Advisors on our team help spot triggers, and offer non-judgmental listening and guidance to support those who need it. We promote mental health awareness through 'lunch and learn' sessions, and regular internal communication on our Slack channels. Expert guest speakers are brought in to talk with our team about wellbeing and positive psychology. Dept also provides free subscriptions to mindfulness app Calm, and sends healthy food gift vouchers to staff to promote healthy lifestyles.
Are there any measures that you have put in place over the past year to maintain company culture and keep staff engaged following the move to remote working?
Migrating to a remote working environment was a difficult adjustment for a lot of our team members that were not only accustomed to a collaborative workplace, but also enjoyed the social aspects. We created opportunities for digital micro-interactions to keep the team engaged; morning meditation, quiz nights, murder mysteries, breakout rooms, shared playlists and virtual gaming tournaments were just some of the activities arranged, as well as DEPT®'s chat roulette, 'elevenses' breaks and Friday drinks at our virtual Lock-in Pub.
Members of our senior management team would fuel the agency chat with light-hearted posts about the lockdown, showing the human side of working from home with pets or children, while encouraging staff to take breaks. We also launched the FGD (F*cking Great Depster Awards) to recognise the outstanding achievements of our team during the pandemic.
To demonstrate we're all in this together, we re-imagined our flagship DEPT® Festival that connected our Manchester team with the 1750+ Depsters across the globe. For the past five years, we enjoyed three full days of team building and activities to gain inspiration on the future of creativity, data and technology. The physical Amsterdam site was transformed into an interactive 3D festival map that supported 15 stages and hosted over 35+ short and snappy presentations. We balanced content and fun with virtual yoga, magicians, karaoke and DJ sets. 'Easter eggs' were hidden around the virtual map, leading people to things like the ten most famous internet cat movies, and a crazy Zoom background contest. The virtual Photo Booth generated a live photo wall, and in all thirteen countries, Depsters could have food delivered to their doorsteps via Ubereats and JustEat Takeaway after a visit to the digital food truck. We took this concept to the next level and hosted a second 2021 Dept Winter Festival with live-streamed entertainment.
What support is available to your employees who may be struggling?
We host awareness sessions relating to the pandemic and the impact working from home has on Mental Health, encouraging people to check in with themselves and make adjustments to boost wellbeing.
All of our line managers attend a mental health skill training course through Mental Health First Aiders (MHFA), giving them an in-depth understanding of mental health and the factors that can affect wellbeing. Through this training, they learn practical skills to spot people struggling and the confidence to step in and have supportive conversations.
We look for individual solutions to support anyone that may be struggling, which may include talking through stressors and making adjustments, offering Healthy Minds CBT online therapy via Bupa, paid for face-to-face counselling, paid sick leave and subscriptions to Calm.
Are there any ways that your company encourages healthy habits amongst your workforce?
DEPT® hosts a Wellness Challenge every month to motivate our team to participate in healthy activities that spark joy, whether that's participating in physical activity, enjoying the fresh air and scenery, chilling out with their pets or enjoying downtime with a favourite book. It's important to carve out this time and by posting photos and tracking this time, we're inspiring each other.
We also hosted a 'steps challenge' to incentivise physical wellbeing, and a series of green challenges to promote sustainability. We also encouraged our team to give blood to the NHS when it was needed most during the Covid-19 pandemic. We've held workshops on unconscious bias to support our DE&I goals, and became climate neutral certified. The feedback from the team has been overwhelmingly positive, with everybody feeling like we're working together to make DEPT® the best agency both in and for the world.
What differences have you seen since implementing workplace wellbeing initiatives?
Peakon surveys are sent out bi-annually, allowing our team to anonymously express feedback on the level of support and wellbeing initiatives we offer. We've taken suggestions on board, like offering paid subscriptions to Calm, and have created more awareness of the wider schemes employees can access.
We're proud to report engagement scores have reached an all-time high over the past 12 months and feedback from staff in relation to the flexible working options available is very positive!
What advice would you have for startups, micro or small businesses who may not have any mechanisms in place currently to support their employees?
Make an effort to promote an open and honest culture where employees feel comfortable reaching out to their peers, manager or HR if they're struggling with anything. Employees really appreciate it when they know they have someone they can go to for support who will listen to them without judgement - and that doesn't cost anything. Provide as much flexibility as you can to ensure your employees can achieve an optimum work/life balance, and in every interaction with your team ensure your communications demonstrate empathy. People are our greatest asset and they should always come first.
To find out more about DEPT®, click here.
If you're a Manchester Digital member and would like to share your organisation's approach to mental health & wellbeing, or would like to take part in future features, please email thom@manchesterdigital.com.