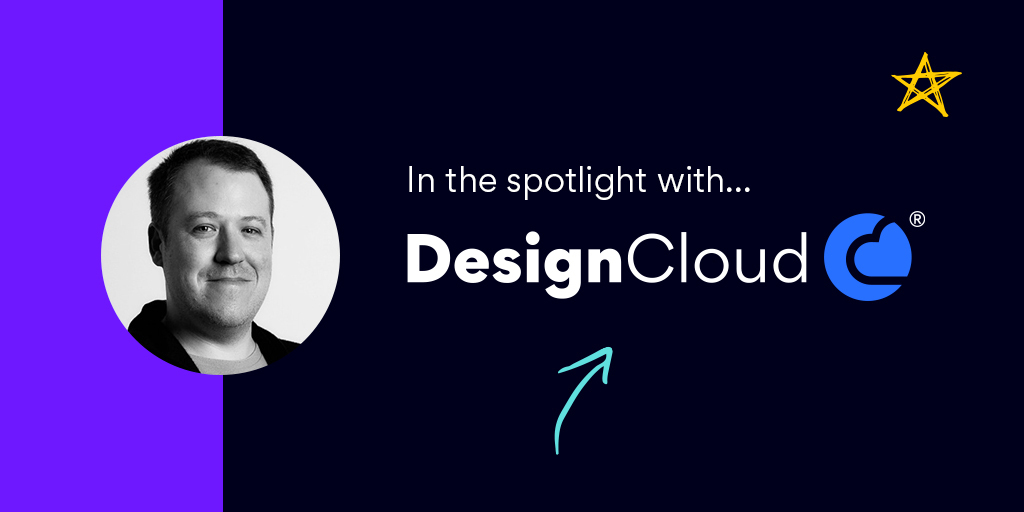 At Manchester Digital we like to interview our members to find out a bit more about what they do and their work in the Greater Manchester digital and technology sphere. This week we're speaking with James Rigby, CEO of Design Cloud, a Manchester design agency who offer a unique, professional graphic design service that provides on-demand, consistent creative work.
What does your organisation do?
We offer simple, scalable and professional graphic design services to businesses of all sizes. Design Cloud allows your business to work with a designated graphic designer or team of designers to create unique design work. There are 3 plans available; standard, agency and a pro plan. Every single one of these lets you submit as many design requests as you like through our uncomplicated customer dashboard or email, ask for as many revisions as you need and work on as many different brands as necessary. We offer brand design agency and web design agency services like landing page design or logo design. Our work also often includes designing marketing materials like social media graphics, merchandise, book covers, album covers and web banners.
Our in-house graphic designers all have a minimum of three years commercial experience and are seriously talented at design. Our aim is to help businesses access premium quality graphic design work for one flat-rate, affordable price and save money compared to using freelancers or hiring in-house. In fact the minimum saving you're likely to make is £20,000 per year, based on the average UK salary of a graphic designer. That's without all the extra equipment and space you need to hire in-house!
What do you think is currently the biggest issue facing the digital and tech industry?
Speaking from the experience of signing up customers to our service from the digital and tech industry every day, there is one issue we see a lot. The demand for digital and tech services has rocketed over the last couple of years. That begs the question, what happens to the time you spent focusing on internal projects and high value clients? Whilst an initial burst of growth your business experiences is great news, it's not certain that you'll sustain that growth for enough time to warrant hiring new staff members. You either have to stretch your budget to hire new members of staff, or you have to let your overall quality of work slip. That's where we find Design Cloud helps lots of digital and tech businesses, since we can help take off the pressure of small tasks from internal design teams and let them focus on the projects that will help secure steady growth.
For example, an issue we see time and time again is digital marketing agencies becoming overloaded with client requests and not finding the time to focus on their internal marketing. This means they aren't getting the time to focus on their own growth and whilst a burst of new client work is brilliant, it doesn't always mean success over the long term because when those customers leave, you are left with no new prospects.
What is your organisation's biggest achievement?
Our biggest achievement so far is a mix of finding some of the most remarkable talent in the design industry and successfully adding them to our team as well as growing our client base so rapidly. We have successfully managed to create a whole new customer dashboard which launches very soon to accommodate the requests of our client base. We are really proud of how fast Design Cloud is growing and adapting.
What would you consider to be your organisation's biggest challenge?
One of our biggest challenges is helping our audience to believe that our subscription plans are both low cost and high quality at the same time. Our mission is to ensure that people understand how Design Cloud works and that our affordability doesn't mean lesser quality work or less dedication than an in-house team member.
When we speak to people on a demo, one of the most common bits of feedback we receive is that people feel as though the unlimited graphic design subscription plans are simply too good to be true. They often think that the design work will be subpar because they aren't paying extortionate prices. The truth is that we can offer our premium graphic design services at such a low cost simply because of our business model, and we don't feel as though charging more than we need to is in keeping with our goal of making professional graphic design accessible to all businesses.
So our biggest challenge really is helping our prospective clients to trust us when we say that you will really have access to unlimited graphic design by a UK-based expert from flat-rates starting at just £549 a month, with no hidden costs.
What do you think the future looks like for Manchester's digital and tech sector?
If you look around right now in the Manchester digital and tech sector, it's a really exciting place and somewhere we are really grateful to be a part of. There are some incredible SaaS startups and established businesses here doing great things. As to what the future looks like, it's certain that the digital and tech sector will continue to see some phenomenal growth. Throughout the pandemic, we've really seen the strength of this sector and its ability to roll with the punches since it's an industry built for change.
One other thing that really excites me about the future of Manchester's digital and tech sector is the understanding and awareness that is growing around sustainability and brand values. It's really refreshing to see so many people in our audience who care about the people they are purchasing from and the effect that their habits have on the world. For the digital and tech sector, an increased willingness to help in areas they can is really promising.
Tell us something we might not know about your company?
Something you may not know about Design Cloud is that we started off as graphic designers for the music industry solely, and worked on some pretty incredible projects. At the very beginning of the Design Cloud journey, we worked with a brand called Future Sound of Egypt (FSOE) and still work with them to this day. Future Sound of Egypt is one of the world's leading label record and events brands and was founded by international music artists Aly & Fila. They specialise mainly in Trance & Progressive House music. We began to work with FSOE right as Design Cloud was starting, and with just a really small team we began making graphic design for major music events happening globally. Our design work included promotional pieces like banners, posters and merchandise. From there, the demand across the music industry grew and Design Cloud went from strength to strength, eventually growing into the multi-industry graphic design solution it is today.
Thank you James!
Want to raise your business's profile? If you're a member, contact thom@manchesterdigital.com to discuss featuring your content on our site, social media or newsletter. If you're not a member, get in touch today to discuss the benefits of membership.