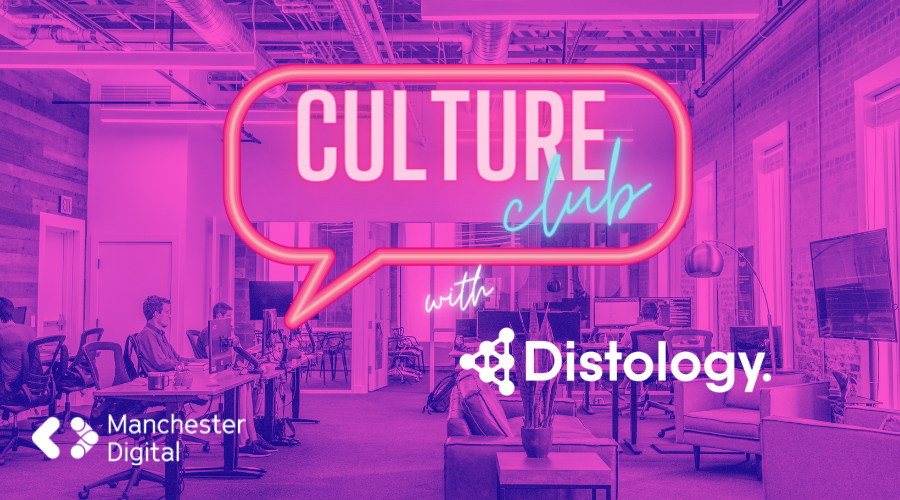 Joining us for the latest edition of MD Culture Club is IT security distributor Distology.
We spoke to three members of their team to find out exactly what it's like to work there.
The talent lead…
Chloe Thirlwall, Head of People Success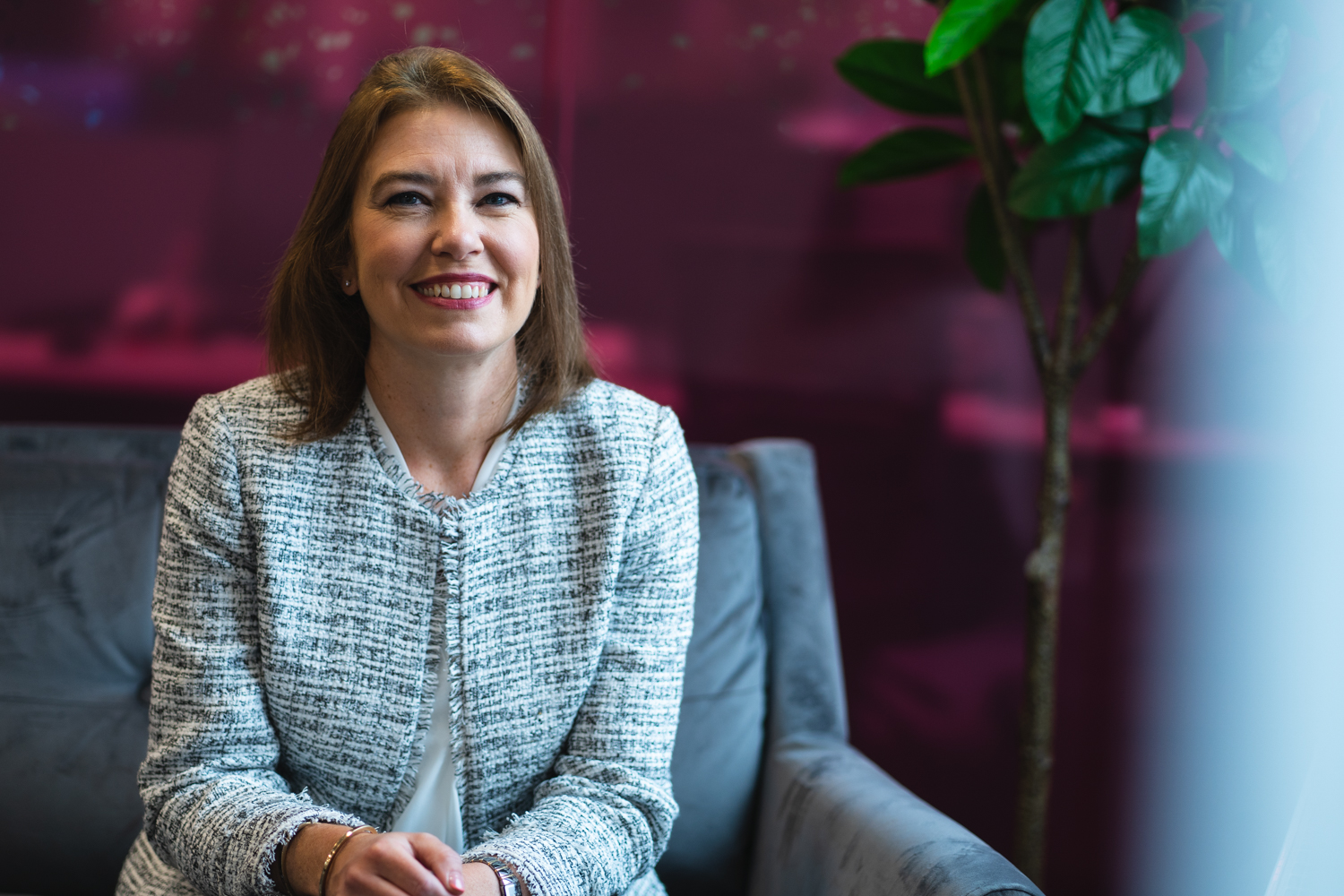 Can you tell us a little bit about the company, before describing the culture at the organisation?
Distology is an award-winning, vibrant and fast-growing cybersecurity distributor that represents leading and emerging vendors, while supporting an extensive network of IT resellers, solution providers and service providers across the UK and Europe.
Our values are centred around positivity, being trusted experts, innovation, agility and ambition – all of these are embedded into our culture. We all work collaboratively across our teams, working with respect and supporting each other. We also have our own expectations of each other as shown through our newly created Team Charters, which have been introduced to help us understand how one another work best, while ensuring we are known as trusted experts by our vendors and resellers. We want to give everyone the opportunity to grow.
How does the company go above and beyond to attract and retain tech talent?
Every person who joins our team encompasses our core values which is why we all work so well together. It is easy to teach a person the skills to do the job well, however it is hard to teach them our culture, which is so important to us.
We have introduced a number of benefits over the last year or so including reducing our working hours, increased holidays, flexible working, an EAP and wellbeing benefits to name just a few. We want to make the day-to-day working life more enjoyable for our teams. I think a great way to showcase the culture here is through a comment made by one of our team members that they have never worked anywhere before where you truly want to know and be friends with your colleagues inside and outside the office, it feels like family. Everyone genuinely loves to be around each other.
We are supporting the Greater Manchester Good Employment Charter to ensure we are doing everything we can to keep our employment standards to the highest quality they can be. We are also starting to partner with education providers, as well as the community to promote how to get into a career in tech.
What does the future look like for the company and its employees?
Growth! We are excited by our growth plans for the next year.
We are also continuing to invest in our people, which will include more specialist training programmes as well as development plans and onboarding more people to expand our team.
We want to continue growing a strong brand for Distology and develop greater awareness so more people understand that anyone can get into a career in tech, no matter what background you come from!
The new starter…
Jengira Begue, Content Creative Assistant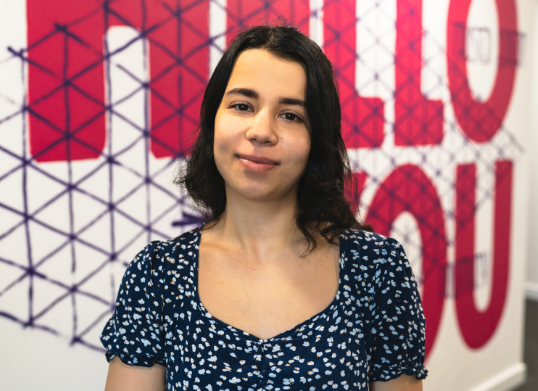 Can you describe your role at the company?
That is a really hard one because no two days are ever the same and that's something I love about the job! Essentially, I am the brand guardian of Distology. I create a lot of content for our owned channels, such as creating graphics and posting them across our social media channels, I also help create our podcasts, as well creating the e-shot – it's a really varied role.
What was it about the organisation that attracted you to the role?
I had a list of requirements for what I wanted in my next role. I wanted to work somewhere where I had autonomy over my work, somewhere where they would trust me to get on with it and let me have creative freedom to show off my skills, and that's exactly what I have at Distology. I work with an incredibly supportive team and I know they are here for me whenever I need them.
What also really impressed me about Distology was that in my initial interview, I was interviewed by two women. I had not worked in tech before and I thought it would be incredibly male-dominated, however, I love that everyone comes from such different backgrounds. Tech can be intimidating for women but I love that Distology is breaking the bias.
Can you describe the onboarding process you've experienced?
After working abroad for a couple of years I was really nervous to get back into marketing, I was also new to the tech industry and didn't really know what to expect.
However, the team really took their time to explain the role to me and all my day-to-day tasks, as well as what they expected from me. I was able to ask all the questions I had as there was lots to digest but I was able to take it at my own pace for the first few weeks.
I also met with all the different teams to understand what they do which really helped me to understand the business and get to know the wider team better. I really appreciated everyone taking the time out of their day to explain all the different aspects of the business and everyone was so friendly. I have settled in really well and can't wait to keep learning!
The long term employee…
Ryan Davenport, Renewals Manager

Can you describe your role at the company?
I basically look after two areas of the business which are firstly renewals and secondly sales support.
In my renewal role, I look after all existing contracts and subscriptions across all vendors in the business. I also support our reseller partners and work in tandem with the vendors to ensure that their end-users are getting the right value from their solutions.
A year ago, the business identified a need for a dedicated quoting function to enable the sales teams to have more time building better relationships with our partners. So, I built out a small team that specialises solely in the quoting and admin of all our vendors and handle all of those requests as they come in who I now manage and support.
What has kept you at the company for so long?
When I left university, some good advice that I was given was "join a small new company and you'll grow with it" and that is exactly what has happened with Distology. Firstly, Distology itself has grown as a company since I joined in terms of its revenue, profit, investment and workforce, but what has come with that has been increased benefits for the whole team.
The progression opportunities are amazing, as well as wider benefits. I can't forget to mention our shiny new office as well, including the beer pump which is a personal favourite!
In line with the company growth, my own personal growth developed. I started out as an account manager in sales and realised it wasn't for me. Rather than giving up and leaving, Distology supported me in finding a role that suited me, which was the role of renewals. From there, I have thrived on the renewals side and that led to me being approached to create a team from the ground up and promoted into a managerial position. I haven't looked back since.
What would you say to a person considering joining the company?
Firstly, you won't regret it. You'll be joining at a really exciting time as there are so many exciting things happening. Distology is rapidly growing and expanding, and the opportunities for people within the business will come alongside this.
You'll also be joining a fantastic team. Positivity is one of our core values, and our working environment is rife with it. I can hand-on-heart say everyone in the business is great and there isn't anyone you couldn't walk into our break-out area and have a fantastic chat with, we learn so much from each other.
Finally, your ideas will always be heard. I came from a large enterprise organisation where I just felt like another number. At Distology, all ideas are welcome, and with us being a small team you have a real opportunity to shape the business and make positive change.
Did I mention the beer pump?!
To find out more about careers at Distology, click here.
If you're a member and would like to take part in a future edition of our Culture Club series, please contact thom@manchesterdigital.com.