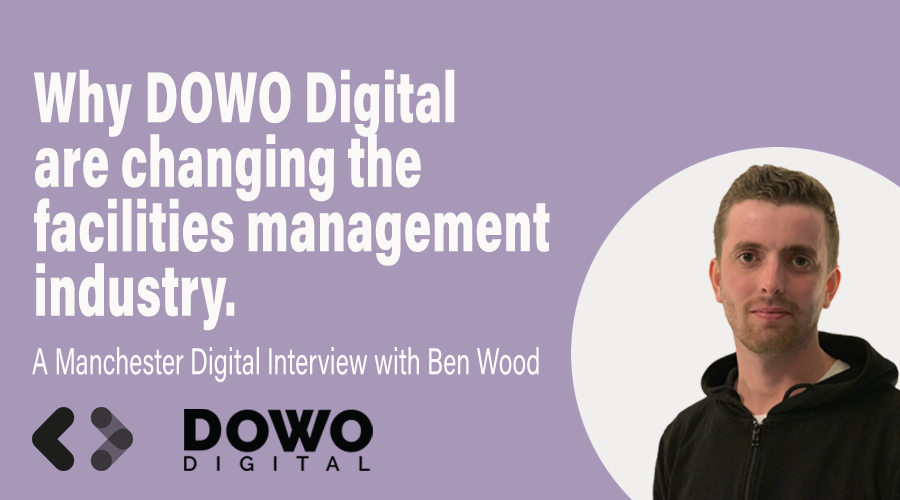 We caught up with Ben Wood from DOWO Digital to find out more about the work they do. Ben shares a fascinating story of how he has accelerated through a successful career providing support to the facilities management industry and now heads up a business with his brother.
Please can you tell us a bit about your company and your role at the company?
I'm Ben, I'm one of the directors at DOWO digital. I run the business with my brother and one of our one of our good friends.

We exist to help businesses in two ways.

Number one, we help businesses win more work. We have got a team of digital marketing creative experts who support your digital marketing strategies and help you navigate the digital world we live in and help build your business.

Secondly, we help businesses work smarter. So all things IT systems, apps software to enable businesses and their employees to work smarter, gain efficiencies and save money. That's basically us in a nutshell.
What is it about the facilities management industry you want to change and why?
I spent the best part of 12 years in the facilities management industry working at one of the bigger FM companies. I worked my way from part time call centre customer service representative, logging calls for broken lifts and leaking urinals and all that lovely stuff... all the way through to becoming a senior member of the digital team. Eventually I supported the business as a product manager for the mobile applications across the business.

As I've grown in my career, I've seen the power of technology and the smart use of it. Combining technology with really smart, innovative people, built on strong processes has really enabled me and the people I've worked with to solve lots of problems that businesses have. Often problems people didn't even realise they had and they needed to change and innovate in ways that cause a change in the way a business thinks about a certain problem.

Most people think of facilities management and the built environment as a behind the scenes sort of industry in a lot of ways. They are making things work. They're making things look great. They're ensuring that buildings and environments are maintained properly and most people don't realise that until it goes wrong. There is an incredible amount of innovation that takes place within those businesses to help clients save money.

The company I worked with was probably five to six years ago behind the curve on technology and they were forced to embrace digital. I could tell you lots of stories about inefficiencies on an insane scale that no business should put up with. My role was really identifying and applying the smart use of technology to try and stop those things from happening. During that period of time is really when I felt I could do this on a wider scale. I realised I could help more businesses and I could help the industry as a whole, from the smallest to the largest. Even the one man bands. To help facilities management businesses achieve similar results and help them to achieve greater levels of service to their clients and cut out inefficiencies.
What have you been working on to change the facilities management industry?
We have a platform called DOWO Flow, which is not just for facilities management, but it's really a perfect kind of solution for their industry and is why we work with quite a few clients in the industry. For a digital transformation to really take place the organisation has to see the need and then desire change. Once that takes place it's then a matter of working out what technology is going to support your people, and also support your processes. Right now, the combination of people, technology and processes is really what makes you and your business unique.
Our job is to help businesses work smarter. That doesn't mean you have to rip everything up, and start again or get rid of everything that makes you who you are, and what makes you good at what you do. We have all got our problems and our things we want to improve in business but working smarter doesn't mean ripping out all the good stuff out at the same time.
DOWO Flow is our rapid development mobile app and an E-form solution that is designed to adapt and mould around your business needs. You can rapidly develop forms that capture data and can access your mobile device, connect it with your existing systems and improve the way you report and operate. It is designed as a sort of plug and play into your existing setup to enhance what you are already doing.
We were asked to support a tender for a huge multi million pound, multi year facilities management deal, that spanned over 600 sites nationally, for a large Petroleum Company (I can't tell you the name). When they approached us during the tender phase, they had some really specific requirements that existing platforms weren't able to cater for.
DOWO Flow was able to embed within their existing technology platform and mould around it to fill in the gaps of their technology shortfalls. We were able to create a really innovative solution that has won awards. It ticks all boxes for the client and played an extremely big part in winning the project. It was a huge project and a huge win.
What we're not trying to do is deliver products out of a box. We are trying to deliver a platform that is designed to mould around your organisation, your people, your processes to make you work smarter and make you work better.
If you have got problems around paperwork or If you are still posting job sheets back. If you are struggling to get data back to your office and you've got people doing data entry in your back office, then DOWO Flow is the perfect platform for being able to get a mobile app in the hands of your workforce and handle those situations in real time. It's not only going to save you money, but it's also going to save you time. You can not buy time.
What do you hope to achieve by creating DOWO Flow?
What we hope to achieve is to enable businesses with remote workers in the facilities management industry and the supply chain around the facilities management industry to work smarter. We want to help them collect the data, and use data in the best way possible.

We have two aims in our business, which is, if we can help people win more work and work smarter, then we're happy. We help clients save money, save time, and really improve the way that they operate.

We've got customers who are saving thousands of pounds a year and in some cases, saving hundreds of thousands of pounds a year by implementing the platform, which is great.

Some of the greatest feedback we get is from the people on the ground, often remote workers or people doing the maintenance on the site for example. What they love is that the app is designed around them and the way that they work. One of the greatest things about the platform is we are able to rapidly take feedback from these people and make changes really, really fast and have continuous improvement.

You don't want a highly skilled person spending eight to ten hours a week on admin, when they could be doing much better things that are going to be adding greater value to your business.

I believe DOWO Flow is one of the best platforms around for Facilities Management companies because it works uniquely for them in their context.


You can learn more about DOWO Digital here