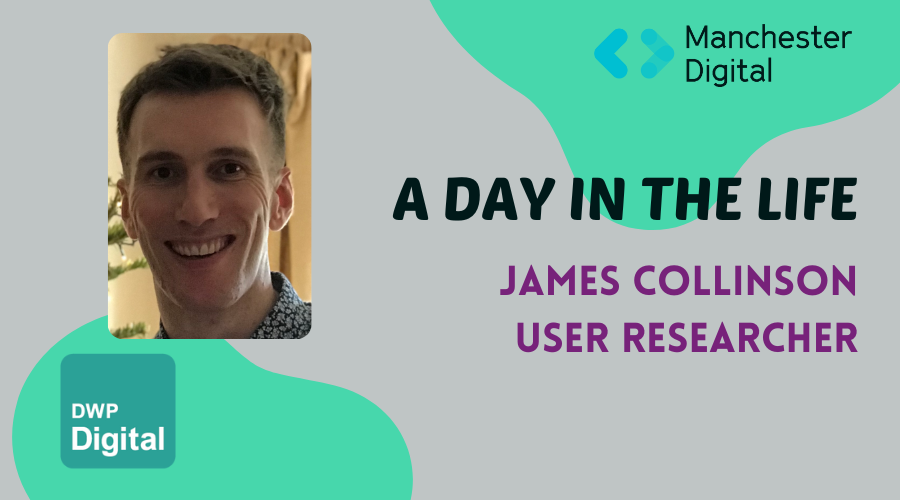 Ever wondered what it's like to work at one of Greater Manchester's leading tech employers or what specific job roles get up to each day?
James Collinson is a User researcher at DWP Digital.
We spoke to him to find out more about this role, his experience at DWP Digital and what an average day looks like.
How did you get into your current role?
Like many people working in research, I fell into it. You can go down an academic path, but a lot of people do fall into it by luck.
I studied economics with Transport Studies at University which led me into a transport consultancy role. However, that was in 2008 during the recession and so the work dried up pretty quickly. From there I moved into social research for a consultancy that worked with different organisations, such as Highways England and Transport Scotland.
I then fancied a change and found an interest in food and drink market research. So, I went and worked for an innovative research agency in Manchester. It was here that I learned a lot of good research techniques. It was a cool job with lots of travel. However, I was looking for something a little bit more wholesome and rewarding. And that's how I ended up at DWP Digital as a user researcher.
One thing I would say is when applying for a user researcher role, look at all the transferrable skills you have from your previous experience. If you've got a research background or an interest in it then go for it.
What do you enjoy the most about working at DWP Digital?
This is probably a cliche, but there are so many great and supportive people here. My current line manager is probably the most supportive line manager I've ever had in my 15 years of working.
The flexibility of the role and the hours are amazing – yes we work hard but there is the flexibility to that hard work. The work-life balance is great as well and is one of the things that attracted me after being in some intense situations in my previous roles. For example, I'd be working with companies in the United States but also with Asia at the same time, and, whilst that did give me a buzz, I often found myself wondering when I was supposed to sleep.
And of course, I enjoy the actual work as well. It's important and varied if you're interested in technology. I get a lot of variation in projects which is good as well. No two days are the same. And I get to work with lots of different people, such as engineers, IT architects, and content designers.
What does a typical day look like for you?
No day is ever really the same! I work in the Technology Services directorate and within that, I'm in the hybrid cloud services team which owns the hosting infrastructure for the whole department.
When I'm in the office I generally cycle to work. We've got some of the best cycling facilities in our Manchester hub. There's everything you need from towels to shower gel, so you feel comfortable making that journey and preparing for your day.
The first thing I do when I get to my desk is to check my emails. I'll then attend the stand-up or team meeting for one of the squads or teams I'm working with and get any updates on things that are going on in the team.
My day usually depends on whether I'm at the start of a research project, where I might need to do some recruitment for research participants – usually internal DWP staff. That'll involve me setting up calls and sending emails. When I'm later on in the research process, then it's things like running focus groups, running diary studies, and running ethnographic pieces. And if I'm towards the end of the research project, most of my time is spent collating reports. This does require a lot of time and effort as the better your report the more impact it's going to have and the more people will listen to it.
What is it like starting a new job or working remotely during a pandemic?
Starting a new job during the pandemic was fine for me. I learned from the experiences of others who I'd seen struggle. I was quite conscious that I didn't want to make the same mistakes.
I was really proactive from the start. I think this is something that you have to be if you're starting a job remotely. I had an unwritten rule that if I heard someone's name more than a couple of times, then I'd just put time in their diary to have an intro chat. This kept me busy during the first couple of weeks when I was trying to get my feet under the table. And it's also given me lots of contacts across the organisation. People just love talking about their jobs and love sharing stuff at DWP, so just hearing from people meant that I learned a lot in those first few weeks.
I'm fortunate as I have a space in my home in which I can work, whereas I know not everyone does. The tools and technologies we have at DWP have also made it really easy to collaborate. We use Microsoft Teams now, which is a fantastic way of communicating. Now we're back in the office a couple of times a week, which is great. Hybrid working gives me that flexibility and choice of where and how I work and this has really benefitted me.
What excites you the most about the work at DWP Digital?
I think the fact that we're truly making a difference in people's lives. So many of the roles I've had in the past, I've not always been able to see that difference. For example, sometimes I was helping develop a product and that product didn't even make it to market. Whereas here I can see the difference we're making, even though I'm not in a customer-facing team.
I think that's really important to note because you don't always get that from work.
And I think that that trumps so much. For example, you can talk about your wage, your salary and the benefits and the bonuses you get. But the fact you are making a difference is pretty exciting. Despite the fact we're in government, we are in the tech industry as well, which is quite exciting. It's exciting to know that you're at the forefront of government and helping all the parts of the DWP get to that.
Have you learned anything new since you started?
My research skills were pretty good when I started, so in terms of those I probably haven't learned a great deal. However, I've learned a lot about Agile and lean methodology and how to practice it. I have a joke with my senior business analyst colleague about him needing to 'keep me Agile' and I'm learning, but it's still not something that comes naturally to me, so that's our goal.
I've also learned about some really good collaboration tools that I wasn't using in my previous job, such as Mural and Miro. These have been really useful during the pandemic and we continue to use and use them now.
There are also loads of learning and development opportunities in DWP Digital. You could probably full your diary with training courses and things like that if you wanted to and had the time. Having to balance this out with the day job is probably a slight challenge, however.
The user-centred design community is really good and we have a weekly call with an internal or sometimes external presenter talking through some of the work they've done. Some of the skills that I've learned come from that kind of thing.
There's the product design community as well who share some really good stuff. There's lots of exciting things happening in DWP Digital, so if any of the above sounds interesting to you then visit their careers site.
Thank you James!
To find out more about DWP Digital, click here.
If you're a Manchester Digital member and would like somebody at your company to be featured in our A Day In The Life series, contact thom@manchesterdigital.com.