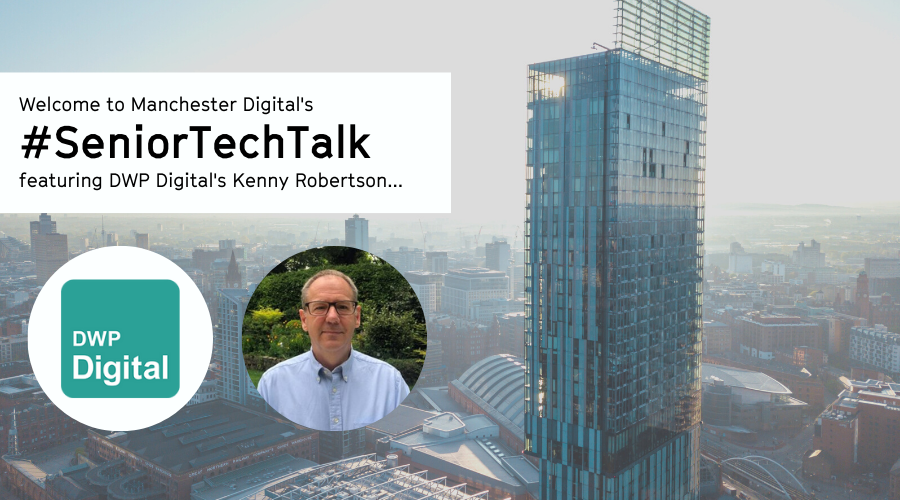 We all come into contact with the Department of Work and Pensions (DWP) at one time or another, and the team at DWP Digital are designing and developing user-centred services for millions of people and helping them when they are most in need.
To tell us more about the work DWP Digital do, we're joined for the latest #SeniorTechTalk by Kenny Robertson, Director of Technology Services.
Could you begin by telling us a bit about DWP Digital and your goals as an organisation?
Certainly. So DWP Digital is responsible for the digital transformation of the Department for Work and Pensions (DWP).
In terms of our goals, firstly and most importantly we make sure our digital services operate effectively every single day. Whether it's a retired person claiming their State Pension, a claimant applying for Disability Living Allowance or one of the 100,000 colleagues that work for DWP. Live operations and making sure we 'keep the lights on' is the number one thing that we do.
The second goal of DWP Digital is to design, build, test and deliver new services and systems. We do this by putting the needs of our users at the heart of everything we do. Our aim to make digital services simpler and more efficient for claimants and colleagues alike.
In addition to this, we have a responsibility to the taxpayer to obtain the best value in terms of the services we build, the solutions we put in place and the money we spend.
A final goal for us is to build and grow our internal capability. It's important that we build and invest in our peoples' skills, because I'm pretty sure DWP will continue to exist long into the future and our drive for service excellence is a never-ending journey.
Could you please explain your role at DWP?
I am the Director of Technology Services, the biggest team in DWP Digital with around 1,400 colleagues.
In Technology Services we design, build, test and operate the technical infrastructure and colleague services that enable our IT estate to run and we underpin digital transformation across the department. This supports over 800 office locations and circa 100,000 colleagues using our services.
There are multiple services that make up Technology Services and I'm responsible for 24/7 IT operations.
Every aspect of DWP's business operations relies on our services. This involves constantly monitoring and responding to the performance and change needs of our live services. This could be anything from tracking the real-time performance of our applications, testing our disaster recover or responding to an issue with a server to a failure in the networks or digital infrastructure.
I oversee the hybrid cloud and network services that connect our many benefit lines and internal departments. We use the term hybrid cloud, which in old speak means combining on-premise data centres with public cloud services.
With around 800 sites we have become very adept at using commodity network services to funnel our network traffic through the cloud and out to the Jobcentres, offices and Digital Hubs.
My teams are also responsible for, what we call, the Digital Workplace - the colleague-facing end of what we do. This encompasses the products, devices, tools, techniques, safeguards and connectivity that enables our colleagues to collaborate and do their job. This includes delivering the right products and applications to the right colleague based on their role. It's definitely not one size fits all! For many it is a standard package but depending on an individual's role it can also be a lot richer and highly personalised. For example, we have thousands of developers that require specific toolsets or Finance colleagues that have specialist needs. We also run a multi-channel IT support service for all DWP employees, so that they can get the help they need if they have IT requests or issues. This includes different aspects of self-service and automation, on site 'tech-bars' and expert support staff on the ground.
Finally, I'm also responsible for digital security, making sure all of the things I've mentioned are safe and secure against world-class standards and controls.
Across Technology Services we have a portfolio of 100 change projects at any one time and we're always ready and prepared to respond to major movements across the department. For example, if you go back to the first lockdown at the start of the pandemic, we had to figure out how to get a majority of colleagues, who had been working in the office, to working from home in a short space of time.
There's hardly a week that goes by when we're not making major changes across the services I've described so, as you can imagine there's a huge logistical task to deliver change, upgrade, keep our business running, move things about, create new offices, create new solutions, and put new products into implementation.
There's plenty going on.
The work that DWP does is obviously incredibly important. How does technology underpin that work?
For most businesses, technology is now fundamental to how they operate and DWP is no different. It's a fine balance to strike, we have to invest in technology to stay current with the industry, keep trying to get the best out of the technology we're using and stay ahead - and that's not easy! There is a perception that government technology is somewhat out-dated but that is not the case at DWP, our Technology Services are well maintained, highly performing and can compete with the best of large operational enterprises.
Almost everybody in the UK will come into contact with DWP services at various points in their life. What are some of the challenges that you face designing tech that needs to be accessed by people across the whole of society?
Two challenges come to mind. The first is that the demands and expectations that people have for digital services only ever increase. This means we must constantly invest and evolve to keep our services performing and relevant to the needs of our users. There is no standing still on service performance, digital skills, technology, supply chains or delivery techniques if we are to retain the standards brought about by the hard-won changes we have made over the last decade.
Secondly, it's important to recognise and accept that accessibility is everything. Here in the UK, we're legally obliged to give everybody the same opportunity to access our services. It's not just about legal obligation though. We have a higher proportion of users with disabilities than other government departments and we're committed to doing the right thing. This means ensuring our services can be used by as many people as possible.
To deliver on that we're making sure we apply the best user-centred design techniques. So firstly, understanding the problem and owning it. We do extensive user research to really assess our user's needs, putting the user at the heart of the whole design, build and test delivery approach. You need to live and breathe that throughout the cycle of how you run IT services.
Could you tell us about some recent projects that you have undertaken at DWP that you are particularly proud of?
We run hundreds of programmes every year as part of Technology Services, so it's very hard to single projects out, but one recent example from earlier this year, is the in-house completion of the Virtual Machine Environment replacement. This involved replacing 11 key benefits systems and getting rid of aging legacy infrastructure. This was a multi-year project that gave us better, fresher, modern solutions.
Equally, our drive towards public cloud services has been highly successful. And then of course the building and deployment of our Digital Workplace through the pandemic and beyond to allow around all DWP employees to collaborate and work flexibly between home and office. So far that's included establishing an evergreen consumable desktop, re-configuration of our networks, exercising global supply chains, moving 100,000 PCs across the country, launching Microsoft Teams for everyone in the organisation and much more. That has been highly successful and we're very proud of that.
There are also a few security-based projects that I'm very proud of but can't talk about for obvious reasons.
It can be difficult to recruit for digital and tech roles. What are some of the steps you've taken at DWP Digital to attract and retain top tech talent?
To be honest, I think every organisation struggles with specialist recruitment. I'm a bit more relaxed about it and just think it's a competitive market. That's just the way it is and always has been.
Some of the things we've worked hard on include creating and improving our brand to demonstrate that we are a highly successful digital and technical organisation. We have solutions, services, tech and capability that are equal to most of the large enterprise organisations out there. Many people would be surprised about how advanced and successful we are, so we've tried to get that message across.
Some people still think that digital in government is somewhere in the dark ages or stuck in the 1960s. It's just not true. Our solutions are on par or better than most out there. We've tried to unpack that for people and demonstrate that we do great things here. Part of that is around sharing information about the actual technology itself and getting people to understand that if this is your profession, DWP Digital are as good as anybody.
One of the other things that sets us apart is that DWP and DWP Digital is a place that cares about its people. We've got arrangements and support services that are truly colleague-focused. We also try and encourage people to recognise that sometimes it's good to give something back to society, by throwing your hat into public services and helping make a difference.
How important Is being a part of Manchester's digital community to DWP Digital and are there any ways that you contribute to the local tech ecosystem?
In terms of what we do, we have plenty of colleagues who get involved in different events across the region in various shapes and forms, whether they're hackathons or particular initiatives that we've started up, or work for local communities and charities.
How important is being part of Manchester's digital community? Well, it's very important to me and to us here at DWP Digital. We've got a big presence in Manchester with a lot of our team located here, so by default, it's important to us.
This is a difficult market, so the more opportunity, capacity and capability that we build into Manchester, the more businesses here will all collectively benefit from it.
Recognising that we're all in this together is going to make Manchester even more successful in the long term. Building and sharing and recruiting skills across the body of Manchester is a good thing. Manchester's success is our success in many ways.
Thank you Kenny!
To find out more about careers at DWP Digital, click here.