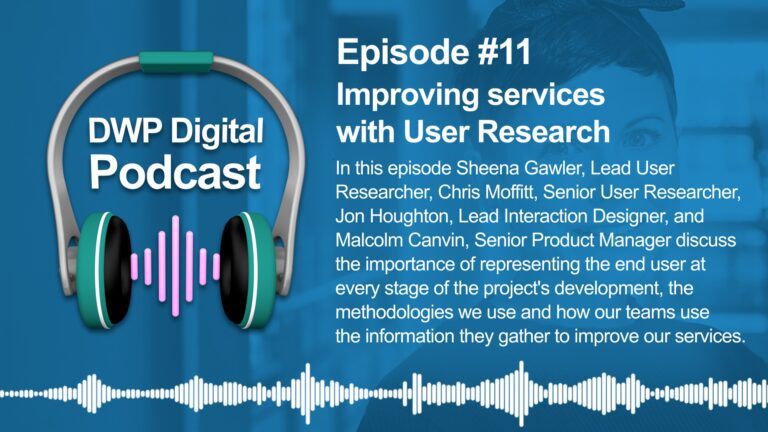 At DWP Digital, we put our users' needs at the heart of everything we do. With over 20 million people using our services, it's important that all our customers' voices are heard.
In this final episode of the DWP Digital podcast for 2021, we catch up with user researchers Sheena Gawler and Chris Moffit, as well as Jon Houghton, lead interaction designer and Malcolm Canvin, senior product manager, who discuss the importance of representing the customer at every stage of a service's development.
You'll hear about the different user research methodologies we use, the key principles we follow when carrying out user research, how we turn someone's feedback into useful information, and how our user researchers can influence design decisions.
Listen now
You can listen now on:
A full transcript of the episode can be found here.
Don't miss an episode
Over the next few months, DWP Digital will be speaking to more of their in-house digital experts and leaders about some of the exciting projects we're working on that are helping transform experiences for millions of people.
Make sure you don't miss an episode by subscribing to the DWP Digital podcast on Apple Podcasts, Google Podcasts and Spotify and by following #DWPDigitalPodcasts.
And if like what you hear, don't forget to give us a 5-star rating.
Careers at DWP Digital
DWP Digital are currently recruiting for talented user researchers to join their multi-disciplinary teams. Visit DWP Digital careers site or subscribe to their newsletter for the latest roles, news and information.