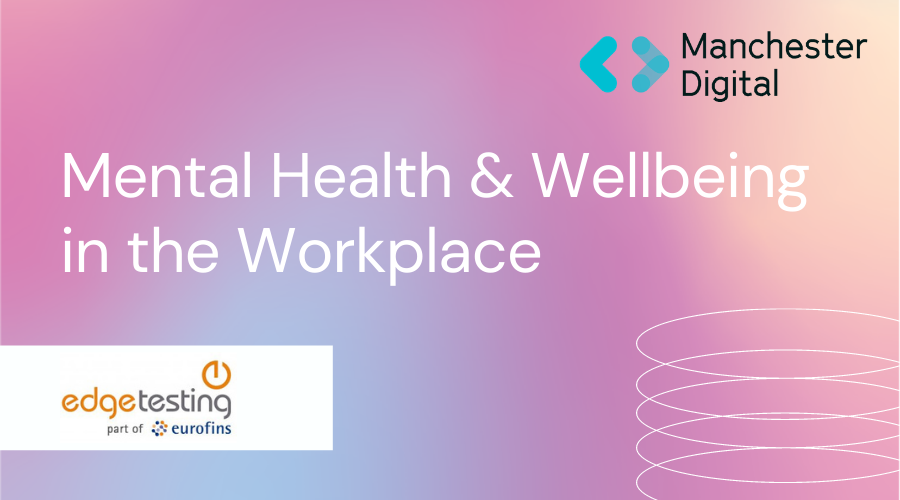 Our week of features to mark Mental Health Awareness Week 2021 (10th - 16th May) continues with the UK's No.1 software testing provider - Edge Testing.
We spoke to them to find out how they promote good mental health and wellbeing amongst their workforce, support their colleagues and measure the success of the initiatives they have in place.
How does your business go about supporting your employee's mental health and promoting wellbeing?
Like many employers, we offer 24/7 counselling to a confidential helpline so any colleagues can reach out and obtain advice. More recently through our perk box membership we have offered free subscription to AURA which is like Headspace and offers mediation, life coaching, stories, music & CBT advice. It allows you to track your personal mindful days and gain badges for time spent investing in your well-being.
Are there any measures that you have put in place over the past year in order to protect and support your employee's mental health following the move to remote working?
The pandemic has impacted each of us in different ways. We took a proactive stance to support our colleague's wellbeing when our Managing Director Sharon Hamilton contacted all 140+ colleagues personally to see how everyone was doing. This personal contact was very much appreciated by our colleagues and demonstrated our "people focussed" value in operation.
In our regular full company teams calls, Sharon has promoted the importance of taking regular breaks. Our senior team also role-model this, so everyone in the business knows that this is just how we work.
Do you use any specific tools, platforms or software in order to support and promote mental health and wellbeing, and how successful have you found them?
Apps can be really useful, and our AURA app has great functionality, however I do still believe that the best way to check in with colleagues is to be really old fashioned and pick up the phone, give them a call., with the first question and second question being how are you?
What support is available to your employees who may be struggling?
Our team of service delivery managers really care about their teams and regularly reach out to check everything is ok. A member of our HR team regularly checks in on those colleagues who are especially missing the social interactions of the workplace or where colleagues have discussed personal concerns or anxieties.
MIND & the Mental Health Foundation have a range of information available which can be helpful.
Are there any ways that your company culture encourages healthy habits amongst your workforce?
The regular reinforcing of the importance of taking breaks away from your desk and knowing that it is ok not to always be at your desk, helps to alleviate some of the anxieties of the "always on" culture which can be part of working from home.
We have reminded colleagues of some simple best practice of using zoom, such as there is no company policy that your camera has to be on, and to try and avoid booking calls so they are back-to-back. A short amount of time for a quick comfort break and importantly to allow your brain to shift from discussing one topic to another helps us all be more effective and reduced stress.
Making sure that are colleagues are working safely at home is very important to us. All colleagues were offered a budget to buy equipment to work safely at home. There was no requirement for numerous forms, or Display screen equipment assessments – if our colleagues said they needed some equipment – we paid for it, again taking a "people focussed" approach.
How do you measure the success of mental health or wellbeing programmes?
We have surveyed our colleagues on how they are feeling now, their views on post- pandemic working and any feedback on what we as a business can do differently or better to help our colleagues health and wellbeing. This feedback will help us plan out our approach to the easing of lockdown and hybrid working. It is important to check in individually and seek individual views as we have all lived through a slightly different different experience of lockdown , some have lived alone, some in bubbles, some have lost family members and some have enjoyed being able to spend more time with those within their household. We are all each looking at the future differently as have experienced a different past.
What differences have you seen since implementing workplace wellbeing initiatives?
We haven't implemented any wellbeing initiatives with the aim of improving any metrics in our business– we just want our people to enjoy being part of our team, and the wider family that is Edge & Eurofins Digital testing. Being able to talk to colleagues and peers about issues that worry them and having access to support tools are all part of being in our family.
What advice would you have for start-ups or small businesses who may not have any mechanisms in place currently to support their employees?
Do you care about your colleagues? If so, I would encourage that you show that – by asking the question… how are you, and really listening to the answer.
There are lots of activities or initiatives you can promote to help promote self care/wellbeing, for example from sharing pictures/stories of how colleagues relax (perhaps a picture of their favourite walk), sending a postcard or note to a colleague showing how much you appreciate them or encouraging colleagues to be active (like a step challenge) are all great ways to highlight health and wellbeing. These are accessible to big and small organisations.
To find out more about Edge Testing, click here.
If you're a Manchester Digital member and would like to share your organisation's approach to mental health & wellbeing, or would like to take part in future features, please email thom@manchesterdigital.com.