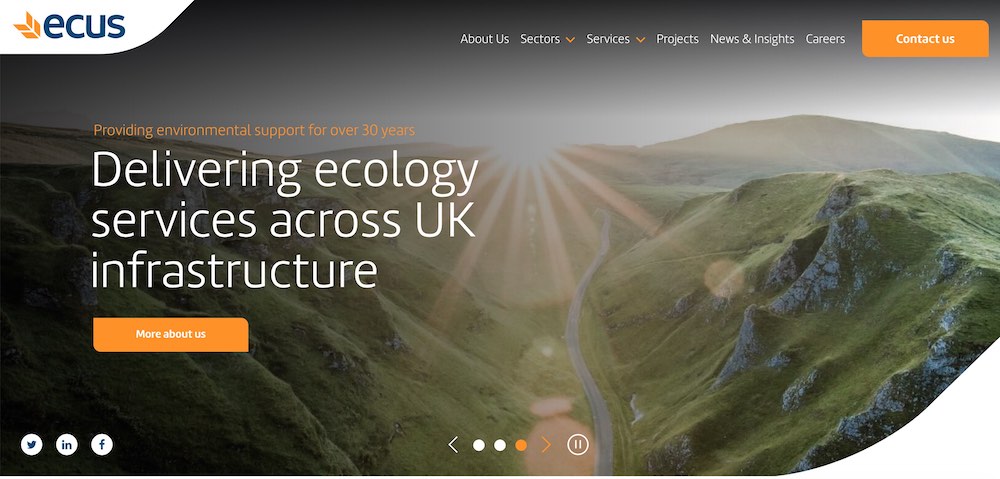 Digital agency Fablr have launched a new brand and website for environmental consultancy Ecus. This sweeping rebrand and web development project was commissioned in September 2020 and was a key part in Ecus' move to position themselves as a major player in the environmental consultancy industry.
Ecus is a leading independent multi-disciplinary environmental services company, with a HQ in Sheffield and multiple offices across the UK. Their previous website and branding were outdated and no longer represented the consultancy's leading marketing position, so they turned to Fablr to help redevelop the brand and build them a new online presence.
The Fablr team worked to create a refreshed brand presence for Ecus. The initial work included user experience and analysis to examine who the customers are and how they can find the information they need.
Following on from this initial scoping and requirements gathering, Fablr rebuilt the Ecus brand from the ground up, clarifying their tone of voice, creating strong marketing messaging and developing a new logo. They also created a range of new marketing collateral and imagery to incorporate into the new branding and their online presence.
One important aspect of Ecus' rebrand was a slick, contemporary website which effectively communicated Ecus' latest updates, case studies, and service offerings and positioned them at the top table in their sector.
Geoff Bretherick, creative director at Fablr, explained, "Working on Ecus' brand and website delivery gave us space to engage with their service offering and get to know their customers. This focus gave us the chance to build something powerful that would allow them to stand head and shoulders above their nearest competitors.
Robert Seeley, business development and marketing manager, at Ecus said: "We've worked closely with the Fablr team from the initial messaging workshops right through to the re-launch and we're thrilled that their team have taken everything we wanted to communicate and turned that into new branding and messaging, as well as a new website.
"Fablr provided a collaborative and highly responsive service to us - one that ensured that our vision for the brand was turned into a reality. The new branding and website puts Ecus in a strong position for the future and complements our growth strategy moving forward."
Fablr are a digital agency with offices in Leeds and Manchester. They combine intelligent and effective technical delivery with sharp customer-centric thinking and creative design to deliver exceptional results.
The agency works with large B2B brands across the UK and the rest of Europe, including arts organisations, FMCGs, recruiters, as well as professional services. Their work covers website and app design, creative and branding, and large-scale digital marketing campaigns, with a strong focus on analytics and data.