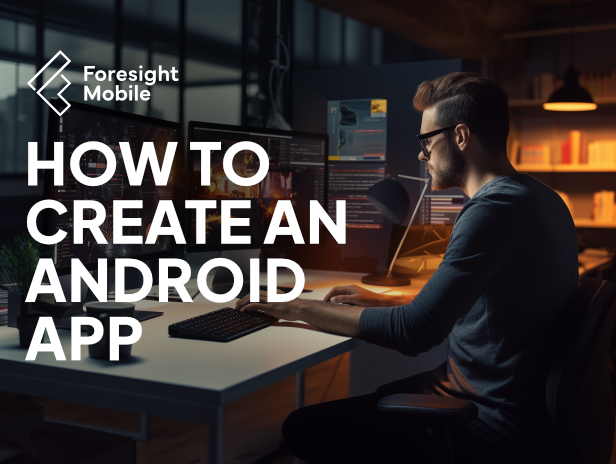 Whether you love them or hate them, Apple has an extremely devoted worldwide fanbase - a worldwide fanbase that you could be tapping into with an iOS app to promote and sell your products and services.
But how easy is it? Where do you start? How much does it cost? Are you restricted by the content that Apple will allow you to publish? And most importantly of all, who's going to build it for you?
We're Foresight Mobile, developers of iOS and Android apps for the likes of Levi's and EA Sports for over a decade, and in this blog, we'll give you the skinny on the various stages of designing, producing, testing, and publishing a successful iOS app.
5 reasons why you need to build an iOS app
Remember that worldwide audience we mentioned in the intro? This is what an iOS app could give you access to.
The Apple App Store has over 2 million apps, 460,000 of which are games

Games make up 21.06% of the App Store, while business and education are the next most popular categories

The App Store has over 1 trillion downloads and is available in over 150 countries and regions, making it the world's largest mobile app store

iOS apps are the second most popular in the world, with a 28.4% market share.

Apple's iOS app store has a 50.79% market share in the UK. That means that of the 65 million smartphones projected to be used in the UK by 2025, around 33 million will be Apple devices.
Those are some convincing stats! So, now that we've sparked a fire under you, you'll want to know how to build an iOS App.
How to create an iOS app in 5 steps
1) The lightbulb moment
Every successful iOS app started life as an idea. But the thing is, even if your idea is the best idea in the history of apps, it will still fall flat on its face if you don't do your market research too. Really do your due diligence; find out what niche you can exploit in your target market, and discover what it is that your competitors are doing well to make them successful.
Once you've done that, it's time to go through the 'sketching it out on the back of a napkin' phase. Draw out some wireframes and really try to refine your user interface and user experience here, because an app that's pleasurable to use will define how well it does once it's published.
2) Who's going to build it, and what will it cost?
If you're on a small budget, you could use a no-code app builder to make it yourself. With no-code app builders, you enter a few prompts as to what you want your app to do, how it'll function, and what it'll look like, and AI then writes the code for you. If you need to create an iOS app with bespoke functionality, then a no-code app builder might not be the best choice. While they're great at saving you money initially, they aren't very flexible, especially when it comes to doing future updates and maintenance, so bear that in mind; with a no-code app builder, you get what you pay for and you WILL end up paying more further down the line.
Alternatively, you could hire a freelance developer to build your app. In all likelihood, you'll get a great result, and you'll have lots of control over all aspects of the build, but you'll also pay a premium for that experience, too. Another thing to consider with a freelancer is, it's very rare for them to offer ongoing support, so expect them to take the money and run once they've been paid for the build.
Finally, there's the agency route. Agencies like Foresight Mobile will have a team of developers with different areas of expertise, and you'll get a rich melting pot of experience and skills to mine from. You'll also get a lot more in the way of ongoing support, making updates and fixing any potential glitches hassle-free. An agency is definitely the best way to build an iOS app if you're looking for a rewarding experience and a successful outcome.
3) Preconfigured templates or custom?
If you decide to use a no-code app builder, you'll also need to decide whether you want to design your app from the ground up or whether you're going to use preconfigured templates. If you only have a small budget or your deadline is pretty strict, then preconfigured templates can help enormously. However, the trade-off is that it's never going to be as flexible as a custom-designed app, especially when it comes to performing future updates.
Speak to whoever is building your iOS app for their advice before you start the development phase.
4) Testing and chasing out bugs
Testing is a critical part of any iOS app build. If your app often lags, glitches, crashes, has a clunky interface, or produces error messages, then people won't hold back in their scathing reviews. Test, test, and test some more.
While you're at it, ensure that your app complies with any rules and regulations, and set some time aside to find some kick-ass screenshots to really entice people to download it. If you're going to be charging people for your app, make sure it's competitively priced, or it'll sink without a trace before you've even started.
5) Publish your iOS app
It's finally time to put all your hard work into action. Submitting to the Apple Store is relatively straightforward, but it may take a day or two for it to be authorised, so be patient.
Congratulations! You just built an iOS app!
Is building an iOS app worth it?
With the sheer size of the potential audience you could reach, building an iOS app for your business is a bit of a no-brainer. But that's only if it's done well; an app that looks and performs terribly can do just as much damage to your brand as it can do good when it's done properly.
That's why you should leave it to us.
The team at Foresight Mobile has over a decade of experience in planning, designing, building, troubleshooting, and publishing successful iOS apps. We've used a whole host of different native and cross-platform development programmes for our clients' apps, and we keep them bug-free and running like clockwork with our support and maintenance service.
If you need an iOS app developed but don't want to use a no-code app builder, get in touch with us. We can help you create a custom app that meets your specific needs and performs like a dream. Together, we'll craft something that will take your business to the next level and beyond.