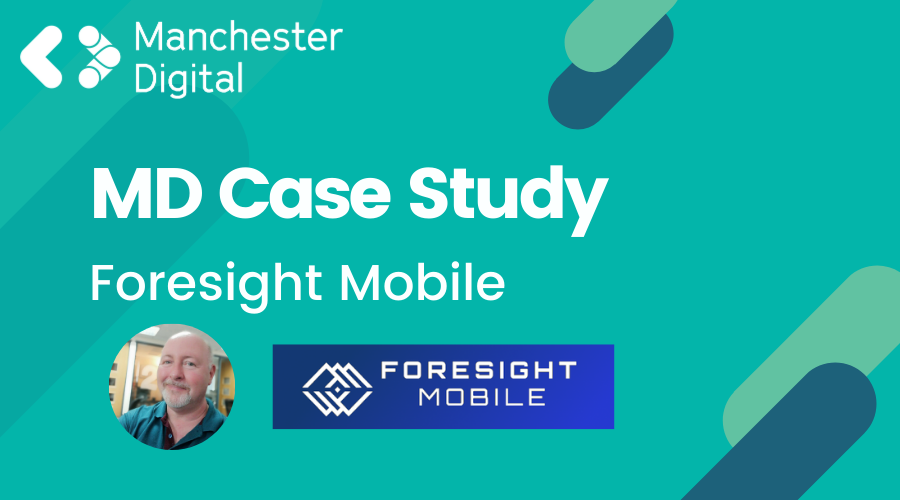 We spoke to Dave Francis, Marketing Manager at Foresight Mobile, to find out what they think of Manchester Digital and what they get out of their membership.
Tell us about yourselves.
Foresight Mobile is a mobile app development company in South Manchester – Cheadle, to be precise. We've been going since 2017 and are going through a huge growth period at the moment We're all Manchester / North West based.
How long have you been members of Manchester Digital?
I think we joined in early 2018. Checking the MD website has become somewhat of a morning ritual for me.
What do you get out of Manchester Digital?
A lot, to be honest. We tend to find that companies prefer to work with local development agencies, so – according to our marketing analytics, a lot of our incoming business is generated by people finding us via the Manchester Digital website. Really, our incoming business comes from either Manchester Digital or one of the service reviewing websites out there.
If the tangible result of being members of MD is more business coming our way, the intangible results are that Manchester Digital allows us to keep up to date with trends in the local digital world, and also to make useful contacts. There's a lot of crossover with digital projects, and we find ourselves talking to graphic, UI or UX designers, web developers, you name it.
I tend to think that MD is a fantastic aggregator – the digital industry doesn't exist in a vacuum. There is some fantastic talent in Manchester, nothing would be worse if that talent became little more than a number of "cubicle workers" all unaware of each other.
What services do you use?
Mainly the news section.
Our site has a very large non technical blog. Designing apps is really a collaborative process with our customers, it's usually the first time that they've designed an app, so we like to be able to take a complicated subject and explain it to them in simple terms.
We also find that companies tend to prefer to work with local software providers. This is why Manchester Digital is so useful to us – critical, even. We're lucky enough to be effectively next door to such a great initiative as MD. So, we can easily message our ideal target audience by replicating our blog content on the news section of the Manchester Digital website, where much easier for companies who may want a service to find us, rather than coming across our content via a search engine.
We're planning to expand in 2021, so obviously the jobs section is going to come in useful as well for posting vacancies.
What's less useful to you?
The events section is something we don't really use. There are some occasionally interesting topics on there, though, but we rarely have time to dip into them and we tend to find the content is duplicated elsewhere on the internet – we can just watch a video rather than set time aside to attend an event. Perhaps streaming video of events after they've run could be an idea here.
Obviously, a lot of the initiatives Manchester Digital do concern themselves with getting new people into developing digital skills. The Digital Stars apprentice scheme is a great idea and we'd love to take on apprentices, but realistically, the amount of mentoring they'd need means they'd have to be office based, and we're still working from home at the moment.
Are we doing a good job?
You're doing a great job. There are so many initiatives going on in Manchester to digitally transform the city: MD is there at the hub of it.
How do you think you could improve our service for our members?
It's a difficult question as all users are somewhat different. It's nice to see that Manchester Digital has recently been canvassing users to see how MD could be made better for a whole variety of users.
What do you want to see from Manchester Digital in 2021?
Hopefully we'll be able to meet other MD members in person this year. After all, you can only have so many Zoom meetings interrupted by cats before it all becomes a bit boring.
The Manchester Digital Expo (nothing to do with Manchester Digital, of course) is theoretically on the 19th and 20th of May. Whilst I'd love to see it happen, I'm conscious it's been set back a few times. There really haven't been any opportunities to network with potential customers and collaborators since last February.
We used to attend a regular networking event in Manchester but that seems to have fallen by the wayside with the organiser moving on to other things, so perhaps Manchester Digital could step into the breach and arrange monthly networking events for members and potential customers?
Thank you Dave!
To find out more about Foresight Mobile, click here.
Want to complete your own MD Case Study? Get in touch with myles.hamilton@manchesterdigital.com.