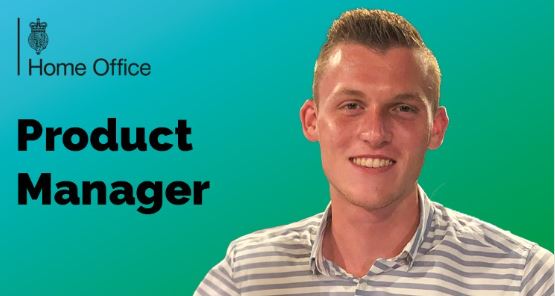 My name is Jack, and I have been working as a Product Manager at the Home Office for the past 7 months. I worked as a manager for a big supermarket brand before joining the Home Office. I've always loved managing teams and creating the best possible experience to customer journeys, and I decided I wanted to dive into a different career path.
I joined the Home Office on an apprenticeship scheme in an Associate Product Manager role. I passed my probation 6 months after joining, I applied for a Product Manager role and was successful. I feel like I've found a role and a place that I can thrive and continue my career for years to come.
I wanted to join the Home Office to be at the forefront of the exciting and varied work the department does to make the UK safe and prosperous. Being able to have a direct impact on the lives of people has been amazing.
The Home Office also has a really good reputation for investing in its people, and I knew that I would be able to take advantage of the many development opportunities.
My day-to-day role is ensuring the Products we deliver for our end users are the best they can be and are meeting their needs. This involves having a higher-level view by looking at the product vision and mission and sharing this with stakeholders across the department and cross-government, I regularly collaborate and share knowledge and learnings with teams across the department and government. But then I also get into the detail of the product, influencing design choices, conducting research, and monitoring and measuring the success of the product and how well it is meeting the needs of the users.
I love the flexibility of working for the Home Office. Coming from retail, it's completely different. I love being able to work from home the majority of the week but then also being able to see my colleagues in the office a few days a week. It's very relaxed in that I feel that I can take an hour out in the afternoon to take my dogs for a walk and then work later in the evening. I feel very supported and there are endless development opportunities for professional growth, whether that's mentorship or funding an external certification. The working environment, the people and the culture are great, and you will be able to thrive and grow at every opportunity.
For more information about the types of different roles that the Home Office recruits for, check out the Home Office Careers website.