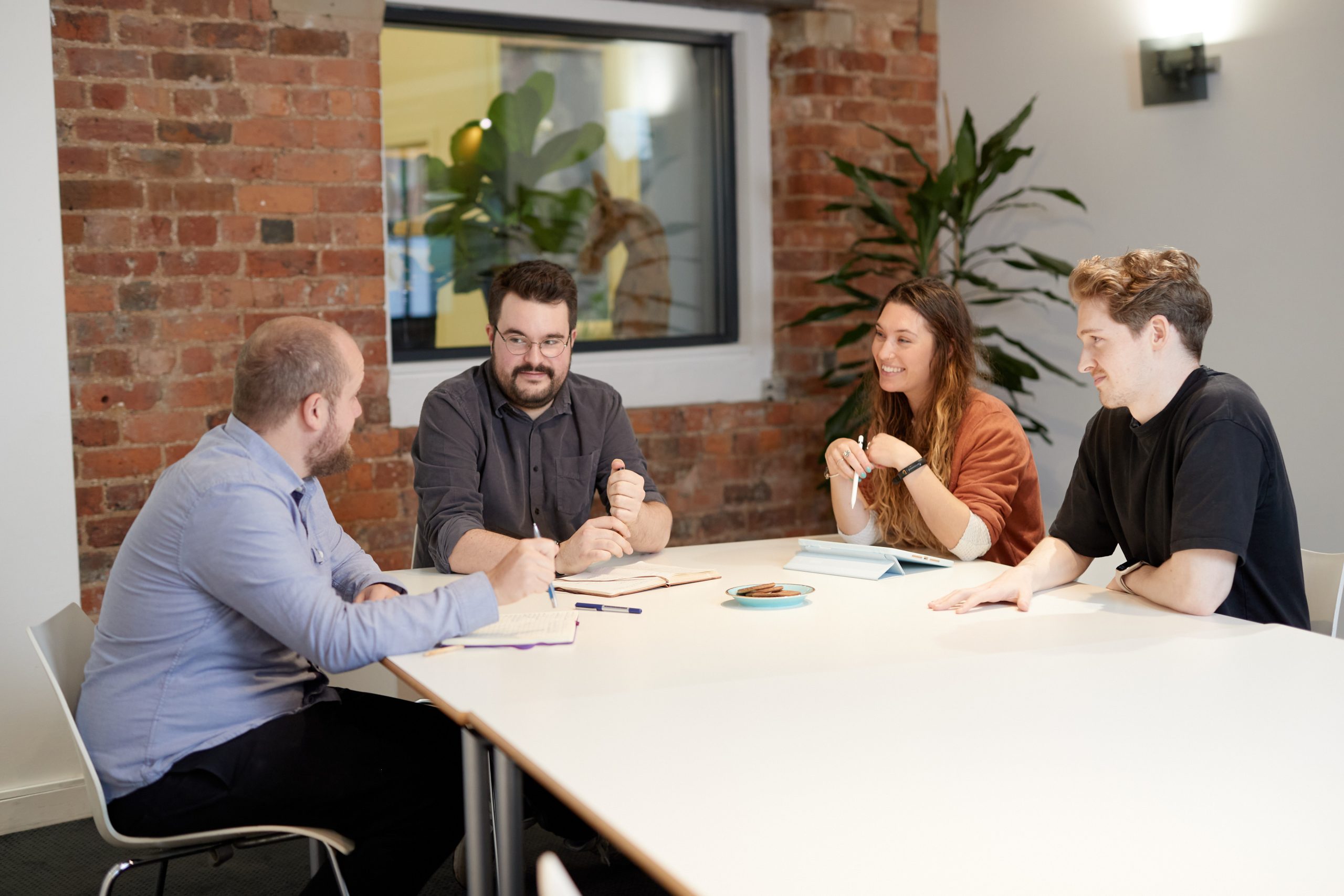 This year I want to focus on change. We're ending the year in a very different place to where we started it, and so much has changed at Huddle. I'd go so far as to say this year has seen the most change at Huddle since we began back in 2015!
Our clients
First, our clients. We have welcomed several new clients this year, doubling our number of retained clients with whom we work on a weekly basis. As always, we're lucky to work with such dynamic people doing exciting things in their spaces. Each one has challenged us and encouraged us to grow and evolve. Continuous improvement is a core value at Huddle and we love clients who support us to live our values.
This kind of client feedback has led to specific changes, including incorporating a project manager into our team and reworking the way that clients submit requests to us, meaning all clients benefit as a result. We're grateful for our clients' enthusiasm, sincerity and openness to possibility. This year we enabled our clients to achieve great things through digital, allowing their customers to interact with them in brand new ways, increasing revenue, reducing customer service time and overall improving their value proposition. I won't go into detail here about what we've delivered and the business benefit, as I'll be stealing the thunder of our new website launching soon!
Our team
Next, our team. We've grown our team this year and the way we work has evolved alongside it. We have had a complete restructure of our client-facing team. Welcoming Rachel as our new project manager gave us the opportunity to rethink things and make better use of our skills, with Emily transitioning to a full time testing and QA role, and me focussing on client care and account management.
With design, we have taken our learnings and client feedback from each project, and completely reworked our design process with our designer, Matt, to suit the bigger and more complex projects we are delivering. Cameron, our in-house developer, has taken on more responsibility with live code deploys and contributing to client calls, freeing up Harry to work on new challenges like systems planning workshops and more code reviews. We also started a new developer contract with Lewis, a familiar face, and look forward to increasing this in the new year.
When I look back at who we were and how we worked a year ago, we have changed so much that it feels like a real maturity of our team as a whole.
Change
So why all the change? Partly, our new clients and projects have driven us to adapt and evolve, and we are always seeking out ways we can be providing a great experience for our clients. Partly though, I think that in 2021 we were still reeling from the effects of the pandemic, and as a result were craving security and stability. This year we allowed ourselves room to breathe, take risks and get out of our comfort zones. We're not perfect – and these changes have introduced many new challenges for us to work on – but the feedback we are receiving shows us that it's all steps in the right direction. Change can be scary and daunting. How do we make sure we continue the same personal service while growing our team? How do we ensure we don't lose track of who we are and what makes us special? These are questions that every owner of a growing business grapples with, and I'm no different. In reality, change is the only constant, and we embrace change, allowing our core values to help steer us through.
Looking forward
So what does the future hold? Next year holds exciting things for us at Huddle. We have a new in-house developer joining in January, a complete rebrand along with new website launching shortly thereafter, and an online client portal coming soon. We are also launching some exciting client projects early in 2023. Some things don't change though, and that's our focus on client satisfaction and adding real tangible value. We've maintained our great service to clients, with a 93% average client satisfaction rating and 77% Excellent average NPS score, which is up 4% from last year and 20% above industry average. I feel blessed that we are booked with work for the foreseeable future, meaning we are in the privileged position of being able to accept only the clients who we feel are closely aligned with our values and for whom we will deliver great results.
After such a big year of change, our focus for 2023 will be on reviewing and refining. We're not especially interested in growth for the sake of growth, and feel that taking on new projects and more staff for the sake of it runs the risk of diluting our existing relationships. Instead, we will focus on finding new ways to add value to clients, strengthening our team, and improving the experience for anyone involved with Huddle in any form. But in the meantime, we're looking forward to plenty of mince pies, merriment and rest! And here's a parting shot from our Secret Santa Zoom!