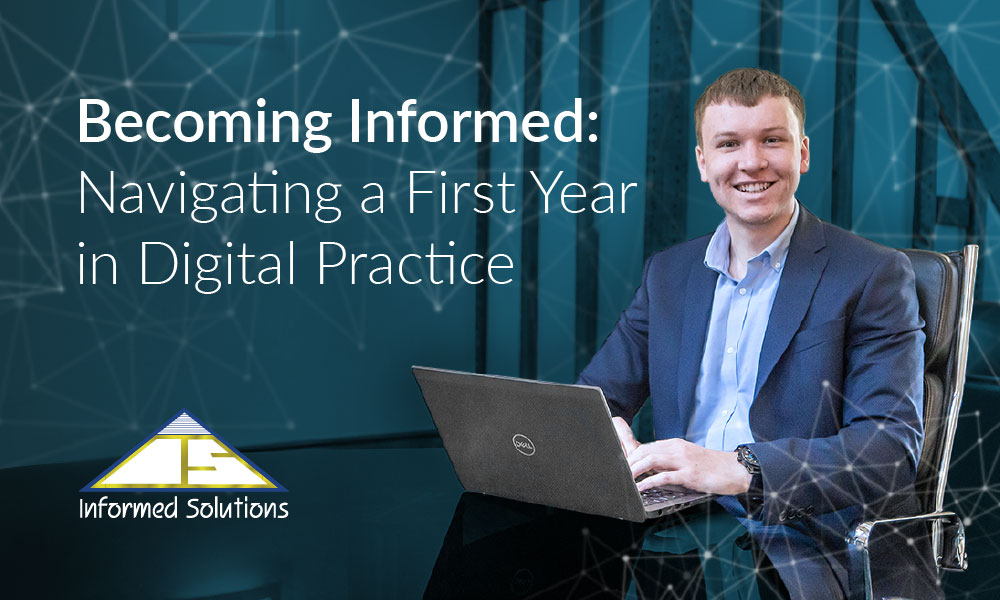 A physics degree demands strong analytical and problem-solving skills, paired with a creativity and an appreciation for method over madness.
Transitioning to a career in software and consultancy demands similar skills, but with an added requirement to adapt and think on your feet. My first year at Informed has been intellectually challenging and rewarding with one constant: the opportunity to learn and develop.
During my degree in Physics with Theoretical Physics at the University of Manchester, I learned a plethora of transferable skills. The analytical and practical techniques from the course formed the foundation for what would be a defining strength: problem-solving. Taking all the computational modules the course would allow, I was provided with a theoretical grounding in Python and C++ and an appreciation for how software can be used to solve real-world problems.
My interest in, and passion for software led me to Informed Solutions where I am now working with teams to solve real-world problems to deliver large nationally significant projects.
Skills Development
During this first year, the opportunities to experience the different disciplines of digital transformation consultancy have provided richness to my personal development. In my short time with the company, I have already been able to work across multiple project teams that support nationally significant digital transformation projects, work with a huge variety of technologies, grow my professional network, complete industry courses and certifications, and even get involved in business improvement initiatives that play a significant role in shaping future company growth and success.
The trust Informed Solutions shows graduate associates is key to making all this work. The culture at Informed promotes and embraces the opportunity to explore, experiment, and learn fast, all with the considered, experienced guidance of team leads, who have successfully navigated their own career journeys to the point where they can advise, guide, and develop people through their early years in consultancy.
The freedom to engage in sponsored training, work with the partner networks and chat with expert colleagues all comes together to reinforce this collaborative culture, which is reinforced and amplified by a buddy, coach and manager system that provides a network of experienced colleagues that can answer queries, work through concerns, brainstorm for great delivery ideas or talk through career aspirations.
Many of my peers have explored specific avenues of software development by communicating their interest during coaching sessions, and then a few weeks down the line, they have been working with that technology on a real project. This approach results in incredibly fast upskilling across a variety of disciplines, where graduate consultants can rapidly change gear from theoretical understanding to an appreciation of real-world application.
From my own experience, I asked my coach if it was possible to learn more about solution architecture and how systems are designed. This request was discussed at my appraisal, and within weeks I was on a project working alongside a Technical Director learning how the complex systems that support national services are designed and architected. This commitment to development and a natural proximity and collaboration with highly experienced colleagues at Informed really accelerates learning and development.
Starting a Career in Unusual Circumstances
The culture of freedom and collaboration amongst employees carries through to the working practices Informed employed during the pandemic. Just a couple of months into my career, the pandemic struck, and we entered our first lockdown in the UK. Like many people, I took to working from my dining room table and chair. During this unsettling period, I was really impressed by my colleagues' response to the pandemic, with everybody working closely with their managers to develop individual work plans that provided structure, process, and support through really challenging times.
Daily virtual lunchtime meetings were put in everyone's diaries so that people could eat lunch and catch up if they had a chance. Fortnightly meetings with the entire company were set up to share company news, celebrate success, and map out the short-term operational priorities. In addition to this activity to support remote working, there was a real effort to make sure everyone was able to cope with strange new pressures (I never realised my first year as a professional would be conducted remotely).
Being an international digital transformation practice with highly evolved operational infrastructure and mature remote working practices, we were fully operational as an entire workforce within a day, which helped make the transition to remote-working a near-seamless experience. A cross section of Informed people volunteered for a COVID-19 working group, which examined and shaped our working practices through the pandemic. This resulted in a collaborative and concerted effort to make remote working better for everyone as a community and ensure that a successful return to the workplace programme was both considered and 'owned' by everyone.
Aspirations for the Future
The technical capabilities I have already gained at Informed Solutions will serve me for the rest of my career. Specifically, the cloud development and solution architecture skills I have learned will underpin my ambitions to be part of a team that develops truly intelligent solutions that meet complex and varied challenges that face our society, our environment, and our economy.
Having made the transition from physics to software, I can safely say that Informed Solutions provides the structure and training required to make this transition a success – if you put the work in. For those reading that are interested in a career in software, I encourage you to pursue it, even if you are not already in that field. With the correct company, coaching and guidance, you will be able to develop career skills and gain an understanding of the building blocks that will help you achieve your aspirations.
I have found that the skills developed during my degree are a solid foundation for the rich and diverse skillsets you will quickly develop in the workplace, with the right coaching and guidance. The variety of skills and opportunities on offer will ultimately determine your career path and what the future holds. With the support of excellent colleagues and a forward-thinking workplace, I am looking forward to achieving great things with my colleagues and the teams that I am part of.