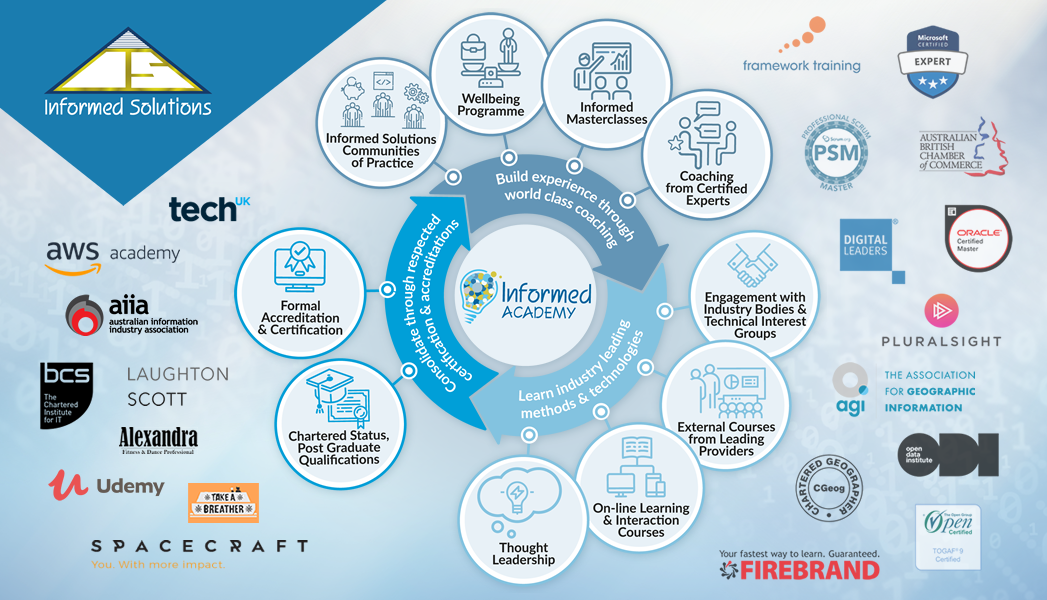 Manchester/London/Sydney - May 28th 2020: Informed Solutions announces the expansion of its InformedACADEMY© world class skills development programme. Adding new partners and adapting the framework for online delivery, the academy now includes new training elements such as wellbeing, and a new soft skills masterclass series designed and delivered by leading digital industry experts.
Growing to 22 international InformedACADEMY© network partners, training includes globally recognised accreditation from Amazon Web Services, Microsoft and Oracle. Additionally, the expanded network includes national training partners in the UK and Australia including; techUK, the UK's leading technology association, its Australian counterpart, the Australian Information Industry Association (AIIA), The British Computer Society (BCS), and Digital Leaders, a community of over 110,000 industry leaders that profiles effective, long-term digital transformation to promote economic growth, increase social wellbeing and narrow social gaps. In keeping with authentic investment in communities where it operates, Informed Solutions has identified specialist local service providers to deliver wellbeing support for its people and partners.
Alongside the addition of wellbeing elements, new learning and development courses include resilience in the workplace, effective collaboration and distributed team working and communication – critically important skills and disciplines needed by businesses and individuals as they face today's specific challenges following COVID-19. The approach is specifically designed to follow our principle of combining formal training and accreditation, consolidated with on-the-job coaching and skills transfer, enabling our staff and partners to build confidence, go further, grow faster and deliver outstanding value through their work.
Additionally, InformedACADEMY© offers Informed Solutions' clients access to world class training for the latest digital skills, technologies and service development methods, which supplements and enhances the co-located coaching and skills transfer provided as part of each engagement.
Julian David, CEO at techUK comments: "Resilience is an important characteristic of today's businesses. Informed's comprehensive learning and development programme arms their teams and their clients' teams with the skills to survive and thrive in a digitally converged world. We're proud to be an InformedACADEMY© expert training partner, helping develop the skills needed for new ways of working." www.techuk.org
Robin Knowles CEO, Digital Leaders says: "Informed's comprehensive learning and development programme ensures all digital training requirements can be met quickly and effectively. Given the current circumstances there is a real and urgent need for the digital skills and talent that will help us work better together in the future. We are delighted to be able to train up the next generation of digital leaders by being an InformedACADEMY© expert training partner". www.digileaders.com
James Lapwood, UK Commercial Director at Firebrand Training comments: "We are excited to be an InformedACADEMY expert training partner. Digital skills are more important now than ever before. With people increasingly relying on digital for work, home and play, its vital that we gain the skills needed to thrive in a connected world". www.firebrand.training/uk
Informed Solutions UK CEO, Seth Finegan comments: "InformedACADEMY© is a world class development programme that helps Informed Solutions teams, partners and clients build the skills, capability, and insights they will need to be successful in their role and to stay ahead in a rapidly changing and challenging digital world.
"During such challenging times, we believe investment in skills is a critical ingredient that will help us bounce back better from the current set of crises we are all facing. The continual development of our InformedACADEMY© is rooted in the Company's core values of delivering Innovation, Excellence, and Integrity in all we do; its mission is nothing short of helping people be the best they can be – great to work with, great to work for".