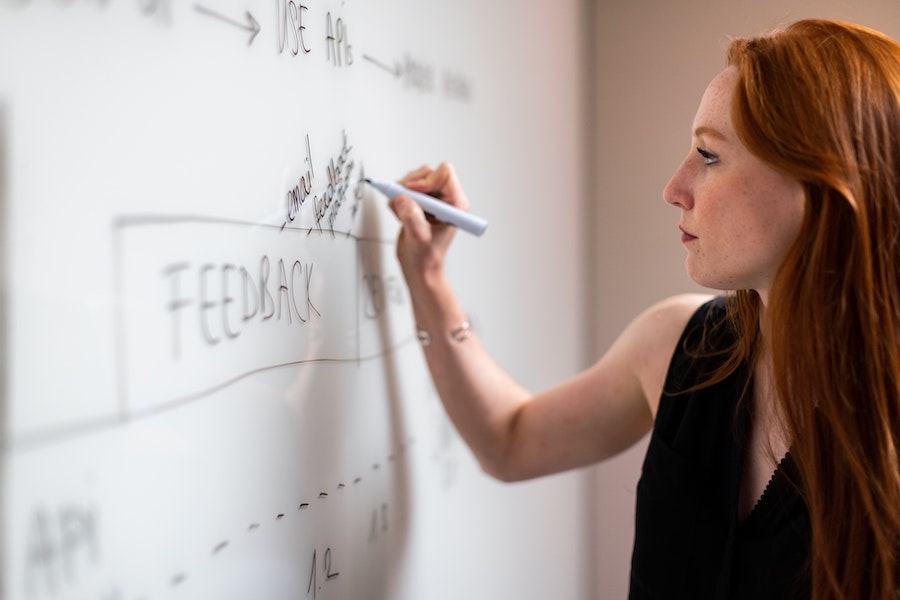 As a business owner, one of your key goals is to convert more customers. But before you can do that, you need to build the best possible marketing strategy to stack the odds of success in your favour.
But here's where so many businesses go wrong: they throw money at poorly designed strategies that will never work in the long run.
If you've ever invested a bunch of money into paid advertising, boosted your social media posts, or bought email data without thinking about how the dots connect up after those touchpoints, you've already fallen into this trap.
The inconvenient truth is that good things take time – and one of the greatest things is building your audience into a loyal following that knows, likes and trusts you.
To do this, you need to create a sustainable marketing strategy that accommodates your audience every step of the way.
To figure out what specific actions you need to take, you'll also need a strategy that's built around a simple yet effective sales funnel – and to account for the cost of work that needs to be done in your marketing budget.
Here's the good news: with the right approach, it's easier than you think – and can even lead to you generating income while you sleep.
Still don't know where to start? Luckily, this article breaks down how you can build the best digital marketing strategy and a marketing budget that works for both your business and its customers.
To help get you started on the right path, we'll take you through the following ten steps:
Clarify your brand message
Create a website that works
Create a lead magnet to capture emails
Create high-quality content
Build a strong social media presence
Network, network, network
Get started with email marketing and automation
Build credibility for your audience
Create a budget to support your activities
Bring it all together
Clarify your brand message
The best digital marketing strategies have one thing in common: they all have a clear and compelling message.
If people don't immediately understand what you do and how it will benefit them or solve their problems, they'll disengage.
That's why understanding how to clearly communicate your brand message through your marketing is crucial for engaging your target audience.
While keeping things clear and compelling sounds simple enough, it's easy to lose sight of what works best when you're working so closely with your businesses.
If you want to avoid losing sight of what matters, it's time to put yourself firmly in your target audience's shoes and take the following actions:
Define the desire your customers have as it relates to your offering
By understanding your target audience's desires (their wishes and expectations in relation to your offering), you can better accommodate their needs. This desire could be practical or emotional and will shape the way you market your product or service.
Identify problems that you help your customers to solve
It's your customer's pain points that ultimately motivate them to seek out a solution. If you can demonstrate that you fully understand what they are and can go above and beyond in the way that you solve them, your target audience will be much more likely to choose you.
Position your brand as the authority
One of the best ways to showcase your expertise and gain your target audience's trust is to position yourself as an authoritative voice in your field. This includes publishing lots of value-driven content to help your audience understand how they can minimise their pain points and fulfil their desire.
Give your customers a plan they can follow that alleviates their pain points
Before your audience has committed to investing in an offering from your brand, it's important that they understand how the process works. By giving them a step-by-step plan to alleviate their pain points, they can begin the journey themselves before turning to you for the aspects they can't do themselves.
Create a clear call to action that leads your customers to a sale
Effective calls to action (CTAs) help your prospects navigate seamlessly through their customer journey. Just remember that the CTAs you use need to correspond with where your audience is up to in the sales funnel, whether it's "find out more" for the interest stages, "get in touch" for the engagement stage, or "buy now" for conversion,
Illustrate what success looks like for your customers
Showcasing what your customers can expect after investing in your offering is an essential part of convincing them to convert into paying customers – but simply telling them from your own perspective isn't going to cut it. Instead, use a mix of case studies and glowing customer testimonials as proof of your worth.
Describe what failure you are helping your customers avoid
A lot of the time, it's a consumer's fear of what will happen that drives them to make an investment. Whether it's insurance, cyber security or a cosmetic product, there are genuine fears you can tap into without fearmongering. Then, present your offering as the remedy to that fear.
Identify an aspirational identity for your customers
Almost all customers are driven by aspiration. For example, you may buy a pair of Jordans because you aspire to be more like Micheal Jordan, but it doesn't need to be an actual person. If you're selling software as a service (SaaS), your aspirational identity could be as simple as someone who's organised, efficient and stress-free at work. By describing who your customers could become by investing in your brand, you'll encourage them to imagine their new and improved selves, making them more likely to convert.
Develop your organisation's one-liner to answer the question, "What do you do?"
Every business needs a compelling one-liner, but it's easy to overthink it. If your strapline is too vague, you will not grab the attention of those you're trying to reach. To make it as effective as possible, keep it short, to the point, and answer the question, "what do you do?".
Refine your brand guidelines so that it stays relevant to your customers
Whatever approach you choose to take with your digital marketing strategy, keeping things consistent is key. That's why taking the time to refine your brand guidelines is so important. Everything from your tone of voice to language and brand colours needs to be accounted for so that anyone working on your marketing hits the mark every time.
Create a website that works
The best marketing strategies incorporate different channels, but most of those channels should ultimately direct your audience to your website.
This is because your website is where most of your conversions are likely to take place. It's also where your audience will end up when they want to find out more about what you have to offer and whether it's worth their investment.
So why put so much time and effort into your other marketing channels if you're only going to send your audience to a site that isn't up to scratch?
This is why it's so important to have a website that's fit for purpose.
It doesn't just need to just look slick; it needs to convey your message at a glance and incorporate seamless navigation so your customers glide from one point in their customer journey to the next.
If you want your website that achieves more conversions, follow these actions:
Include a clear and concise statement of what you offer on the header of the site
Place a clear call to action (CTA) in the top right corner of the site
Offer a lead magnet that captures an email address
Display images that showcase what success looks like for your customer
Simplify your offering into a bite-sized breakdown
Give your customers a clear plan they can follow
Include a value proposition that promises specific benefits you'll deliver to your customers
Make the text on your site scannable
Create a compelling lead magnet to capture emails
First impressions count, but they don't make conversions.
That's why, after you've made a positive first impression, you need to continue to engage your audience with content that's valuable to them.
Sending resources, news and special offers via email is one of the most effective ways to do this, but first, you need to build up a list of emails.
This is where lead magnets come in.
Whatever lead magnet you choose to create, you'll need to ensure that it offers significant value to your target customers. Then, offer it to them in exchange for their email address.
An effective lead magnet could be a free trial, an online course, a checklist, an eBook and so on.
By creating something of value that's highly relevant to your target market, you'll be able to qualify the people that take the offer up as potential customers.
To create your lead magnet, do the following:
Keep it evergreen
Great lead magnets take time and effort, so the last thing you need is for your asset to become out of date in a few months' time. That's why it's so important that you keep it evergreen. This means that it will continue to be relevant and valuable in the months and years to come.
Offer the lead magnet on your website and in ad campaigns
When you've created your lead magnet, it's time to start promoting it. The best way to do this is to offer it on your website and in your ad campaigns. You could also share it on social media and include it in your email marketing. Make sure you make it as easy as possible for people to find and sign up for.
Ensure your asset offers extreme value to your customers
Your lead magnet needs to offer extreme value to your target market if you want it to be successful. This means creating something that's highly relevant to them and that solves a specific problem they have. It should also be something that's not readily available elsewhere.
Include ways your brand can solve key pain points your customers face
Your lead magnet should also include ways your brand can solve key pain points your customers face. This will help instil trust in your brand and show your target market that you're the best solution to their problem.
Use your lead magnet to create a sense of reciprocity in your prospects
Lead magnets are a super effective way to engage audiences and build a positive relationship with them. Once you've given your target market something of value, they'll feel compelled to reciprocate by either taking up your offer or, at the very least, learning more about your brand.
Establish your brand as the authority in your area of expertise
When you create a lead magnet that's full of valuable information, you'll establish your brand as the authority in your area of expertise – so make sure you communicate your expert insight in whatever kind of lead magnet you create. This will make it more likely that people will do business with you when they need help with something related to your industry.
Give your asset a catchy title to increase the number of signups
Your lead magnet needs to have a catchy title that accurately reflects what it is and what it offers. This will help increase the number of people that download it and ensure that those that do download it are actually interested in what it has to offer.
Make the text scannable so people can easily read it and receive value
When people download your lead magnet, they're not going to read it from cover to cover – they'll skim it for the information they need. So, make sure the text is scannable by using short paragraphs, bullet points, and headlines. This will make it easy for people to find the valuable information they're looking for quickly and easily.
Capture email addresses of prospects to qualify leads you engage with
The whole point of a lead magnet is to capture email addresses so you can qualify the leads you engage with further. To do this, you need to have an email capture form on your lead magnet landing page. This will also allow you to qualify leads and send them more targeted information in the future.
Create high quality content for your marketing channels
Alongside creating a desirable lead magnet, you'll need to keep your digital assets up to date by producing fresh content.
This will show your target market that you're always producing high-quality, valuable content – making them more likely to do business with you.
Not only this, but by creating new and original content, you'll be able to keep people engaged with your brand for longer.
This is because they'll always have something new to consume, whether that's a blog post, video, or podcast episode.
Written content
Written content, comes in many different formats, including blog posts, articles, eBooks, and whitepapers. When creating written content, it's important to keep your target market in mind and ensure that the topics you're writing about are relevant to them. You should also make sure that the content is well-researched and well-written, as this will make it more likely to be shared and read by your target market. To learn more, check out our top content writing tips.
Top tip: to keep your older content up-to-date and Google algorithm-friendly, make sure to revisit your written content to update it every couple of years.
Video content
With the rise of social media, video content has become increasingly popular in recent years. Video content is a great way to engage your target market and keep them entertained, and there are many different types of videos you can create, including how-to videos, interviews, and vlogs. When creating video content, it's important to ensure that the videos are high quality and offer value to your target market.
Podcasts
Another form of content that's on the rise is podcasts. Podcasts are a great way to provide valuable information to your target market in an engaging and entertaining way. When creating a podcast, it's important to ensure that the audio quality is good and that the topics you discuss are relevant to your target market.
Images and infographics
Images and infographics are a great way to break up written content and make it more visually appealing. When creating images and infographics, it's important to use high-quality visuals that accurately represent the information you're trying to communicate. Plus, high-quality infographics are a great way to attract more backlinks to your site, which will help to give your SEO results a boost.
Other forms of content
There are many other types of content you can create you can incorporate into your digital marketing strategy. Some of these include webinars, eCourses, and templates. If you're struggling to decide what type of content will work best for your business, take a look at what your competitors are doing and see what's working well for them. Alternatively, you could carry out some market research to see what type of content your target market would find most valuable.
SEO
SEO, or search engine optimisation, is the process of optimising your website and digital content for Google search. This means using the right keywords, having well-written and informative content, and making sure your website is mobile-friendly. It's important to make sure all the content you create is optimised for SEO. By doing this, you'll make it more likely that your target market will find you when they're searching for information related to your industry. To learn more, check out our top SEO tips and tricks.
Top tip: If you're not sure where to start, check out AnswerThePublic and UberSuggest. These are free tools that will show you what kind of key terms your audience is typing into search engines.
Build a strong social media presence
When you have your lead magnet and content, it's not just your site where you'll need to share it.
You'll also need to make sure you have a strong social media presence, as this will help you to reach a wider audience and generate more leads.
When creating social media content, it's also important to ensure that it's high quality and engaging.
You should also make sure to post regularly, as this will show your audience that you're active and engaged.
Choosing the right social media platforms
The most popular social media platforms for businesses are LinkedIn, Facebook, and Instagram. However, every business is different, so it's important to make sure you're active on the platforms that are most relevant to your business. For example, if you have a B2B business, LinkedIn may be the best option to generate leads. If you have a B2C company, Facebook may be a better option to reach your target market.
Types of posts to share on social media
There are many different types of posts you can share on social media, including blog posts, infographics, images, and videos. You should also make sure to mix up your content so that you're not just sharing the same type of content all the time. But remember, it's always a good idea to educate your audience. This could include content on how your solution works, what other people are saying about your brand or your perspective on a hot topic in your industry.
Paid advertising
Another way to generate leads is through paid advertising. This is where you pay to have your adverts placed on social media platforms such as Facebook or LinkedIn. Paid advertising can be a great way to reach a wider audience and generate leads quickly. When creating paid ads, it's important to make sure that they're relevant to your target market and that they lead to a landing page that's optimised for conversion. For example, you may want to use paid advertising to promote your lead magnet.
Planning ahead
Social media marketing is one of those things that you need to be constantly thinking about. This doesn't mean that you should be glued to your phone 24/7, but it does mean having a content calendar and planning your posts in advance. This will help to ensure that your social media presence is consistent and that you're regularly sharing high-quality content.
Top tip: Use a social media scheduling platform so that you can create and schedule your posts ahead of time.
Engaging with your audience on social media
It's not enough to just share high-quality content on social media. You also need to make sure you're engaging with your audience. This includes liking and commenting on other people's posts, as well as responding to comments on your own posts. By doing so, you'll show your audience that you're interested in what they have to say and that you're willing to engage in conversation and nurture their relationship with your brand.
Staying aware of new trends
The world of digital marketing is always changing, so it's important to stay up-to-date with the latest trends. This includes new up-and-coming social media platforms, changes to algorithms, and new features that you can use to reach your target market. By keeping up-to-date with new trends, you'll be able to adapt your digital marketing strategy to ensure that you're always one step ahead of the competition.
To learn more, check out our ultimate guide to social media marketing.
Network, network, network
The final building block to building a database to reach out to further down your sales funnel is networking. All of the best digital marketing strategies will only work if you have a database of potential customers to reach out to.
LinkedIn lead generation
You can start building this by adding relevant people to your LinkedIn network. You can search for these profiles manually or use a paid tool like Sales Navigator, which lets you filter by job role, industry, and more so you can find potential leads quickly. Once you've connected, you can begin reaching out on LinkedIn messenger. By engaging with your new connections using conversational marketing techniques, you can begin to build a positive relationship and see if they qualify as a lead in the process.
Other forms of networking
You should also make sure to attend relevant conferences and workshops so that you can meet new people and add them to your database if they're interested in your offering. Remember, it's not just about adding as many people as possible to your database. It's also about making sure that you're adding quality leads who are likely to be interested in your product or service.
Email marketing and automation
Once you have your emails from your lead magnet and networking, you want to create the best opportunity to convert your prospects into paying customers.
This is one of the most challenging parts of the funnel, and a simple monthly newsletter isn't going to cut it. However, it's also one of your biggest opportunities to nurture a positive relationship.
You need to follow an approach that nurtures them from the luke-warm lead they currently are to a place where they're ready to invest in your solution. This is where email automation, such as a welcome series, can come in.
To create your automation, do the following:
Draft an automated email sequence that delivers valuable information for free
The first step is to draft an email sequence that delivers free and valuable information to your customers. Each email should build on the last, providing more information and value to the reader. You can use this sequence to establish yourself as an authority, nurture your relationship with the reader, and ultimately sell them your product or service.
Once drafted, you can build them into your email platform as an automation that sends automatically when an action is complete. For example, you could set up your automation so that it starts to send the emails in your sequence when a user has signed up to your lead magnet.
Acknowledge your customer's pain point and introduce your product as the solution to that problem
Educate your customers on your offering, so they understand why they need it
Overcome objections that prospects may have to investing in your offering
Deliver a "paradigm shift" email to compel a distracted audience
Include elements of authority in the email sequence
Use the nurturing sequence to establish reciprocity among your prospects
Close the sequence with an effective sales pitch to turn a prospect into a paying customer
Write regular newsletters
Email automations are obviously a great way to nurture your leads, but how are you going to keep them engaged when they've completed your automations?
Whether they've become a paying customer or not, you can continue to nurture the relationship with email newsletters that keep your subscribers up to date with your latest content, announcements, testimonials and special offers. However, it's important to segment your audience.
For example, you may want to send a slightly different email to paying customers and those who are still only leads. Remember, the more tailored and targeted your messaging is, the more likely your subscribers are to convert.
Build credibility with your audience
Even if you have the best digital marketing strategy in the world, it will not work unless you have the proof to back it up.
This is essential to build trust in your audience and demonstrate your credibility.
And what's even more powerful than telling the world how great you are? Someone else vouching for you on your behalf.
That's why it's so important to use social proof in the form of testimonials, reviews and case studies to showcase to prospective customers what they can expect after choosing you.
Once you have enough feedback from happy customers, you can share it with your prospective ones on your website, social media, email marketing and more.
To build your catalogue of social proof, do the following:
Use testimonials to overcome resistance and reduce any hesitation prospective clients may have around engaging your brand
Prompt current customers to talk about the problem your brand helped them resolve
Have your customers describe what made them choose your brand as a guide
Ask customers to describe what their life looks like now that your brand has helped them solve their problem
Ask customers the questions that will prompt them to share how your brand helped them transform
How to define a marketing strategy and implementation plan
Bringing it all together
As touched on earlier, your digital marketing ecosystem is not just made up of one or two activities – it's an ongoing, complex system that needs a number of different moving parts to function correctly.
By using the Vision2Success app, you can get a holistic overview of all the different components that make up your digital marketing ecosystem, as well as their associated costs. This will allow you to make more informed decisions about where to allocate your budget and how to get the most out of your marketing efforts.
What's more, the app also provides you with guidance on how to implement each element of your digital marketing strategy so that you can hit the ground running and start generating results as quickly as possible.
So, there you have it – everything you need to know about how to create the best digital marketing strategy for your business.
Trying to piece everything together on your own can be time-consuming and frustrating, but with Vision2Success, we make it easy for you.
Get started today and see the results for yourself!