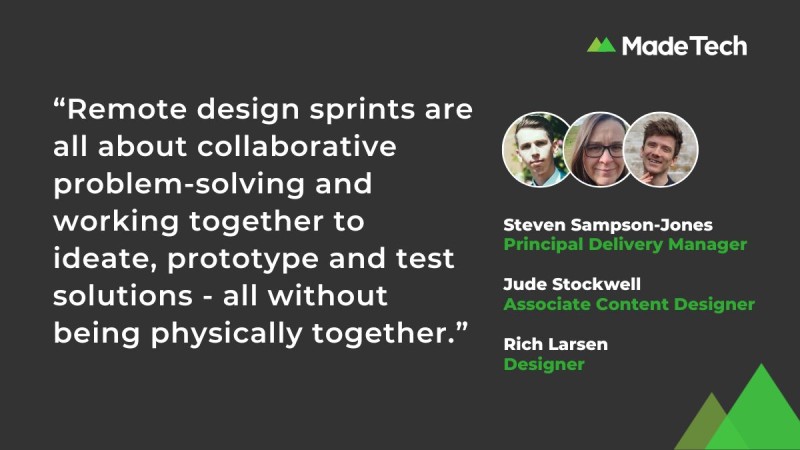 A remote design sprint does exactly what it says on the tin. It's a process of collaborative problem-solving where teams work together to ideate, prototype and test things – all without being physically together.
This process brings together design thinking principles with agile methodologies. And it's become increasingly popular in recent years as more and more teams have shifted to remote work.
But what benefits come with working remotely?
When we think about remote design sprints, one of the biggest perks is that they can be completed in a short period of time. This is often a lot quicker than a more traditional sprint and encourages teams to work quickly and efficiently – meaning a greater sense of focus and momentum. Win-win, right?
On top of that, remote design sprints can also be much more inclusive. They allow people in different locations and time zones to collaborate in real-time. This diversity of thought and perspective can lead to building more creative and innovative things.
Getting into the detail
Now let's get into the need-to-know details of design sprints. For those in the know, a remote design sprint follows the same basic framework as the Google Ventures (GV) and AJ & Smart Design Sprint 2.0. Our goal remains the same – rapidly prototyping and testing new ideas in a compressed timeline. Here's a few ways a remote sprint is a little different:
adapted tools and techniques – some of the tools and techniques used in the traditional design sprints may need to be adapted or replaced, but this is easy enough – swap out your post-it notes for remote brainstorming and prototyping tools like Miro
scheduling – because of the lack of in-person interaction, it's important to remember breaks and rest to avoid fatigue and burnout
limited environment – working remotely might mean team members have limited access to physical resources
Overall, a remote design sprint offers a unique approach to problem-solving that supports collaboration and digital innovation. It's a powerful tool for teams that are distributed across different locations or those who can't work in-person.
Remote sprints at the Met Office
To help you visualise how remote sprint might work in practice, let's take you through a week with a client – the Met Office. The aim was to start the process of designing a new careers site for them. They wanted to improve accessibility and showcase their tech, engineering and meteorological careers.
Day 1
Day 1 set the foundation for the rest of the sprint. This involved online meetings to:
define the sprint goal – the problem we were working to solve
map the end-to-end user journey – we then chose the part of the journey to focus on for a minimum viable product (MVP)
capture expert insights – after speaking to Met Office stakeholders, we noted potential challenges and opportunities through "How Might We" statements
run a 4-step sketch process – everyone noted something interesting from our progress. We then turned our notes into ideas by sketching them. We did this through the following activities:
We used a few activities in sketching. We did crazy 8s, taking one idea from the previous sketches and iterating it. And we did solution sketches, where everyone took their idea with the most potential and converted it to a self-explanatory sketch with a paper prototype.
Day 2
On day 2 we focused on reviewing the sketches from the day before and deciding which one would be made into a more high-fidelity prototype. This was done by:
heat map voting – where everyone has 3 votes each to pick the solutions or features that they liked best using a Mural board
speed critique – each team member explains their solution and the reasons for doing it that way
super votes – the product manager and product owner picked the solution they wanted to take forward
In the end, 3 were picked. These were used to storyboard the user journey, providing a screen flow for the prototype.
Day 3
Day 3 is when things really started to ramp up, particularly for the user-centred design and research members of the team. Our designers created a working prototype in Figma (an online collaborative design tool) which included content to guide the user through the process of applying for a job.
As the prototype evolved, our user researchers put together the testing plan and recruiting testers. The hard work paid off and apart from a few last tweaks, we had a working prototype by the end of the day!
Day 4
Day 4 was all about testing. We took 6 people at various stages in their careers through the prototype. We asked questions along the way about what they thought, what they'd expect to see and how they'd expect the page to behave.
Even before analysing our findings from these online interviews, we got a sense that the prototype was already performing better than the existing website did in round one of testing. We could also begin to see common threads of insight and uncertainty run through each session.
Day 5
Day 5 was analysis day. We recognised common themes and patterns emerging from the testing and used them to iterate the prototype. This process is crucial for making sure the team's prototypes are grounded in user needs and feedback.
The findings were then presented to the Met Office stakeholders and the rest of the team. This was our opportunity to showcase everyone's hard work and collaboration, to share insights and findings and gain buy-in and support for the solutions developed.
What's the verdict?
The main benefit of doing the design sprint remotely was the ability to bring together a widely spread team and work quickly. We were spread from Exeter to Newcastle and many other places in between. Working remotely was more cost effective and a better use of time than having everyone travel to one location.
All this was made possible by technology. Applications such as Google Meet and Mural supported effective collaborative working and communication. And tools like Slido helped us host fun icebreakers.
The Met Office team who joined the design sprint enjoyed the process and found our team to be positive and motivating. It was great for us to get a more detailed look at their expectations for the site and they were impressed with the speed in which a remote design sprint can turn a set of requirements into an MVP prototype.
If you want to learn a bit more about remote design sprints you can watch our recent webinar where Steven talks about the advantages, disadvantages and surprises in more detail.