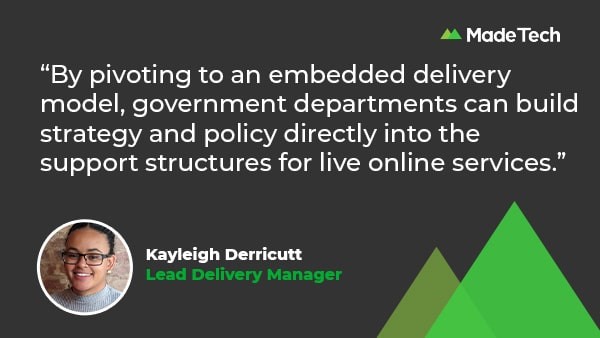 The pandemic forced organisations and individuals to adapt to new ways of doing things and triggered a sea change in the use of online digital services. That need for online services is continuing to rise, and is doing so much faster than predicted. This is also true across the public sector.
Not only is the demand for online public services increasing, but the expectations citizens have for the quality of those services is higher than ever. The UK falls far behind countries like Estonia and South Korea, where 80% of government interactions happen online, compared to just 50% here in the UK. This low engagement level leaves us ranked 11th by the United Nations (down from 7th last year) when it comes to government digital services.
So why is the UK lagging behind and what can we do about it?
The need for quality digital services
There are 2 key reasons for this. Currently a lot of services are not digitalised, and those that are often don't meet the standards citizens expect.
Services are not digitalised
Last year, over a third of citizens couldn't complete digital journeys solely online. Despite accessing services online, they were at some point required to complete a paper form, make a phone call or attend an in-person meeting to receive the support they needed.
Services considered fully digitalised are, in some cases, not digitalised at all. Inaccessible designs lead to a high drop-out rate and the need for people to try again – or via a non-digital channel. Surprisingly up to 90% of England's biggest councils struggle to meet accessibility regulations, meaning digitalised journeys are often not digitalised for all.
Services don't meet standards
A trend we see again and again is that despite certain services being digitalised, citizens are often not interested in using them. Users compare government digital services to their best last digital experience. The problem with this is that it often means comparisons with the consumer services from the private sector, where some big names have set an incredibly high bar.
What can we do?
Fortunately for us as members of the public, the government is working to improve online government services. By 2025, the plan is to transform the UK government to be a "more efficient digital government that provides better outcomes for everyone" and government departments have been guided to "remediate what already exists".
Whilst maintenance might seem less radical than replacement, it marks a huge shift in government strategy. This approach will significantly reduce the government's current annual bill of over £2 billion (and growing) that's spent on keeping the lights on for poor quality legacy services.
This shift in strategy must be met with a shift in equivalent methodology that focuses on users, reduces the burdens associated with Legacy IT and unlocks the potential for transformation.
Support, maintain and continuously improve
The government spends 50% of its annual digital budget on supporting and maintaining services. That number was £2.3 billion in 2019 and is expected to reach £4.4 billion by 2024 without intervention.
This £2 billion maintenance operation needs continuous improvement to deliver the methodology shift required. Continuous improvement in this context is the idea that changing and improving a service doesn't have to be a dedicated project. Instead, it's part of the operating model for supporting that service. This approach involves continually monitoring the service, speaking to users to understand how their needs are changing over time, and making changes to keep the quality high.
As it stands, a large proportion of government services are supported by teams that work in isolation. This means the responsibility to keep the service up and running is handed over to a team removed from digital strategy and departmental policy making. This support team is measured using service level agreements (SLAs) such as uptime or incident response time. However, the Government Digital Services (GDS) has identified that 88% of online services are essentially unmonitored and these crucial metrics are not well measured or reported.
By pivoting to an embedded delivery model, government departments can build strategy and policy directly into the support structures for live online services. All this makes continuous improvement an essential and measurable expectation of support service providers through the use of experience level agreements (XLAs). Government departments can also implement the government's recommendation of not trading away short-term savings and meet CDDOs goals of a digital government that provides better outcomes for everyone.
How we can help
Made Tech is responsible for a wide range of government digital services. From the newly-created Maritime and Coastguard Agency's (MCA) beacon service, to critical national infrastructure such as the Bichard 7 portal that was originally built in 2011. What these very different services have in common is that they're supported using Made Tech's transparent and user-led approach, meaning they're not only maintained but continuously improved.
By working closely with service owners and even more closely with users themselves, this iterative support model has removed the need for expensive replacement services to be built. It's also led to users giving their thanks to the service support team rather than the frustration seen across so many other digital public services.
As we get the opportunity to shift more government services into a new way of doing support, the quality of the digital services provided to UK citizens can be improved rapidly. By doing things in this new and cost-effective way we can positively impact the experience of all UK citizens. Bringing a user-led approach to a space typically led by contractual response times will push engagement in online public services up from its current level of 50% and establish the UK as a global leader in online government services.
If you'd like to hear more from us on all things digital in the public sector, sign up for Made Tech Insights to get new content delivered straight to your inbox.