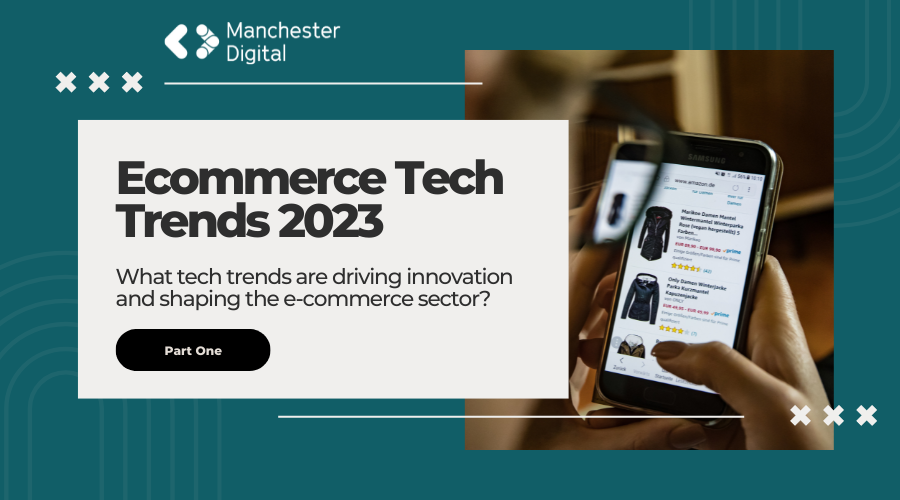 What tech trends are driving innovation and shaping the ecommerce sector?
Ahead of our first Ecommerce Conference on 1st December 2022, Manchester Digital asked our event sponsors what tech trends they anticipate to be driving innovation within the ecommerce sector in 2023.
Featuring Adobe Commerce, Advanced Commerce, GAIN LINE, Mapp and Marsh Commercial.
We'll have more 2023 ecommerce tech predictions from some of Greater Manchester's leading ecommerce businesses next week.
Adobe Commerce
Digital Commerce transformation is a vibrant space right now, with early adopters of new technology & channels aiming to gain competitive advantage.
Here at Adobe Commerce, we are particularly excited about technology that can make a difference to your bottom line today, while future-proofing your business for tomorrow. Our research shows consumers want clear, easily to navigate, personalised experiences on channels they use and values-driven brands. We are excited about the technology that can enable this including:
Functionality that drives value for, and loyalty from, customers particularly during a downturn. This could include rewards and redemption, promotional pricing functions, coupon creation and fulfilment offline, personalised shopping experiences and promotions based on advanced segmentation / targeting.
The power of AI and data to drive consistent, personalized experiences across the channels you have now, and the channels you will have to add in the future, in a seamless fashion. This includes product recommendations & intelligent search functionality.
Headless & composable commerce give enterprises the ability to deploy innovative new front-end customer experiences across channels, without interrupting back-end processes - giving businesses confidence to innovate and evolve their eCommerce presence continuously.
Functionality that gives merchants and brands the ability to deploy multiple stores, brands and business strategies across different geographies and channels - in a short period of time from a single platform can enable agility & exploration of new markets.
Click here to find out more about Adobe Commerce.


Advanced Commerce
As the cost of living crisis continues to bite, more and more people are turning to online shopping as a cheaper way to buy the things they need. This is great news for eCommerce businesses, but it also means that they need to work harder than ever to stand out from the competition. One of the most effective ways of doing this is through online merchandising - that is, showing relevant products to customers depending on what they're searching for. With so much effort being put into marketing and segmenting audiences and then sending customers to the same page, the e-commerce website also needs to provide a personalized experience too.
When shopping online, customers now expect a personalized experience. 70% of customers say that they want retailers to know their shopping preferences and provide them with relevant recommendations. On average, a customer will only look through three pages on an eCommerce store before navigating away. Consequently, it is more crucial than ever for retailers to convert on the first page.
In a world where consumers are bombarded with choices, eCommerce personalisation and merchandising have become the next big digital trend. By tailoring the shopping experience to each individual customer, businesses can create a more unique and engaging experience that helps to build loyalty and increase sales. And with the rise of artificial intelligence and machine learning, this trend is only set to grow. By using data to understand customer preferences, businesses can create highly personalized recommendations and suggestions that will help guide customers to the products they are most likely to purchase. In a competitive market, eCommerce personalisation and merchandising can give businesses the edge they need to succeed.
If you want to stay ahead of the curve, it's time to start thinking about how you can personalize and merchandise your eCommerce store. By considering the needs of your customers and using data to guide your decisions, you can create a shopping experience that is tailored to their individual needs. With the right approach, online merchandising and personalization can help you to increase sales, build loyalty, and stand out from the competition.
Click here to find out more about Advanced Commerce
GAIN LINE
The demand for convenient and flexible payment options has become greater and almost expected over recent years, with contactless during in-person shopping experiences becoming ever more popular during and after the coronavirus pandemic, similarly online customers are favouring similar transaction ease and prizing merchants with digital wallet and BNPL options in comparison to traditional checkout methods.
Offering customers Buy Now Pay Later (or BNPL) is becoming a must for merchants especially with higher ticket items, with nearly 10 million Brits claiming they would avoid buying from a retailer that doesn't offer BNPL. BNPL remains the fastest growing payment method, with the commercial opportunity it possesses being recognised by banks like Barclays, Monzo and Santander who have made inroads into the BNPL market with their own offerings.
According to consumer data, digital wallets like Apple Pay, Android Pay and PayPal currently represent the highest single transaction method online - with PayPal remaining the biggest by market share, but quickly being caught up by Apple Pay. By offering payment through digital wallets, you are facilitating an environment that your customers feel safe and familiar in - with many online stores reporting an increase in conversion rate providing this option.
This presents a hugely exciting prospect for not only existing and established e-commerce brands to further enhance their customer experience and conversion rate, but it also allows new brands to facilitate a safe and recognisable environment for potential customers during their key growth phase.
Click here to find out more about GAIN LINE.
Mapp
Online traffic is now stabilizing after the pandemic and the global eCommerce growth rate is expected to slow to 12.2% – compared to 16.3% in 2021.
Most brands have already adapted their marketing strategies to make them work with this new hybrid model. Here you go 5 key post-pandemic trends to help adapt your business to the new trends:
1# DTC VS WHOLESALE
The balance between direct-to-consumer and wholesale is changing into a "double scale", as consumers' changing shopping habits cause an imbalance between the different channels. Brands are trying to find a middle ground "hybrid" seems to be the way of working.
2# PERSONALIZATION
Personalization through 3rd party tracking is a thing of the past. Zero and first-party data are vital to personalizing experiences and brands need to look for new channels to interact with customers. The tools of the moment for data capturing here are simple gamification or a good old quiz!
3# LOCALITY BECOMES IMPORTANT
According to a Shopify study, 47% of consumers surveyed said that a local presence was an essential factor in which brands they shopped with. More consumers are also motivated to buy from brands that appeal to them based on location, company values, or sustainability.
4# OMNICHANNEL SERVICES
With supply chain issues and limited resources still a barrier, customers are exploring their omnichannel options through online and offline channels. This puts pressure on brands being omnichannel. They need to invest in tools, resources, and training so that their employees can quickly navigate between channels while improving their product knowledge to upsell or create a personalized customer experience in real-time.
5# METAVERSE
According to Gartner, 25% of consumers will use the Metaverse one hour per day by 2026. Virtual showrooms can be the solution for customers who want to view, try and test products from the comfort of their homes. According to this, retailers will look to expand their digital presence in virtual worlds.
Click here to find out more about Mapp
Marsh Commercial
Online shopping and buying has gone from being non-existent to being valued at $4.9 trillion US dollars worldwide. It is not a trend, it "IS" the way the world works.
While there are many factors driving its growth, as the number of people shopping online increases, so does the competition. Making it harder for businesses to distinguish themselves.
Online platforms need to keep up with customer's needs. Failure to evolve an online presence means a business risks being forgotten.
One of the biggest trends driving innovation is artificial intelligence (AI). Retailers can create automated, personalised shopping experiences for customers based on what they know about their preferences.
Augmented reality (AR) is being used to enhance the reality of shopping online by enabling shoppers to see how an item might look on them before purchasing it—meaning lower return rates, higher conversion rates and improved customer relationships.
Plus, with an estimated 72.9% of all UK online purchases now from a mobile device, the roll out of 5G will provide faster connections and enable people to use new real-time services.
More often than not however, new technology brings new risks.
Data privacy is a huge risk to consider with the volume of personal data being processed. Businesses should be mindful about how they're protecting, using and sharing individuals' data.
Then comes cyber security - a serious consideration as the cost of a cyber incident like a hack or data breach can pose significant risks both financial and reputational.
Finally, businesses should consider protecting the IP associated with any content they develop for AR, and mitigating the risks that come with having third party content.
When it comes to choices around which technologies to adopt or develop, and how to use them, those benefits must be weighed against the risks.
Click here to find out more about Marsh Commercial