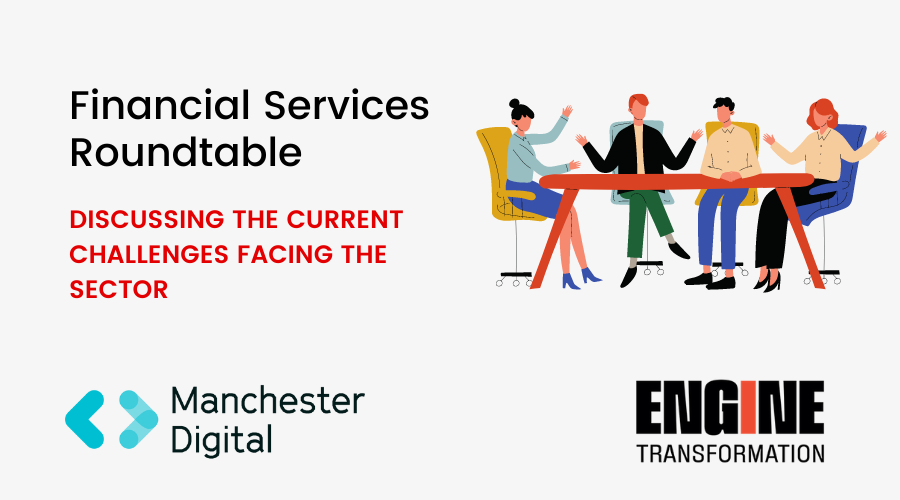 Manchester Digital facilitates peer to peer discussion groups to get to the heart of the issues facing our digital and tech community. We lean on our members and network to provide us with real and current intel about the sectors we represent. These discussion groups facilitate knowledge sharing and unite our members so we can give them a voice and support change.
On the 8th July 2021, Manchester Digital hosted a virtual Financial Services Roundtable, sponsored by ENGINE Transformation.
The roundtable provided an opportunity to discuss some of the key challenges facing the Financial Services sector, as organisations rapidly digitise and automate in the face of changes brought about by the pandemic, ongoing shifts in consumer behaviour, continued erosion of trust, and an increase in disruption from unlikely sources.
The session was led by Katie Gallagher, Managing Director of Manchester Digital, and Suzi Bentley Tanner, Strategy Director at ENGINE Transformation, who were joined by participants from Adyen, Total Processing, Monevo, Auden and BankiFi.
Ahead of the discussion, Suzi summarised some of the challenges facing the financial services sector as:
The increased risk of commoditisation as the role of the physical bank declines
As the role of the physical bank decreases, we're seeing rigid and institutionalised thinking continue which is no longer fit for purpose.
In some cases, financial services is seen as a parent/child relationship which needs to be addressed.
Even though there is a plethora of data, more traditional organisations have been late to the relevance and personalisation party.
More traditional organisations are seen to be hamstrung by legacy technology is an issue, particularly with the presence of fintechs increasing.
Financial Services organisations tend to find it difficult to move beyond their economic value, and there is a requirement to align corporate commercial priorities with societal contribution.
As fintechs are technology driven, they can sometimes struggle with customer centricity. This includes being able to effectively articulate their customer value proposition, as well as having an issue prioritising experience-driven initiatives in favour of technology improvements.
Below are selected quotes from our attendees on some of the key topics discussed during the session.
On legacy technology blocking productivity and agility...
Nick Reid, BankiFi:
"The main blocker to productivity and agility is not necessarily legacy technology, it's the attitude to embracing innovation. Those who have embraced innovation and continue to do so, stand to benefit the most.
'When considering a third party solution, banks all have the same debate: build, buy or partner. Banks usually come to the conclusion to partner, as the legacy technology they have in place makes building a much slower and cost ineffective route to market."
Cameron Lee, Total Processing:
"Traditionally banks have tried to be all things to all people, but if you want to create the best product you need to be very niche and have insight in one particular area.
The largest blocker to innovation in Financial Services is the mentality that you need to acquire as quickly as possible to defend your market share. In reality, if you let the smaller business flourish even further they are able to create better products.
Larger legacy players should embrace the disruption and encourage that innovation and disruption a bit more."
Richard Bartlett, Auden:
''We (Auden) have set up our technology from scratch and we haven't found any issue integrating technology with our partners.
It can be very difficult for large organisations to innovate when they have large stakes in the status quo. If you have a large market share then it is often much easier to hang on to an entrenched position rather than to create a new product that would cannibalise an existing profitable business. This is why it is generally small, new businesses that create new products that change the market."
Colin Neil, Adyen:
"The Payments Sector is shaped by the consumer - changes in consumer behaviour and habits (including responses to Covid) will determine the end shape of the payments sector.
Consumers look for consistency and convenience in a shopper journey. It's very hard to connect fragmented and/or acquired payment platforms and guarantee that consistency.
The payments sector has moved into a tech first mindset and less of a bank driven finance first approach to payments.
A significant challenge to the payments sector is balancing a tech led approach versus a commodity first approach where merchant behaviour looks to drive down cost, which if not managed can be detrimental to the transformation of technology."
On financial anxiety/debt management shame and the need for better financial education…
Lee Stretton, Monevo:
"Our US business customers (Monevo) show us that people are very much more aware of their financial standing than those in the UK. I think there is a real case for a financial education piece that's required here for consumers.''
Cameron Lee, Total Processing:
"Coming at it from a B2B angle, I think the same thing applies in terms of that financial education piece for businesses.
Relative to their consumer protections, business owners are often at a disadvantage to consumer lending, per se, and we've had instances throughout COVID where the big legacy players change their policies overnight. This then meant that these businesses could not take payments, or were left with a couple of months to actually find an alternative provider.
I think what really needs to be established is an open dialogue and relationship between financial service providers and consumers, whether that be businesses or individuals. For Total Processing as a business, that open communication is at the foundation of what we try to do."
On how organisations align their commercial priorities with their societal contributions and being seen as a positive contributor to society…
Nick Reid, BankiFi:
"As we exit the pandemic and companies are weaned off financial support schemes, attention will inevitably turn to paying off that financial support.
Businesses will value tools that accelerate their access to working capital, and giving them the technology that this in a reliable and responsible way means it doesn't have to be at the detriment of societal values."
James Wilkinson, Zuto:
"Long gone are the days where success is defined by growth and profitability.
Businesses have a fundamental part to play in supporting local communities, helping the planet and doing great things for employees so we can live in a fairer, more equal society. In fact I'd say businesses have a bigger role to play in this than the government.
Given that fintechs are leading change, doing great things for customers, giving more transparency, I believe they should also be at the forefront of driving social change."
Attendees at this roundtable session included:
Katie Gallagher, Managing Director at Manchester Digital
Suzi Bentley Tanner, Strategy Director at ENGINE Transformation
Cameron Lee, Director at Total Processing
Colin Neil, Head of Commercial at Adyen
Lee Stretton, CIO at Monevo
Nick Reid, Sales Executive at BankiFi
Richard Bartlett, CEO at Auden
Kate Wilson, Partnerships Manager at Manchester Digital
Additional comments provided by James Wilkinson, CEO at Zuto.
Thank you to ENGINE Transformation who have kindly sponsored our series of roundtable discussions relating to specific sector challenges.
For more information on ENGINE Transformation, please click here.