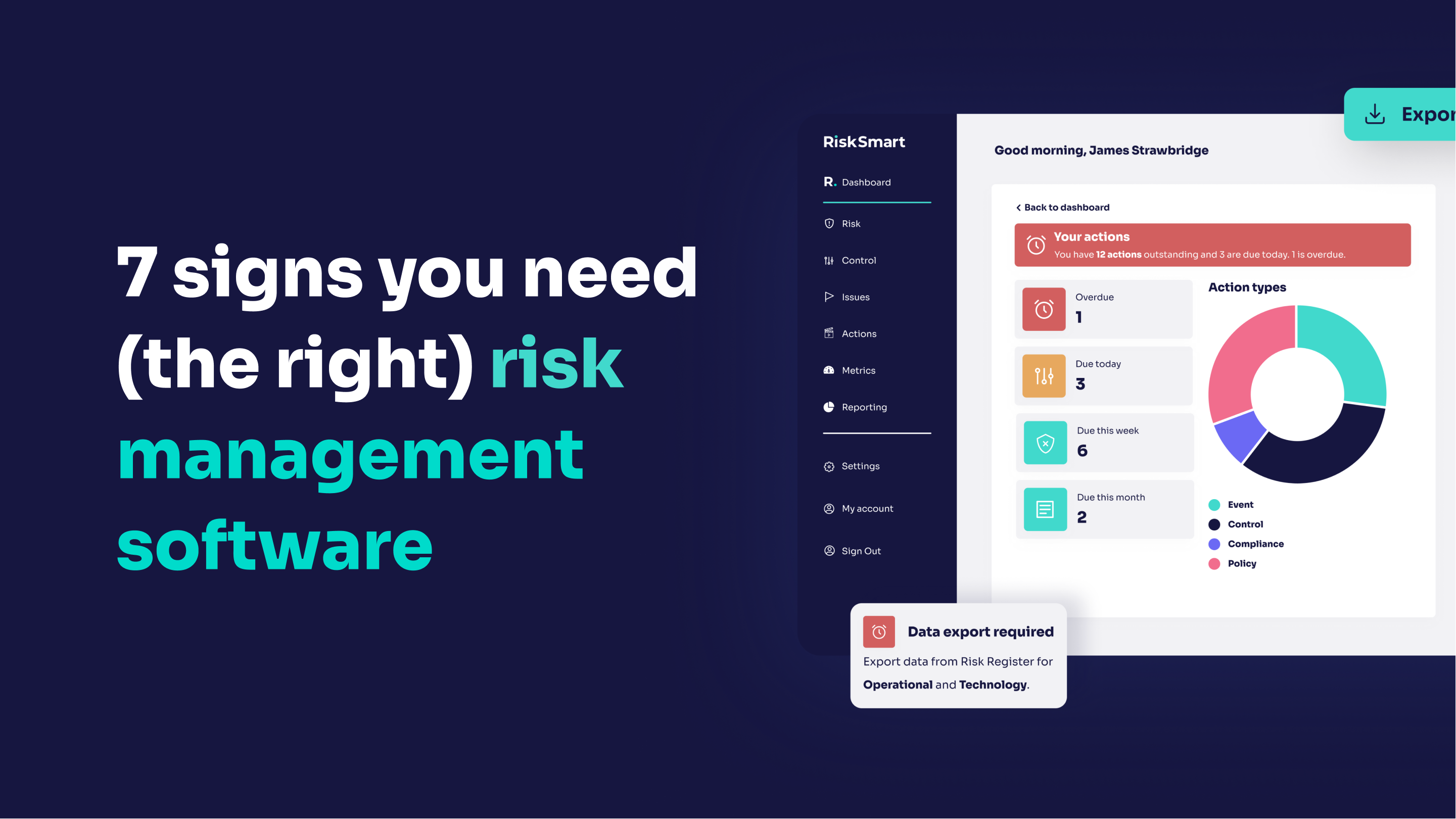 You're looking to move away from spreadsheets, right?
You wouldn't be alone. Post-pandemic, seven out of ten boards say they're looking to invest more heavily into risk management software (RMS).
Or maybe you're just wanting to learn a little more. Your current risk processes are serving you well enough, even if they're a bit overstuffed.
Either way, you're in the right place. We understand your curiosity. Enterprise risk management software is typically seen as the natural evolution for risk teams wanting to up their game.
We've pulled together seven signs that it's time to adopt the right risk management software for your needs.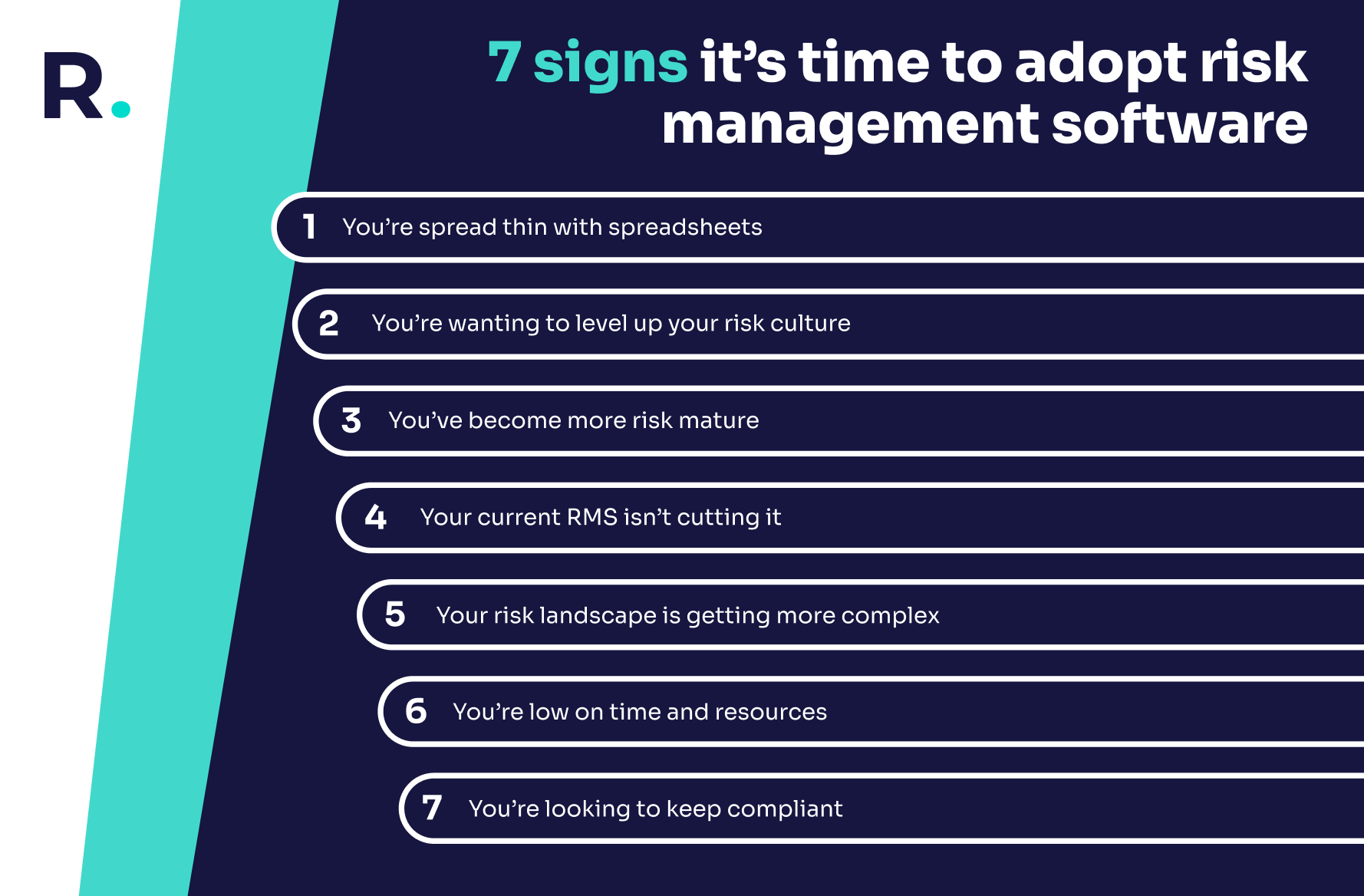 1. You're spread thin with spreadsheets
Let's start simple.
Spreadsheets serve a purpose. In the United States, over 730,000 businesses use Excel. We're not here to say that's wrong – even for risk and compliance teams.
They're the go-to choice. Especially for businesses that are risk immature and taking the first steps on their GRC journeys.
But there are downsides to using spreadsheets, both apparent and surprising, that you won't find in most enterprise risk management software.
You might know by now that 88% are thought to contain mistakes, but you'll see inefficiencies before you've even started creating your spreadsheet.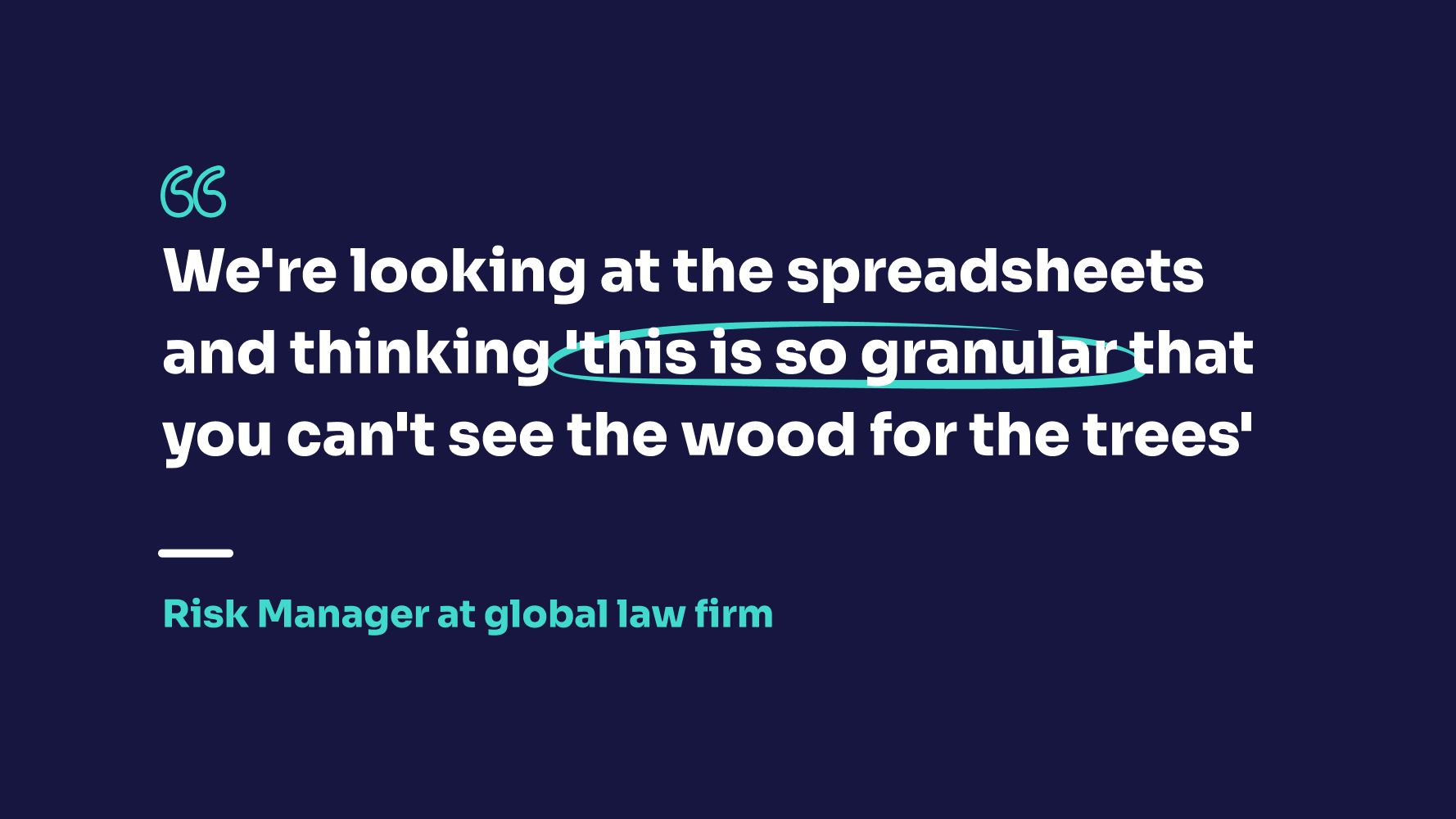 Let's say you're a small to medium-sized enterprise (SME) looking to start taking risk seriously. You first need to think about generic risks, as well as those unique to your business. Creating a risk library from scratch is time-consuming stuff.
It easily leads to situations where experienced risk professionals spend more time acting as developers – guardians of the spreadsheet – rather than managing the risks they're fretting over.
Instead, risk management software often comes with a pre-built risk library that can be tailored to your needs. If you're just starting your risk journey, this can get you up on that first rung of the ladder.
Spreadsheets might do the job, but risk management can't be complacent
A lot of feedback we hear about spreadsheets isn't that they're the devil incarnate, but rather that they're just … fine.
They do the job. Y'know, the job of listing out your risks.
But there's a good chance one of the following problems rings true if you're a long-time user of Excel for risk management:
There's often more than one sheet on the go at once, meaning you're wasting time tracking down the right information. This means crucial risk information is siloed or just inaccessible.
Spreadsheet privacy is often poorly managed. You either need to jump through hoops to get in or there's an open-door policy where everyone's an editor. Both scenarios make us shudder.
Errors happen. Not always critical, but they're there. Rising to the surface every once in a while. And it's mostly issues with formulas or misplaced decimal points, owing to human error.
Want to know the good part? You guessed it: these issues are a thing of the past with enterprise risk management software.
Risk dashboards act as a single source of truth for all things risk and compliance, meaning you'll always know where to find what you need.
And while RiskSmart has no user fees, access can still be managed so only the correct people can access what they need.
Risk management isn't a free-for-all, you know.
2. You're wanting to level up your risk culture
A common reason we hear for moving over to enterprise risk management software is that businesses are looking to level up their risk culture. After all, 56% of business leaders started investing more heavily in risk culture in 2022.
This can look different depending on size, sector, and a bunch of other reasons, but it often includes some of the following:
Embedding risk management into business-wide decision making.
Ensuring that risk and compliance teams are known and their role is understood.
Involving staff of all levels and professions in risk reporting.
Establishing expectations or targets for risk management processes.
Guaranteeing senior leadership understand and champion risk management.
Risk management software can help here for two reasons.
Firstly, risk management software removes guesswork through data-driven insights and reporting.
For risk to truly be considered at every stage of a company's growth, decision-makers and stakeholders need data to influence their choices.
This can take several forms, such as quantifiable risk scores to inform appetite boundaries, push alerts/notifications to reduce micromanagement of risks, or the ability to divide risks based on their tiers.
If you want to know more about this first reason, check out our thoughts on why data is crucial to effective risk management.
Secondly, with the right piece of enterprise risk management software, risk can be understood by anyone.
It's a profession known for its endless jargon – not to mention the unsightly UI of legacy systems or difficulty navigating chaotic spreadsheets.
But everyone understands a pie chart. A score from 1-100. Alerts telling you that action is needed.
By keeping risk simple, risk management software can help to level up your risk culture and ensure that it's easily understood from top to bottom.
What are others saying about risk culture?
We bang on about risk culture because we know it's important - and that enterprise risk management software can contribute towards a thriving risk culture.
But here's what some other thought leaders had to say at #RISK 2022 (where we hand a nice stand, as seen above):
"There's a difference between risk management awareness and understanding" – Tony Strickley, Radius Payment Solutions Ltd.
"Full engagement from the C-suite is absolutely imperative" – Peter McCready, Wealth Wizards.
"Risk culture is anchored in the values of the organisation" – Hiran Patel, Booking Holdings.
This lot know the importance of risk culture – and having the right risk management software will keep you in their good books.
We imagine.
If you'd like to check out the other 5 reasons risk management software should be on your agenda, visit our original blog.