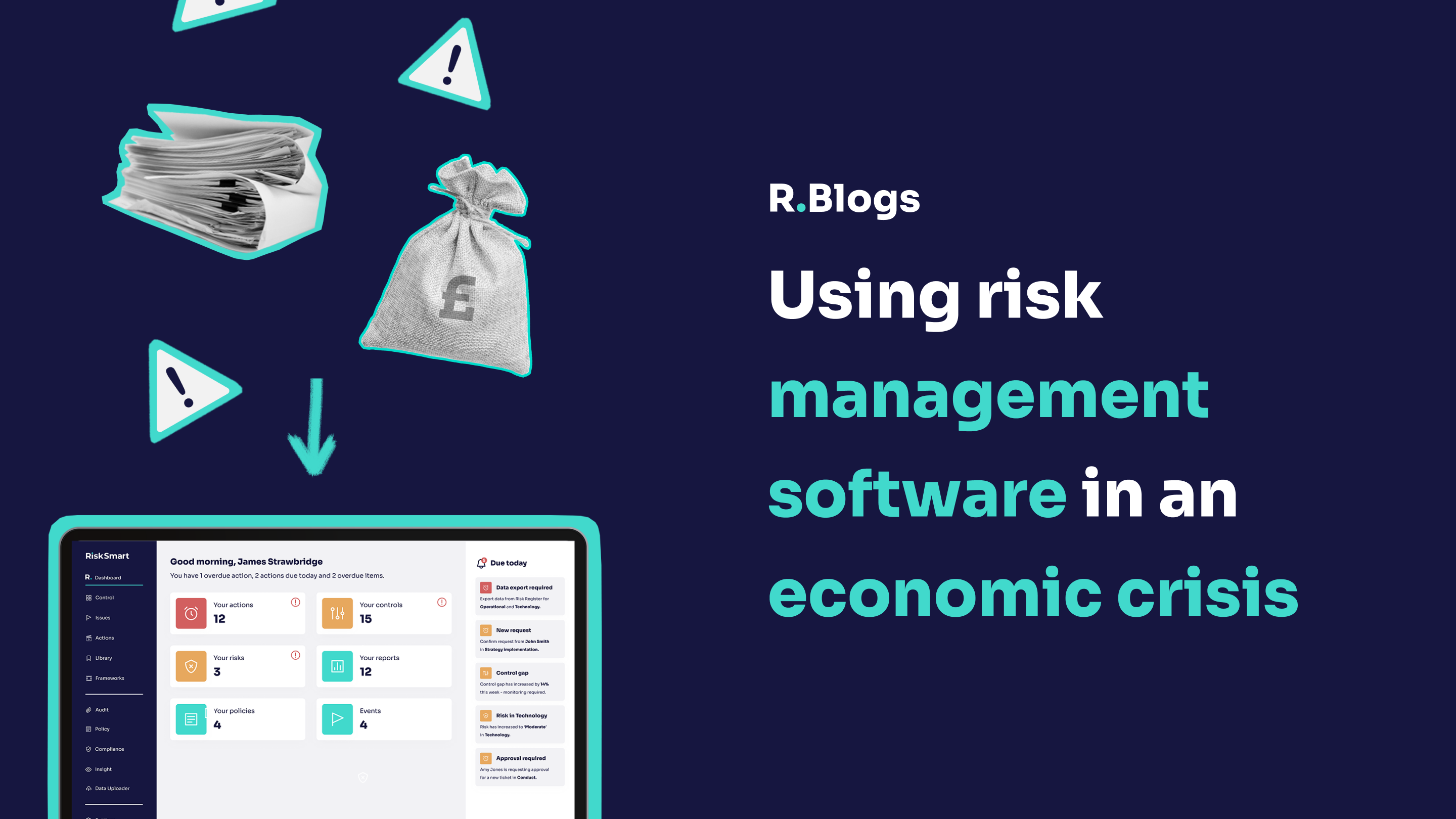 Even with a stable business landscape, the GRC teams we talk to dream of access to richer data, greater insights, and easy ways to guarantee compliance.
When navigating an economic crisis, these stop being nice-to-haves and become essential to staying afloat. If you want a cosier way of looking at things, they're like your business's armbands.
If you find this blog useful, be sure to share it with your risk team using those social buttons at the top – but for now, let's kick things off with a speedy introduction to risk management software for the uninitiated.
What is risk management software?
A lot of businesses are already using risk management software.
It's a type of software that allows for enterprise risk management to be handled more effectively, typically by allowing risks and compliance issues to be documented, tracked, and controlled proactively.
While you'll find that many large-scale businesses do have risk management software, we speak to a lot of risk professionals who are either critical of their existing tech, or candid in admitting that they simply don't use it.
In a landscape like today's, that's concerning. Risk management software isn't some new-fangled invention, either – its market valuation is expected to reach $35.01bn by 2029.
If you think about it, other departments benefit from tech platforms to help them work to the best of their abilities.
Your finance team have Xero
Your sales team use Salesforce every day
Your marketers swear by HubSpot
When you look at it like this, why wouldn't you send your GRC team into battle with some equipment, too?
When utilised correctly, risk management software can – and should – act as the go-to location for everything GRC.
We'll delve a little deeper into exactly why as we explain why SMEs should use risk management in an economic crisis, starting with the most apparent reason.
Businesses are looking to reduce inefficiencies and cut costs
Here's the reality of it: areas that aren't directly bringing in revenue are being slashed.
HR teams are most at risk, which often only serves to lessen business resilience. 55% have already felt the bite of budget cuts.
It's something that you may have felt anecdotally this year. Layoffs and redundancies have been rife across the tech sector; if the likes of Twitter, Tesla, and Microsoft aren't safe from cuts, then it's only going to hit SMEs harder.
And that's why risk management is increasingly important at times of budget cuts – Thomas Stanton concluded as much in his 2014 study.
But, and this is a cruel paradox, risk managers often struggle to prove their worth.
Like the rest of us, those in the risk, compliance, or legal space are having to do more with less.
Ensuring senior management understands your work's value during events like the cost-of-living crisis is essential.
Risk management software can help with that.
Spreadsheets aren't very tangible (and not to mention, they can be littered with mistakes). Yeah, they show off some numbers – but what does it all actually mean?
Some risk management systems quantify risks and provide bespoke insights. This means that not only will you have more data to help you manage risks with confidence, but also that the impact of those risks is more evident.
Plus, who doesn't love some nice UI?
Changes to regulation and compliance aren't slowing down
In retrospect, the Sarbanes-Oxley Act of 2002 seems quaint.
Nowadays, regulation is everywhere. And it may be easy to roll your eyes at it, but it's there for a reason.
UK businesses are scrambling desperately to understand what today's economy means for them. Brexit, four chancellors in four months, three prime ministers in three (and a paaartridge in a pear tree). It ain't simple stuff.
And the less stable the environment, the more checks and balances are needed to keep things up to scratch.
SMEs are often the ones needing a helping hand with compliance, as they can lack the funds or person-power to keep on top of everything.
But it's an increasingly complex regulatory landscape for the big players, too. As of October 2022, the FCA are seeking opinions on the influence of BigTech and its potential for anti-competition levels of growth.
Simply put, risk management software can make compliance a doddle, taking the pressure off you to keep up with everything manually. If something needs changing, you'll get pinged with an email.
Nicer than reading the news, eh?
A recruitment freeze looks likely for many businesses
A common misconception about risk management software is that it's there to replace risk and compliance professionals.
Nah. That's not the case (at least not with RiskSmart).
When done right, risk management software is there to supercharge your risk/compliance efforts.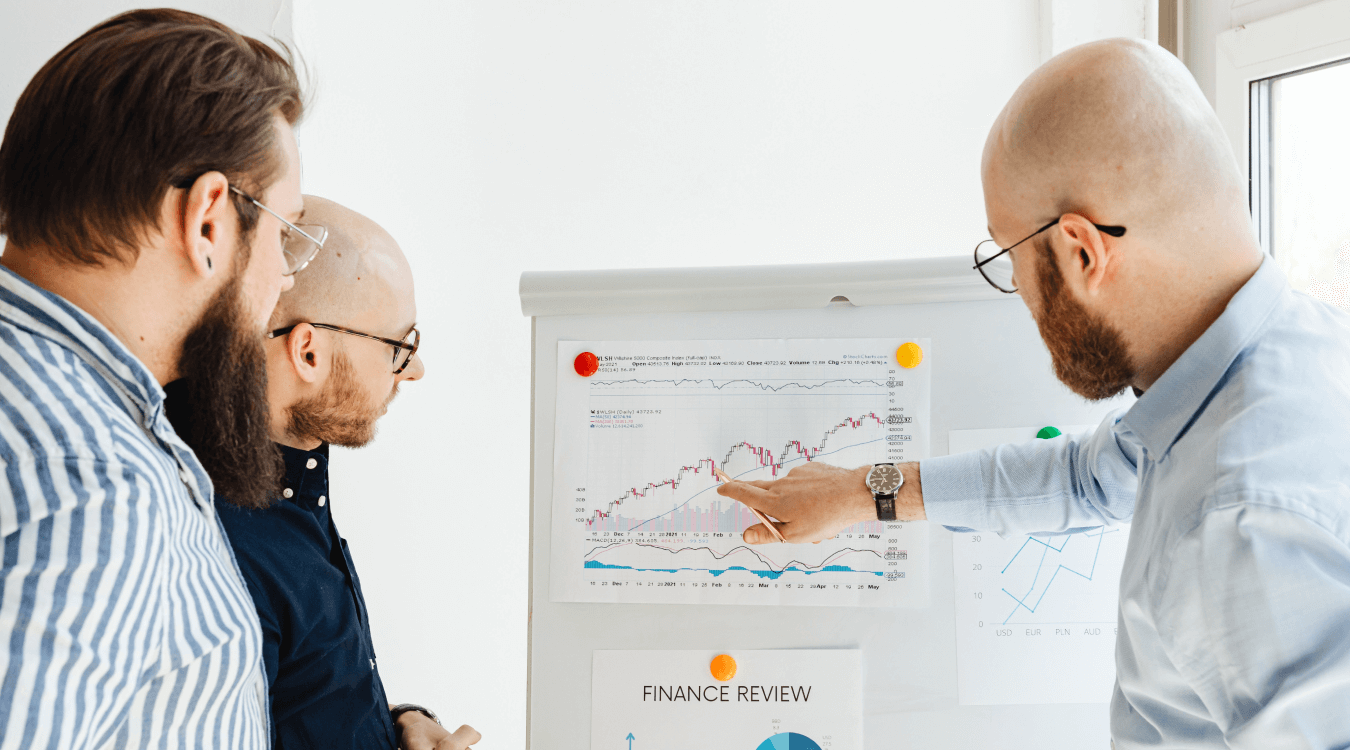 Think about it like this.
Imagine your risk team are a strong group of friends (hopefully not too hard to imagine).
Implementing risk management software isn't like introducing a new friend to the group, throwing off the existing dynamics and requiring a bunch of awkward introductions.
Rather, the RMS is like your hangout spot. A swanky office with fancy equipment. A nice local pub with discounted drinks. A secret lair. It's your go-to spot for everything you need – in this instance, data, insights, quantified risk scores and more.
So, while there's a good chance your business might be holding off on growing your team for now, you can at least give them a place where they can thrive all the same.
It's a tough market for both deals and people
Stop us if you've heard this one before, but Covid changed the way we look at work.
Despite rising costs and other challenges associated with the cost-of-living crisis, it's a job seeker's market out there. People want to know they'll work at a company that respects them, allows them to work to their fullest, and doesn't bog them down with processes from the stone age.
It's why certain sectors, like finance, are succeeding in taking advantage of workplace unhappiness by scooping up all the talent.
And everyone's tightening their belts. Securing new partnerships – or even external expertise when it comes to all things GRC – seems trickier than ever.
Like we said, risk management software isn't there to act as a member of your team, but it will help to plug some of those leaks. Automating some of your day-to-day processes means you can focus on the stuff that really matters, helping you stay afloat.
And then, in turn, with your newfound time, data, and ability to add extra value, you can go on to help your business come out on top.
Risk management is a long game, but with the right software, it can be one that yields immediate effects.
Right now, fines can be make or break
It's not just people that cost – it's fines.
And they don't discriminate. From the big boys all the way down to the scrappy start-ups; a breach of regulation is a breach of regulation.
In fact, the FCA (Financial Conduct Authority) have issued £40,066,060's worth of fines so far in 2022.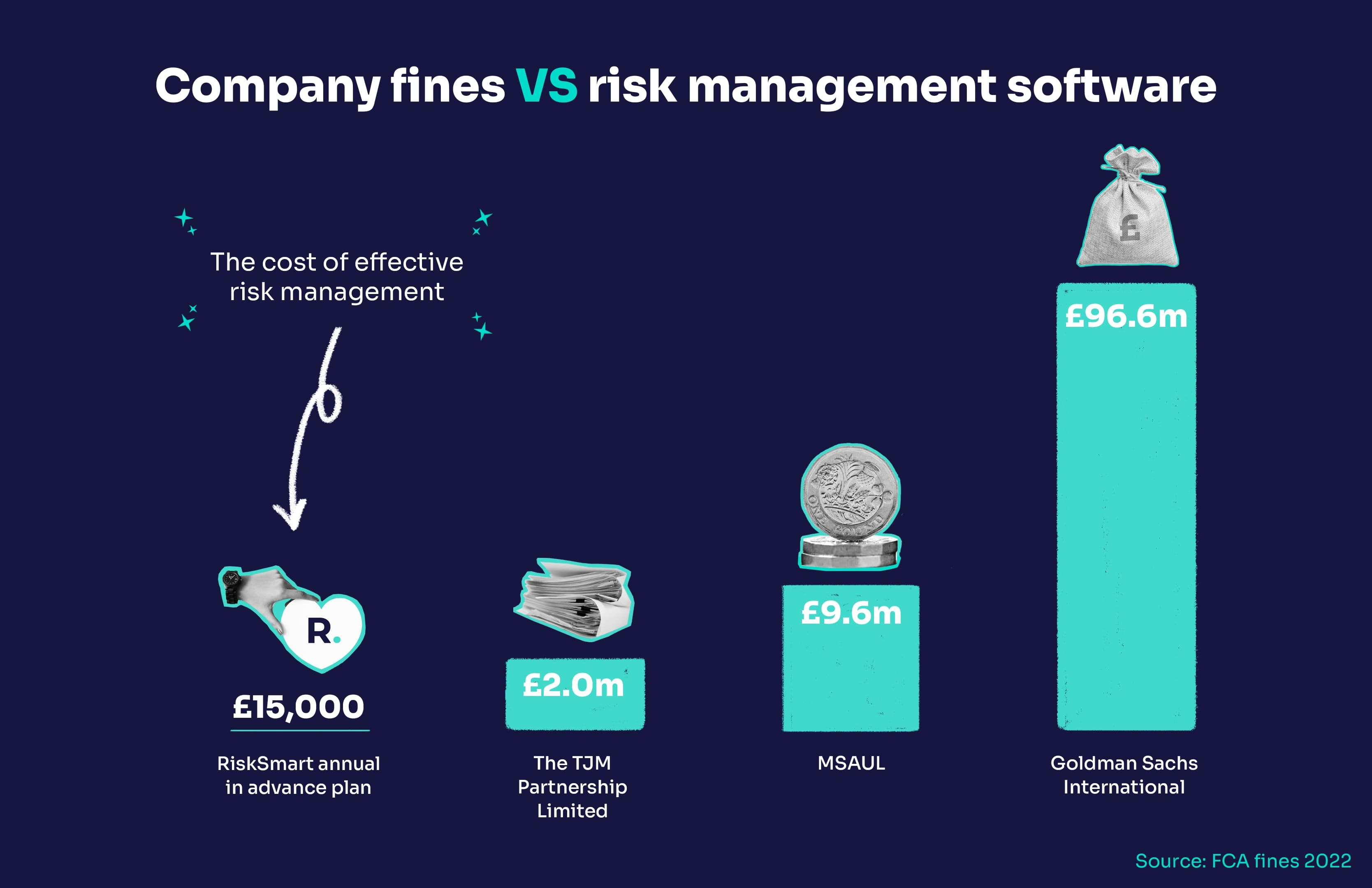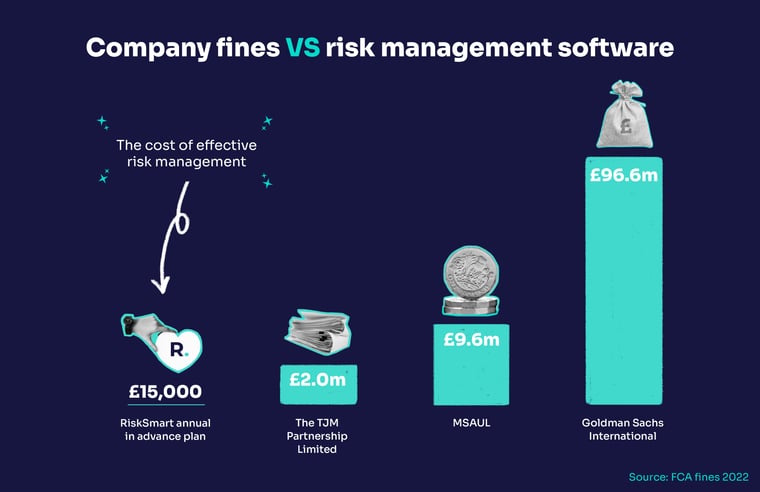 We don't know about you, but we wouldn't like to be on the receiving end of even a fraction of that – especially in a time when a lot of us are counting pennies.
The thing is, a lot of financial institutions don't even realise they're doing anything wrong. Yeah, they might take a few shortcuts here and there, but that's not enough to be on the receiving end of the hammer, right?
Sadly, it doesn't work like that. Governance and record keeping are complicated stuff, and as we said before, they're always changing.
Fines can breach trust, too. Many of us look for that shiny certificate of ISO 31000 accreditation when we're scoping out a business, and finding out that they've instead been issued a hefty fine tends not to fill you with confidence.
Increasing amounts of businesses are simply turning to risk management systems as a means of keeping their compliance airtight. The more professional and by the books your risk management is (in other words, not on a spreadsheet), the less likely you are to find yourself unexpectedly out of pocket.
Growth requires effective risk management
Risk management isn't just about stopping things from going wrong. It's about ensuring that things go right.
Risks are there to be monitored, measured, and avoided, yes – but they're also there to be deftly bypassed and taken advantage of. The businesses that recognise this are the ones that will emerge from today's economic crisis unscathed.
Well, with a few battle scars and a bit of warpaint, perhaps, but alive and kicking.
It's a sentiment echoed by Brian Schwartz, leader of PwC's US Governance, Compliance, and Risk Enablement Solutions.
"(Businesses that are) leaders in risk management are better positioned to take advantage of growth opportunities," he notes, "resulting in greater strategic and operational performance, and greater long-term profitability for their companies.
"High-performing companies realise that one of the biggest risks they face is missing important opportunities because they weren't agile enough to act when the time was right".
Proactive risk management is king, then. Hardly groundbreaking news, but the emergence of RegTech solutions makes it easier than ever to ditch those reactive habits and processes.
Choosing RiskTech/risk management software is an easy win
You don't need us to tell you this, but risk management isn't easy. If it was, then every business would be thriving and entire disciplines would be dismantled.
Risk management software isn't a cure-all – not by any means. But it can sure as hell ensure that your business is future-facing over the challenging next few years.
You need to make sure you choose the right one, though. It's worth considering scalability, proportionality, simplicity, and, of course, cost.
"Running a business in the current climate is a challenge", says Emma Bamford. She's the Head of Customer Success at RiskSmart, but has had an extensive career in risk management.
"It's almost a redundant statement. There's the constant juggle of ensuring customers are happy, regulatory obligations are met, and that the business is lucrative. It's impossible without effective risk management.
"But it doesn't need to take an army of people or be a costly addition to your business.
"Balancing proportionate and effective risk management is the key to achieving your company's objectives – and selecting the correct risk management software will make this process affordable, simple, and smart.
"Here at RiskSmart, we're creating risk management software that covers all those bases. We want to help businesses rise above today's challenging economy. You don't achieve that in isolation".
We'll be sharing more risk management insights and updates with the RiskSmart community. For more thought leadership and actionable content, make sure you never miss out by getting it all delivered straight to your inbox.