Do wellbeing initiatives just scratch the surface? Or can they have a more profound impact? We look at how Sopra Steria puts its words into action.
A few years ago, wellbeing at work was often limited to dress-down Fridays and a forgotten employee helpline, whereas these days, it's a topic much higher on organisations' priority lists when it comes to investing in their people.
But how can you tell if a wellbeing strategy simply scratches the surface, or makes a difference in a meaningful way?
A tech leader in consulting, digital services, and software development, Sopra Steria's mission is to shape the world for the better, driving positive change in business and society.
With clients ranging from the Government to easyJet, Sopra Steria has a huge remit – and consequently a workforce of thousands all with differing needs. As such, it prides itself on having a welcoming, nurturing culture that puts wellbeing centre stage.
By placing employee welfare at the very heart of the commitment to its people, its wellbeing initiatives have earned Sopra Steria a ranking among the top organisations in the UK's Best Workplaces™ for Wellbeing 2023 by Great Place to Work.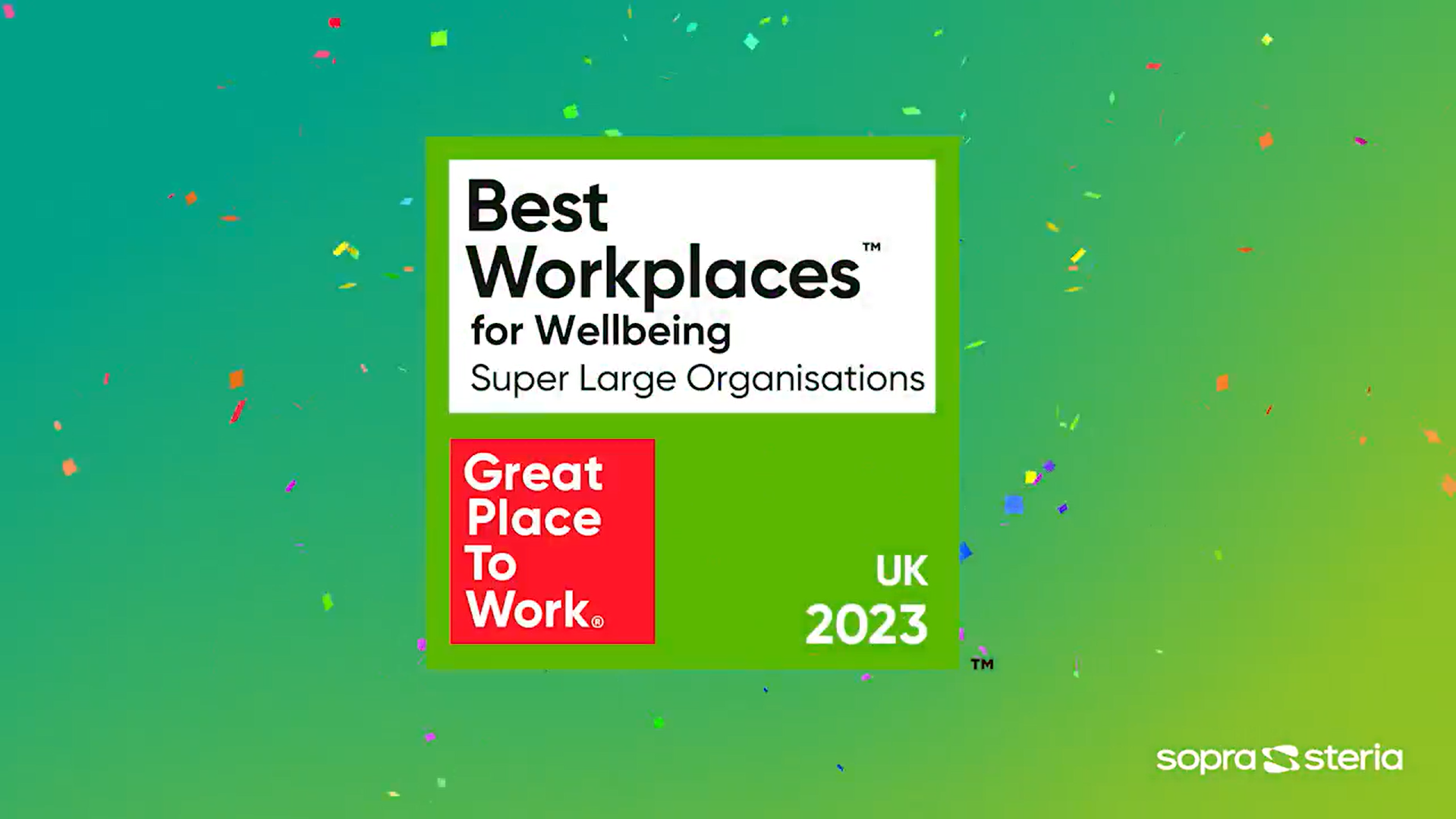 Having signed the Mental Health at Work Commitment, Sopra Steria publicly declared that mental health at work is a key priority. It has been working hard to bring this to life through its network of Mental Health First Aiders, its Wellbeing Hub and other initiatives such as new wellbeing and muti-faith rooms in its offices. But as we'll see, wellbeing is about far more than just mental health for this business.
Understanding the complex needs of its people at the tail end of the COVID pandemic and as the current cost of living crisis threatens households' financial stability, the organisation's wellbeing approach is a holistic one, covering mental, emotional, physical and financial health.
So, what makes its wellbeing approach so meaningful?
Sopra Steria provides services that serve a greater purpose and are a force for good. Its employees feel a sense of pride and belonging that their work is making a difference and improving lives of people across the UK.
This sense of purpose is important, because the positive impact on wellbeing that comes from helping others cannot be underestimated. It's why all employees can take three days paid volunteering time per year to support the causes they care about. And a special fund, launched to help colleagues who may be struggling given rising costs has been boosted by contributions from the entire executive team as well as other employees who want to help their colleagues.
Sopra Steria has woven wellbeing into the fabric of how it operates. Policies and procedures have wellbeing at their heart, from transitioning at work, to pregnancy loss, to menopause. In turn, recent years have seen significant investments in training to equip its manager population with the tools they need to support their teams' wellbeing.
Something for everyone
Recognising the diversity of its employee population, the business has turbo-charged traditional wellbeing tools to appeal to a multi-generational, hybrid workforce. As well as encouraging open conversations about wellbeing through its popular Wellbeing Wednesday e-newsletter and Yammer channel, its wellbeing events calendar includes onsite health assessments with Westfield Health, and virtual and in-person social activities.
Its employee assistance programme gives access to free, professional, independent and impartial information, support and counselling. Sopra Steria also offers Health Assured's My Healthy Advantage app, packed full of bitesize articles, advice, online fitness classes and nutritious recipes. Similarly, the recently introduced Peppy Health app provides all employees (plus one loved one) with access to free, personalised and confidential healthcare support by connecting them with qualified experts and useful resources in a variety of formats.
Sopra Steria's wide-ranging benefits programme allows employees to choose the benefits that work best for them, including the peace of mind of various health and financial insurances, cancer screening, gym membership, a cycle to work scheme, discounted dining out or independent financial advice.
Recent updates have included an increase to our Compassionate Leave allowance and expansion of the policy to cover a much wider range of family members, as well as close friends. For any of our colleagues with caring responsibilities for a family member, partner or friend, we're making sure they have the support to fulfil their responsibilities and that they have time off when they need it most.
Employees are offered as much flexibility as possible to shape their own working patterns and achieve a healthier work-life balance, enabling them to perform at their best and enjoy the benefits this brings inside and outside of work.
Despite being ranked in the UK's Best Workplaces™ for Wellbeing 2023, it goes without saying that there is always work to be done for a successful, well-rounded wellbeing strategy. "We understand that wellbeing is a deeply personal and ever-changing equation," says Karen Finn, HR Director. "And so, there is always more to be done, more we can change and new thinking to introduce so that wellbeing remains at the heart of our commitment to our people."
At Sopra Steria, the world is how we shape it.
Find out more about working at Sopra Steria
Explore current vacancies at Sopra Steria