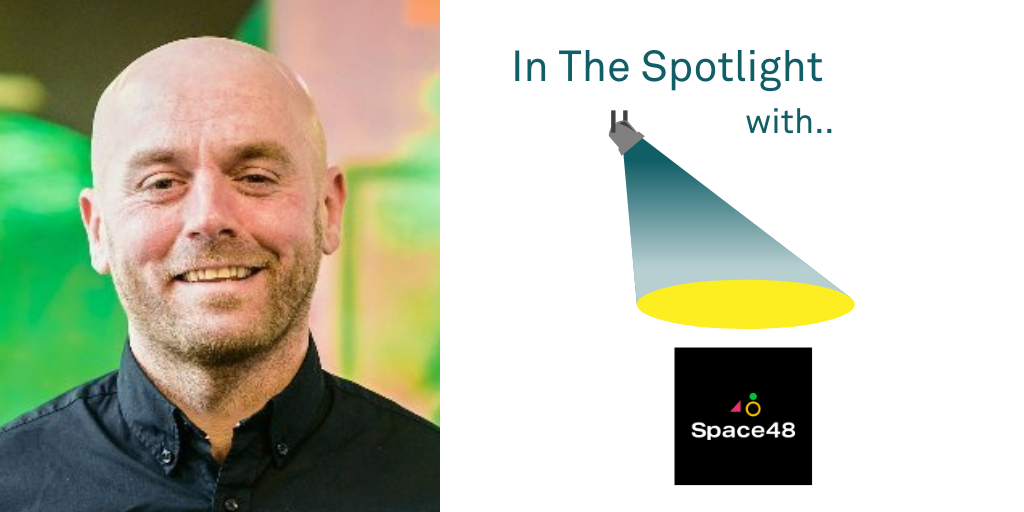 At Manchester Digital we like to interview our members to find out a bit more about what they do and their work in the Greater Manchester digital and technology sphere. This week we're speaking with Jon Woodall, Managing Director and Founder of eCommerce agency Space 48.
What does your organisation do?
Space 48 is an award-winning eCommerce agency that works with global, forward-thinking retailers. It blends customer experienced focused solutions with unbeatable eCommerce technology to amplify the revenue companies can generate online. Space 48 is trusted by various platforms including BigCommerce, Magento, Shopify, Shopware and more, to deliver exceptional eCommerce experiences for consumers.
What do you think is currently the biggest issue facing the digital and tech industry?
Skills: We continue to see a shortage of people with the right skills. I think we're fortunate enough to be in a great city like Manchester that attracts great people from all over the world, but we must continue to do our bit to narrow the skills gap.
I'm less familiar with the stats behind the skills gap, but from an agency owner perspective, I know this continues to be a challenge. We have to do all we can to attract great people, invest in their development, and look to bring new people to the digital and tech sector.
The fallout from the pandemic is creating huge unemployment levels, but in Manchester and more specifically, our digital and tech sector, we should see the opportunity to help. There are and will continue to be great people from various sectors that will need to re-skill. At Space 48 we're particularly interested in working with local coding academies and see these relationships with the likes of Manchester Codes as an important pillar of our recruitment strategy.
My message to other business owners and managers is to give people a chance. If I look back at the evolution of Space 48 wherever we have given opportunities, it's been a win-win for the individual and the business, we have some amazing success stories. We must do our bit and help people along the way!
What is your organisation's biggest achievement?
There's been a few big achievements along the way. Be that big customer wins, awards, growth, career progression for our people, raising money for charity or all the usual stuff that businesses shout about.
However, I think our biggest achievement in recent times has been internal changes that we have made at Space 48. Just over a couple of years ago, we embarked on a journey to imagine a new version of Space 48. We redefined our culture, re-designed our brand, introduced new technology, changed our go-to-market to compliment the same, changed our ways of working, and obviously, there were some people changes. No small feat for any business let alone an eCommerce agency that is 60 people strong, but we made it possible and continue to get better every day.
What would you consider to be your organisation's biggest challenge?
Space 48 is 12 years in the making, and I can assure you we've seen our fair share of challenges along the way. I feel I have to put that into perspective, and the challenges are all relative to any small business, there are much bigger things going on in the world. However, like everything in life, businesses go through their own natural life cycle.
The biggest challenge I think we face is a fine balance between company vision, growth ambitions, and people's aspirations and needs. Perhaps this is what we explain as culture or the environment that we create together. When they are all working in parallel, it's a good feeling, but it's unreasonable to think that will always be the case. After all, we are all following the universal life cycle and are all a product of our environment.
I like to think we get it right most of the time, but that's not always the case. As a business grows and changes, so do the people within. In my opinion, for what that's worth, it's why so much emphasis must be placed on culture.
It's an on-going challenge that will continue to evolve, and I wouldn't profess to have all the answers, but I know one thing for sure it's much easier doing it with good people you love working with.
What do you think the future looks like for Manchester's digital and tech sector?
Post pandemic and as restrictions are lifted, I think we will see a resurgence of events. I think we're all wanting more social interaction, so as lockdowns are lifted, and we hopefully see vaccines help, we will return to our great city and people.
I think there is something very special about Manchester's digital and tech sector. We have a lot to shout about. I hope that the challenging times we have come through will only strengthen our community and lead to an even brighter future.
Tell us something we might not know about your company?
David Robert Jones. Walter Willis. The Rain. Backrub. Brad's Drink.
Recognise the above names? Nah, I thought not! Believe it or not, these are all huge worldwide brands, celebrities and bands that changed their names to appeal more to their audiences.
So what's in a name? Well, a lot. It can quite literally mean the difference between success and failure. When naming a brand or company, it needs to be relevant, catchy, memorable and marketable.
So you might not know that back in 2008 Space 48 started life as Optimise Internet! I don't know what I was thinking, but I'm glad we became Space 48.
For all you knowledge-thirsty geeks out there, the names belonged to:
David Bowie, Bruce Willis, Oasis, Google and Pepsi.
Thank you Jon!
To find out more about Space 48 click here.
Want to raise your business's profile? If you're a member, contact thom@manchesterdigital.com to discuss featuring your content on our site, social media or newsletter. If you're not a member, get in touch today to discuss the benefits of membership.