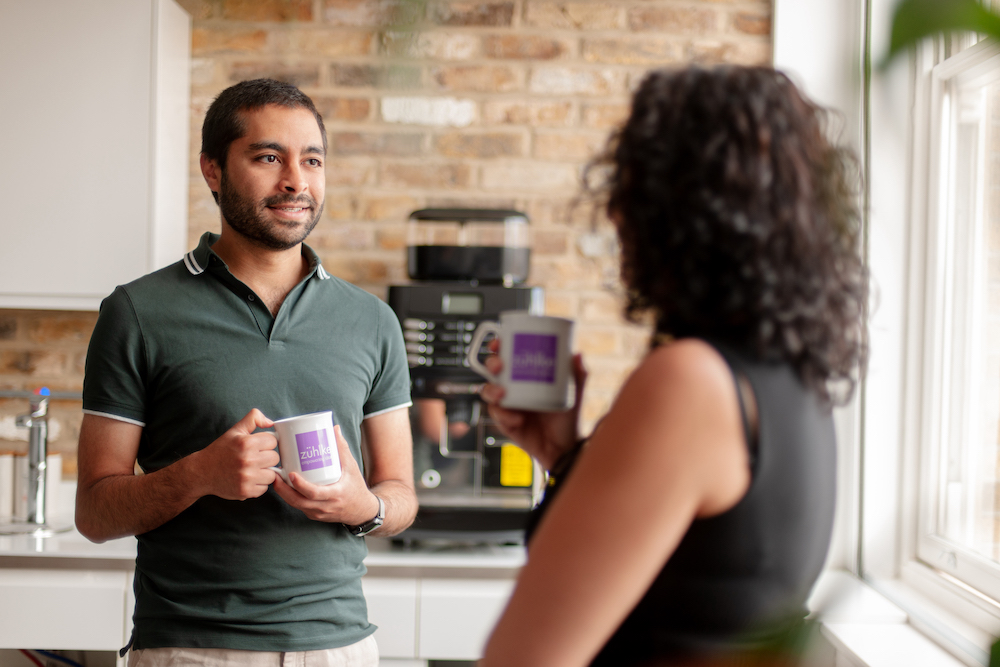 As the Mobile Capability Owner in our UK hub, Mo observes market trends and ensures that we're building our skill set in this area to be ready for the client needs of tomorrow. This ensures that we're best positioned to continue to acquire innovative and impactful projects both now, and well into the future.
Mo Ramezanpoor
Principal Consultant and Mobile Capability Lead
How did you come to work in the tech space?
I started out as an Astrophysicist. In high school I was into astronomy, robotics and all that stuff. So that's what I ended up studying. I started uni when I was still living in Iran and I continued and finished my masters here in the UK. I knew I wasn't going to stay in academia however, and when I ended up starting my career it was as a Software Engineer, with a focus on iOS.
Why did you choose to work at Zühlke?
I really liked the people I met as part of the interview process. The company seemed to have strong views on how they take care of people, and they showed openness in the interview. The flexible role definition was also appealing. We're an engineering consultancy, so people get to work on a variety of projects and I liked the idea of doing something different every few years.
How has your career advanced at Zühlke?
Up until I joined Zühlke in late 2016, I worked for smallish product companies. Since then, I've been on some reasonably big projects, which has been interesting. These days I am a Mobile Architect and Capability Owner so I look after a lot of internal stuff too: I make sure we have the right skills at the right time, and I support engineers if they're in a project where they need help. I also spend a lot of time observing market trends and seeing what skills are increasingly needed in our work, and then finding ways to build them up in our business and train people. As part of all this, a conscious choice in the last year or so has also been that I am writing less code, particularly in the client context. I can have more impact if I'm there to manage the solution and help the team.
What are you focusing on in your current role?
We have somewhere between 20 and 30 Mobile Developers, but they're usually on different projects, and they don't get to interact with each other as a part of their day to day work. How they operate is determined by the needs of the project and the client. So what I am focusing on right now is creating a real mobile community in the business. What's been really helpful as part of this is that I've been given the headspace and time to reach out to people and have all kinds of helpful conversations. I may have already connected with them previously, but when you're focused on a project you don't always get to step back and talk about how you can improve your process and approaches.
How have you been growing the local mobile community at Zühlke?
We went through a phase of significant growth in our UK hub recently and that, coupled with the pandemic, means that we had a whole group of people who had joined the business, but likely never met a colleague in person. So the first part of what we did was to just take stock of where we are, starting with conversations with each other. By understanding who is on the team, where their skills lie, and what they're passionate about, we're able to collectively grow our capabilities.
From there, we introduced a bunch of different initiatives in the mobile community for people to get together. It started with informal things like coffee calls, but in the past couple of months we've broadened it too. We have more formal talks and some specific training initiatives, looking at how we can use technologies or work through our approaches to project challenges – for example modernising a client's codebase. In general, we're trying to slowly make sure we build up the connection between different people on the team.
How do you decide the areas in which the mobile team should grow their skills?
We always look at new technologies in the mobile sector, for example when a new version of iOS or Android come out. We also follow trends, and part of it is based on what we hear from current or potential clients. This works with a smaller group of people, but now we're in the process of formalising it. When you're more connected, you're all going in the same direction and you can learn from each other along the way. It's useful for communication and alignment but also for detecting gaps, and learning where we should focus.
What's the vision for the future of mobile at Zühlke UK?
For a start, we're very much aligned with the mission of the company itself, doing good with technology. On the capability's side, we're focused externally on establishing Zühlke as a known centre of excellence for mobile development. For example, our work on the NHS Covid-19 app demonstrated our ability to produce something at-scale, with quality.
Another big part of what we want to do is more internal-facing – making conscious decisions and being intentional in what we do. There are obvious examples of using tech for good. Like in spaces such as public health. There are obvious bad things, like crypto-mining that uses as much power as some countries. And then there are many things in the middle where it's really dependent on your approach. So, if you're building something, there are plenty of decisions which could be good for the people using it, or bad for them. And we want to make sure we're focused on making a positive impact.
Inspired to join the team? Explore career opportunities at Zühlke.