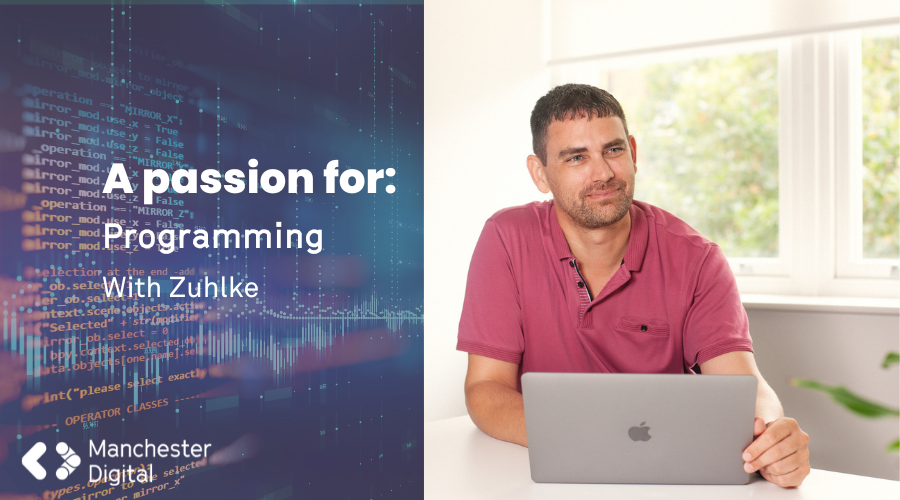 A Passion for: Programming with Zuhlke
At Manchester Digital, we like to interview members to find out a bit more about their passions to help you get to know them.
This week we spoke to Matthew White, Principal Delivery Manager at global innovation service provider Zuhlke about his passion for programming.
Let's start from the beginning. What got you into programming?
Learning to program on my ZX Spectrum +2 as a 10 year old, and Turbo Pascal on my dad's Compaq Portable (it the size of a breeze block and as heavy!) that he brought home from work each weekend.
How different was the industry back then from how it is now?
Tech now has lost its charm, you could really get to understand a Home Computer compared to a modern PC, it was accessible as the tool choices were very restrictive, so you use your imagination for what you wanted to build rather than worrying which tools to use.
What excites you the most about your work?
Watching people succeed and deliver great software, especially when they break through the pain barrier and really start to excel in their chosen field through hard work and lots of trial and error.
What technologies can we look forward to in your profession?
Hopefully, tools that aim to simplify the developer experience once again and move towards a focus on rapid value delivery of the product rather than technical excellence and complexity.
Who are your heroes?
Sergei Pavlovich Korolev (deceased) – he personally designed and developed the Soviet space programme, and paved the way for the technology we now take for granted like GPS, weather forecasting and companies like Space X, and he transformed weapons of war into a tool for human knowledge and exploration.
Thanks Matthew!