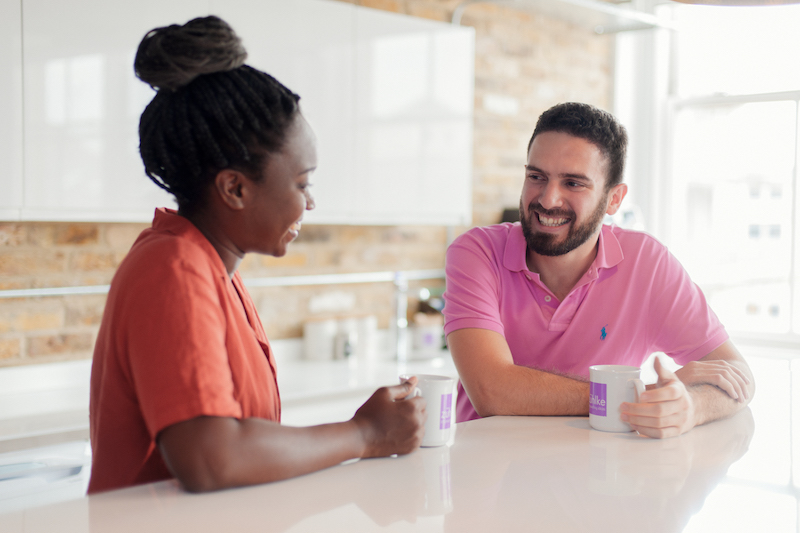 As a company committed to empowering innovation, we invest 10% of our annual turnover into the development of our innovative technology offerings and our colleagues' skills.
Software Engineer Raul Rodriguez has not only expanded his own skillset in areas such as Cloud, Frontend Development and Security, but is also a firm believer in collaborative learning and has invested his time in initiatives to help up-skill others, too.
Tell us about your career journey!
After I finished my B.Sc. in Computer Science in Barcelona, I moved to London to kickstart my career here. I worked for start-ups for the first three years, but then a close friend of mine who worked for a service provider in Barcelona got me interested in consulting. For someone like me who's intrigued by variety, change and challenges (and gets bored easily with monotonous tasks), the idea of being exposed to a variety of projects and clients really resonated with me. When a recruiter introduced me to Zühlke, their culture immediately felt like the right match for me, so I started my journey at the company in January 2017.
What do you do at Zühlke?
I'm a Software Engineer, supporting clients across different industries in driving digital innovation. My most recent client is the Department of Health and Social Care (DHSC), where we enhance and keep the NHS Covid-19 App up and running. This is a very rewarding project – the best in my career so far – where I have taken the role of a Platform Engineer. In this role, I approach work with the values and principles of Agile software development and get things done with a DevOps mindset. If we drill down into the details of architecting secure solutions in AWS, writing code and pair programming is an important part of my daily work.
How does Zühlke support your continuous learning and professional development?
My personal and professional development have intertwined here at Zühlke in many ways. I learned more solid approaches around how to implement solutions to a variety of problems that I have been exposed to – including security, automation, testing, software development, cloud architecture, mobile and web development. Zühlke offers a nice mix of formal training opportunities and on-the-job learning to support people's career development. The latter is not always obvious, especially for someone like me who's naturally inclined to go for work that supports my growth, but connecting the theory with the real world is an important part of sustainable learning.
At the same time, I have learnt to articulate and pass on knowledge to others – both colleagues and clients – and I certainly improved my ability to collaborate and ask better questions. Most recently, in my professional development journey I got to learn more about how we can better look after one another in the workplace after getting certified as a Mental Health First Aider. I didn't plan for this further education, but when the opportunity presented itself, I was really interested and went for it. All this has ultimately helped me improve my soft skills, which is obviously beneficial in and outside of work and made me more open-minded. Therefore, I strongly believe that professional and personal development go hand in hand. Everyone should make an effort to learn every day, the compounding effect will blow your mind.
How do you pass knowledge on to others?
Learning is a first-class citizen in Zühlke. Not only have I been embracing this for my own benefit, but I've also spent time encouraging others to use their training time and to learn. One way in which I do this is by facilitating and organising weekly Brown Bag Lunch Sessions – essentially a lunch and learn platform which enables colleagues at Zühlke to share their knowledge, latest discoveries, or best practices around a variety of topics they're interested in. We've had some incredible tech- and lightning talks, and that's been very rewarding.
On top of this, I am naturally quite social and like to spend time with other engineers and consultants; observing and reflecting on the way they express themselves and teach others and reapplying my own style in my assignments.
How do you set your clients up for success?
Habits play an important role in ensuring success for myself and my clients: I work with the values and principles of Extreme Programming and Agile software development, following its processes and embracing the ceremonies. This has led to great results, such as the NHS Covid-19 App. Another aspect is that I consider upskilling my clients a key part of my role as a consultant. Once upon a time, I worked on a project for a big investment bank that wanted to modernise a piece of software written in old AngularJS. The code base barely had any unit tests, not to mention UI automated tests. So, I worked very closely with the team, introduced them to test-driven development (TDD) and together we wrote unit tests and UI automated tests for the program. The team really appreciated it and said that they had learned a lot from that experience. This is part of my identity – I empower myself; and I empower others. It's a bit of a cliché but it's true.
How do you approach innovation?
I was asked about my 'innovation mantra' back in 2017, and this is what I said: "It's the courage and mindfulness to design and build transformative products for our clients". I still believe in this, but back then my approach was very lightweight. In the meantime, I have learnt a lot about innovation frameworks and techniques such as "Story Mapping" and "Value Stream Mapping". Fast-forward to now: these practices give me an edge when it comes to innovating. To get there as a consultant, one needs to learn how to articulate ideas in the correct context and learn techniques and develop the skills that help you to help others to innovate as well.